Your world at 9am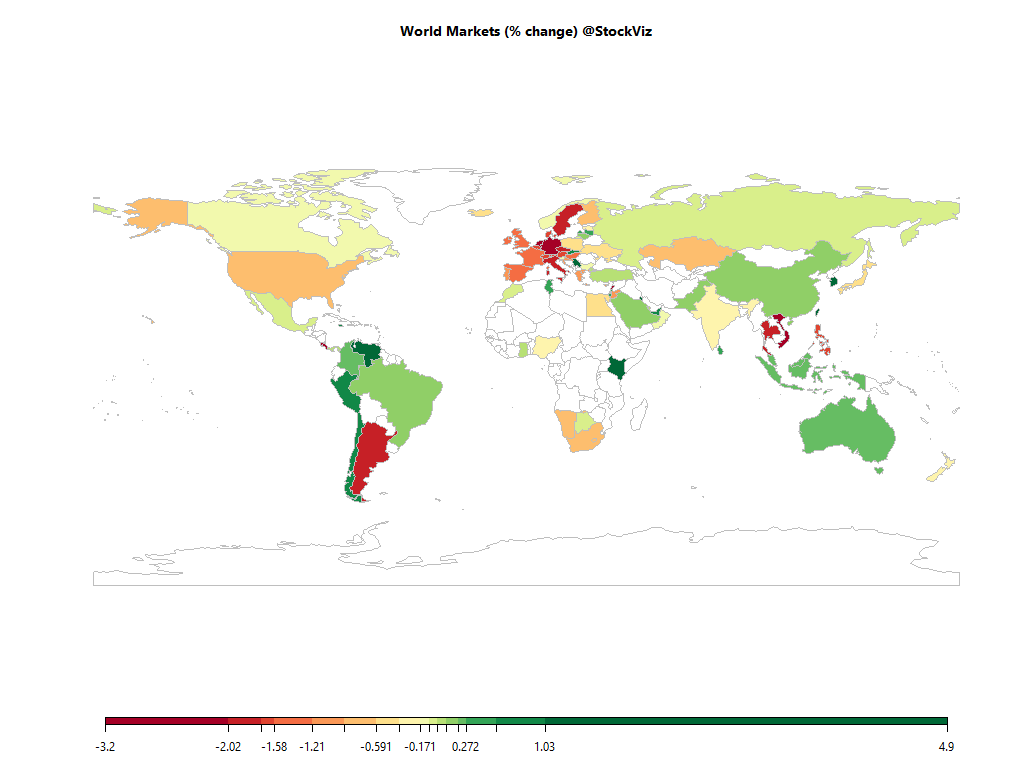 Equities
Commodities
Energy
Brent Crude Oil

-0.13%

Ethanol

+0.00%

Natural Gas

+0.30%

Heating Oil

+0.30%

RBOB Gasoline

+0.41%

WTI Crude Oil

-0.03%
Metals
Gold 100oz

+0.00%

Platinum

+1.19%

Copper

+0.74%

Palladium

+1.16%

Silver 5000oz

+0.84%
Agricultural
Coffee (Arabica)

+0.00%

Coffee (Robusta)

+0.00%

Feeder Cattle

+0.00%

Soybean Meal

+0.21%

Soybeans

+0.43%

Cattle

+0.00%

Corn

+0.99%

Lumber

+0.00%

Cocoa

+0.00%

Cotton

+1.14%

Lean Hogs

+0.00%

Orange Juice

+0.00%

Sugar #11

+0.00%

Wheat

+0.20%

White Sugar

+0.00%
Out of 43 world ETFs listed in NYSE that we track, 26 are trading above their 10-day SMA and 40 are trading above their 50-day SMA.
Must Reads
Opinion | An economic paradigm reminiscent of our licence raj
Over the past four months or so, a series of big-ticket foreign investment announcements have been trumpeted by the Indian government. On paper, the news sounds good: a total of about $27.7 billion has been promised by major foreign multinational corporations or investment firms.
Two-wheeler sales on recovery path across domestic, export markets: Bajaj Auto
3 min read .
India's Economic Dependence on China
Since May 2020, India and China have been in their worst face-off in decades along the Himalayas, yet another stark reminder that the world's two most populous nations have a fragile relationship.
Trump announces series of executive orders aimed at lowering drug costs
The orders, which are subject to the regulatory review process, are designed to bring U.S. drug prices at least on par with their costs overseas. Trump said Americans often pay 80% more for prescription drugs than Germany, Canada and other nations for some of the most expensive medicines. 
Bad loans may soar to a 20-year high: RBI
Indian banks' bad loan ratio is expected to climb to the highest level in more than 20 years as a protracted lockdown has severely disrupted business operations and left millions of people jobless, crimping their ability to repay loans. Non-performing assets may rise 4 percentage points to 12.
Focus is on long-term stability, says RBI governor Shaktikanta Das
1 min read .
De Beers rethinks business after diamond collapse exposes cracks
The company can narrow the gap between its revenue and costs. These range from selling rough stones 'more quickly and in a more integrated way,' to rethinking how it recovers diamonds
Check out our Global Macro Dashboard for currency, commodity, bonds and credit charts.
Good luck!