Your world at 9am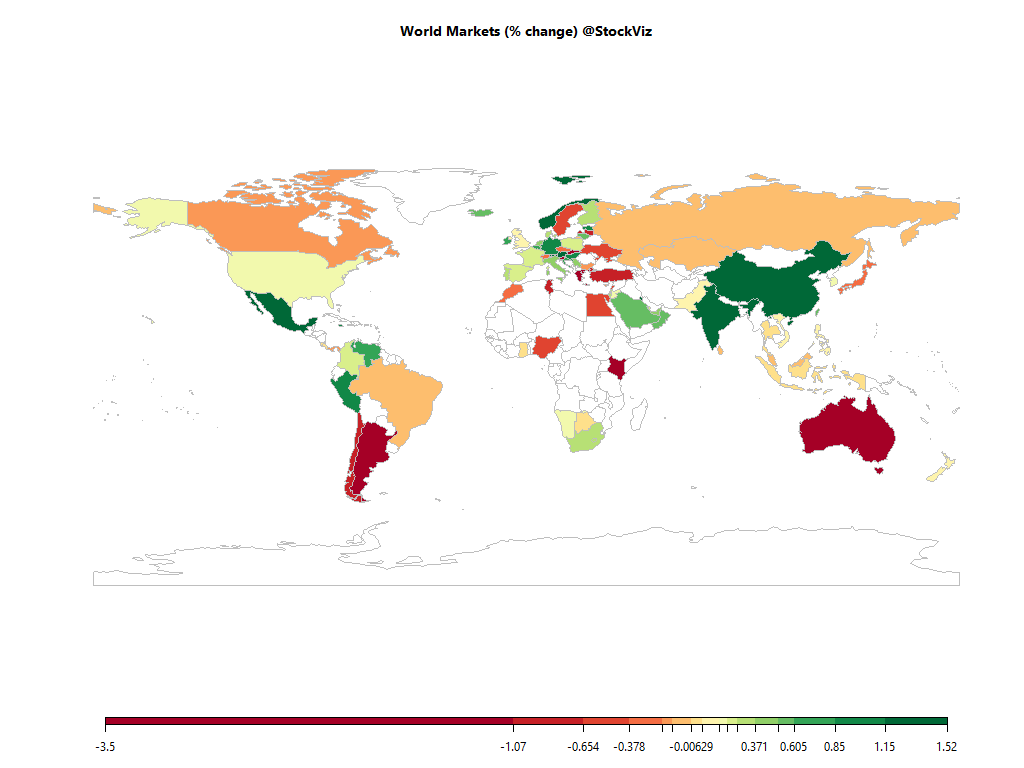 Equities
Commodities
Energy
RBOB Gasoline

+0.41%

Ethanol

+0.00%

Heating Oil

+0.30%

Natural Gas

+0.30%

WTI Crude Oil

-0.03%

Brent Crude Oil

-0.13%
Metals
Copper

+0.74%

Palladium

+1.16%

Silver 5000oz

+0.84%

Gold 100oz

+0.00%

Platinum

+1.19%
Agricultural
Cocoa

+0.00%

Coffee (Robusta)

+0.00%

Cotton

+1.14%

Feeder Cattle

+0.00%

Lumber

+0.00%

Soybean Meal

+0.21%

Sugar #11

+0.00%

Coffee (Arabica)

+0.00%

Cattle

+0.00%

Lean Hogs

+0.00%

Orange Juice

+0.00%

White Sugar

+0.00%

Corn

+0.99%

Soybeans

+0.43%

Wheat

+0.20%
Out of 43 world ETFs listed in NYSE that we track, 35 are trading above their 10-day SMA and 42 are trading above their 50-day SMA.
Must Reads
BlackRock Quant Sees Stock Valuation a Mystery Not Worth Solving
BlackRock Inc.'s senior quant has bad news for the likes of Bill Gross and Cliff Asness wagering on a comeback for value stocks. In the worldview of Jeff Shen, money managers need new investing methods because there's no way to tell if betting on ostensibly cheap companies will work again.
Donald Trump has unified Americans — against him
Donald Trump is on the verge of accomplishing what no American president has ever achieved — a truly multi-racial, multi-class, bipartisan political coalition so encompassing it could realign US politics for years to come.
Active Management has Become a Game of Musical Chairs
An often heard lament in recent years has been how the torrent of flows into passive strategies is distorting financial markets.  Although this is an inevitable angle for much maligned active managers to take, it is also somewhat absurd.
India e-commerce to grow 27%, Reliance to capture half of online grocery sales: Goldman
4 min read .
Opinion | Indian inflation and what the tea leaves have to say in a pandemic
The bean counters working for the government usually calculate monthly inflation by collecting prices from 1,114 urban markets as well as 1,181 rural markets. The severe lockdown brought about by the covid pandemic meant that the data collectors at the front line could not visit these markets.
Even the Best AI Models Are No Match for the Coronavirus
The stock market appears strangely indifferent to Covid-19 these days, but that wasn't true in March, as the scale and breadth of the crisis hit home.
Check out our Global Macro Dashboard for currency, commodity, bonds and credit charts.
Good luck!