Your world at 9am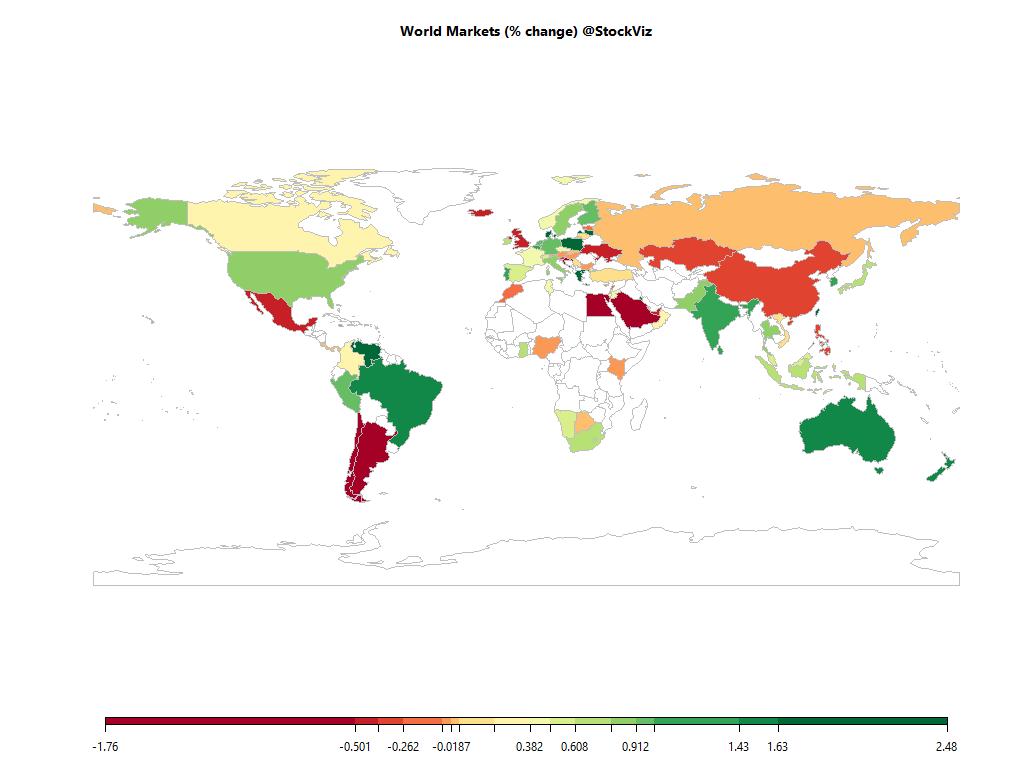 Equities
Commodities
Energy
Brent Crude Oil

-0.13%

RBOB Gasoline

+0.41%

Heating Oil

+0.30%

Natural Gas

+0.30%

Ethanol

+0.00%

WTI Crude Oil

-0.03%
Metals
Palladium

+1.16%

Platinum

+1.19%

Gold 100oz

+0.00%

Copper

+0.74%

Silver 5000oz

+0.84%
Agricultural
Coffee (Robusta)

+0.00%

Cocoa

+0.00%

Coffee (Arabica)

+0.00%

Corn

+0.99%

Lean Hogs

+0.00%

Lumber

+0.00%

Orange Juice

+0.00%

Soybean Meal

+0.21%

Feeder Cattle

+0.00%

Sugar #11

+0.00%

Cattle

+0.00%

Cotton

+1.14%

Soybeans

+0.43%

Wheat

+0.20%

White Sugar

+0.00%
Out of 43 world ETFs listed in NYSE that we track, 34 are trading above their 10-day SMA and 42 are trading above their 50-day SMA.
Must Reads
How India can act as a global bridge
Earlier this year, United States (US) President Donald Trump used his prerogative as G-7 host to suggest inviting the leaders of India, Australia, and South Korea to the annual conclave. "I don't feel that as a G-7 it properly represents what's going on in the world.
Study provides first glimpse of efficacy of Oxford-AstraZeneca Covid-19 vaccine
A Covid-19 vaccine being developed by Oxford University and the drug giant AstraZeneca generated an immune response in a study of roughly 1,000 patients, according to interim results published Monday.
Opinion | India should give up the fear of inflation and monetize its deficit
Nearly 50 years ago, Richard Nixon said, "We are all Keynesians now." The next decade witnessed the downfall of Keynesian ideas amid soaring inflation.
Opinion | Are we ready for depression economics?
Two weeks back I attended a webinar of National Council of Applied Economic Research (NCAER). They were the first to predict that the economy will shrink by 12.5% this year without stimulus package .
Two-wheeler firms step up production as demand climbs
3 min read .
10 Major Investment Implications (and 32 charts!) of a Weak US Dollar
With the US dollar index recently having completed a so called "death cross", we thought it would be a good opportunity to review the investment implications of a potential trend change in the USD.
Govt plans to reduce number of PSU banks to just five: Report
The first part of the plan would be to sell majority stakes in Bank of India, Central Bank of India, Indian Overseas Bank, UCO Bank, Bank of Maharashtra and Punjab & Sind Bank, leading to an effective privatisation of these state-owned lenders, the report said
Hackers Can Clone Millions of Toyota, Hyundai, and Kia Keys
Over the past few years, owners of cars with keyless start systems have learned to worry about so-called relay attacks, in which hackers exploit radio-enabled keys to steal vehicles without leaving a trace.
Can India really have a coronavirus vaccine ready by August?
Last week, the director of the Indian Council of Medical Research (ICMR), Balram Bhargava, ordered 12 hospitals to begin clinical trials of India's coronavirus candidate vaccine, Covaxin, with the goal of having it ready for public use by August 15.
Check out our Global Macro Dashboard for currency, commodity, bonds and credit charts.
Good luck!