Your world at 9am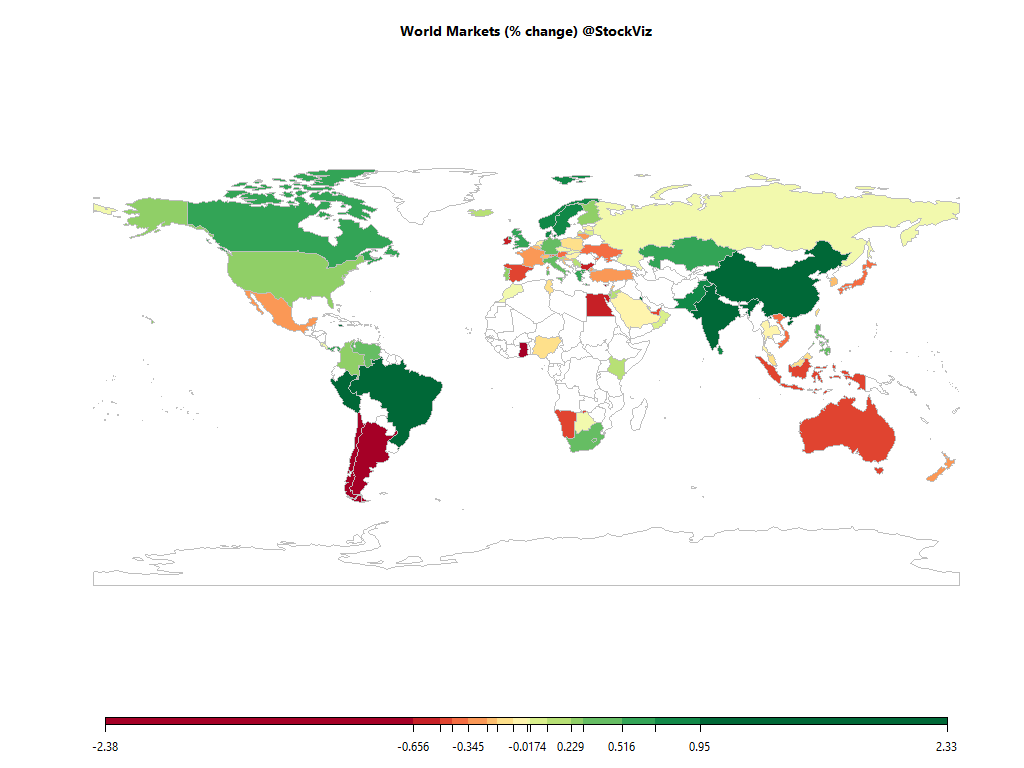 Equities
Commodities
Energy
Heating Oil

+0.30%

Ethanol

+0.00%

Natural Gas

+0.30%

Brent Crude Oil

-0.13%

RBOB Gasoline

+0.41%

WTI Crude Oil

-0.03%
Metals
Copper

+0.74%

Gold 100oz

+0.00%

Palladium

+1.16%

Silver 5000oz

+0.84%

Platinum

+1.19%
Agricultural
Coffee (Arabica)

+0.00%

Feeder Cattle

+0.00%

Lumber

+0.00%

Cattle

+0.00%

Corn

+0.99%

Cotton

+1.14%

Lean Hogs

+0.00%

Cocoa

+0.00%

Orange Juice

+0.00%

Soybeans

+0.43%

Wheat

+0.20%

White Sugar

+0.00%

Coffee (Robusta)

+0.00%

Soybean Meal

+0.21%

Sugar #11

+0.00%
Out of 43 world ETFs listed in NYSE that we track, 31 are trading above their 10-day SMA and 42 are trading above their 50-day SMA.
Must Reads
The Fed Is Setting the Stage for a Major Policy Change
For the Federal Reserve, this time really is different. Having learned a hard lesson in the last recovery — don't tighten monetary policy too early — the central bank is leaning in the opposite direction.
Edelweiss goes asset-light as it turns focus on retail lending
4 min read .
Seven Indian pharma players race to develop Covid-19 vaccine
4 min read .
Bacteria that eats metal accidentally discovered by scientists
Scientists have discovered a type of bacteria that eats and gets its calories from metal, after suspecting they exist for more than a hundred years but never proving it.
Andhra Pradesh solar units face under-recovery of Rs 5,000 crore — Know who's responsible
Solar and wind power plants in Andhra Pradesh, with aggregate capacity of 8,000 mega watt (MW), have claimed that their under-recovery owing to inadequate tariff payments by the state discoms have reached a staggering Rs 5,000 crore.
How growth reshaped India's destiny, and why we need an encore
6 min read .
The Freud Moment
I'm getting concerned that we're not psychologically ready for what's coming next. The future may not be predictable, but people are. I have no idea what's going to happen with reopening and recovery; but I can say two things pretty confidently about the next six months:
'Here's your check': Trump's farm bailouts could leave a wicked hangover
The president was already spending double his predecessor to spare farmers the cost of his trade war. Now the price is reaching unsustainable levels.
India plans solar wafer, ingot manufacturing tenders to cut Chinese imports
3 min read . Updated: 17 Jul 2020, 04:46 PM IST To check imports from China, India has imposed a basic customs duty on all imported solar cells, modules and inverters.
Lack of skilled labour affecting production operations of TVS Motor
TVS Motor Company – one of the leading manufacturer of scooters and motorcycles – is facing disruption in supply of spare parts and overall production operations due to lack of availability of skilled labour around its factories, said Venu Srinivasan, chairman of TVS Motor, in the latest annual
Deccan Chronicle wins ₹4,800 crore arbitration award against BCCI
The board of control for cricket in India (BCCI) on Friday lost an arbitration award to Deccan Chronicle Holdings Ltd worth ₹4800 crore. The award was passed in favour of Deccan Chronicle by a court appointed arbitrator in Mumbai on premature termination of franchise.
IT companies report spurt in Q1 deal wins amid pandemic
India's IT companies reported above-average deal wins and renewals in the June quarter even as the coronavirus pandemic raged, led by cloud and cybersecurity businesses. Most firms pulled off deals across their strongest offerings, despite client curbs on discretionary spending, experts said.
FMCG demand is back to near pre-covid level
Demand for packaged consumer goods recovered to near pre-covid levels in June as shops reopened after the government eased lockdown measures and the return of millions of migrants to their villages boosted rural consumption, market researcher Nielsen said.
Covid-19: Risks to short-term and long-term Indian economic outlook
4 min read . Updated: 18 Jul 2020, 09:29 AM IST Anandadeep Mandal , Neelam Rani Some industries have been affected more than the others have. Travel industries, entertainment and the food sector have been severely hit.
The Carbon Footprint Sham
Moving forward requires focus. Mashable's Social Good Series is dedicated to exploring pathways to a greater good by spotlighting issues that are essential to making the world a better place. In a dark TV ad aired in 1971, a jerk tosses a bag of trash from a moving car.
Check out our Global Macro Dashboard for currency, commodity, bonds and credit charts.
Good luck!