Your world at 9am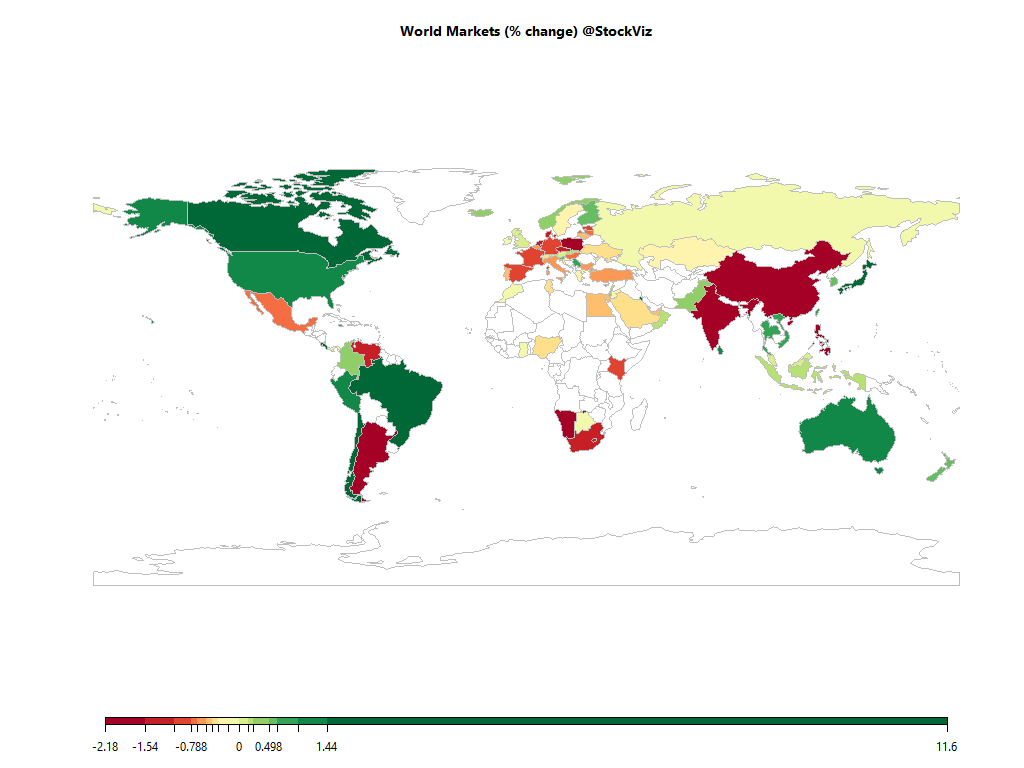 Equities
Commodities
Energy
Brent Crude Oil

-0.13%

Ethanol

+0.00%

Heating Oil

+0.30%

Natural Gas

+0.30%

RBOB Gasoline

+0.41%

WTI Crude Oil

-0.03%
Metals
Gold 100oz

+0.00%

Copper

+0.74%

Palladium

+1.16%

Platinum

+1.19%

Silver 5000oz

+0.84%
Agricultural
Coffee (Arabica)

+0.00%

Coffee (Robusta)

+0.00%

Corn

+0.99%

Cotton

+1.14%

Lean Hogs

+0.00%

Orange Juice

+0.00%

Soybeans

+0.43%

Wheat

+0.20%

White Sugar

+0.00%

Cattle

+0.00%

Sugar #11

+0.00%

Cocoa

+0.00%

Lumber

+0.00%

Feeder Cattle

+0.00%

Soybean Meal

+0.21%
Out of 43 world ETFs listed in NYSE that we track, 36 are trading above their 10-day SMA and 42 are trading above their 50-day SMA.
Must Reads
The TikTok War
Over the last week, as the idea of banning TikTok in the U.S. has shifted from a fringe idea to a seeming inevitability (thanks in no small part to India's decision to do just that), those opposed to the idea and those in support seem to be talking past each other.
The great games at play in wind and solar
In the middle of a possible recession and a collapse in power demand, renewables are shining bright.
Huawei 5G kit must be removed from UK by 2027
The UK's mobile providers are being banned from buying new Huawei 5G equipment after 31 December, and they must also remove all the Chinese firm's 5G kit from their networks by 2027. Digital Secretary Oliver Dowden told the House of Commons of the decision.
Indian billionaire seeks hedge funds to rescue half-built homes
Piramal Enterprises Ltd. is seeking new investors including hedge funds to help raise cash and fund working capital for the real estate projects it lends to so they don't languish half built.
Heads I Win
A few months back I had a big battle with one of my oldest, most sensible friends.  We, along with another sharp buddy, went to graduate school together.
The Greatest Privilege We Never Talk About: Beauty
The benefits of being attractive are exorbitant. Beauty might be the single greatest physical advantage you can have in life*. And yet compared to other other privileges that may arise from race, gender, or sexuality, we don't talk much about it.
Check out our Global Macro Dashboard for currency, commodity, bonds and credit charts.
Good luck!