Your world at 9am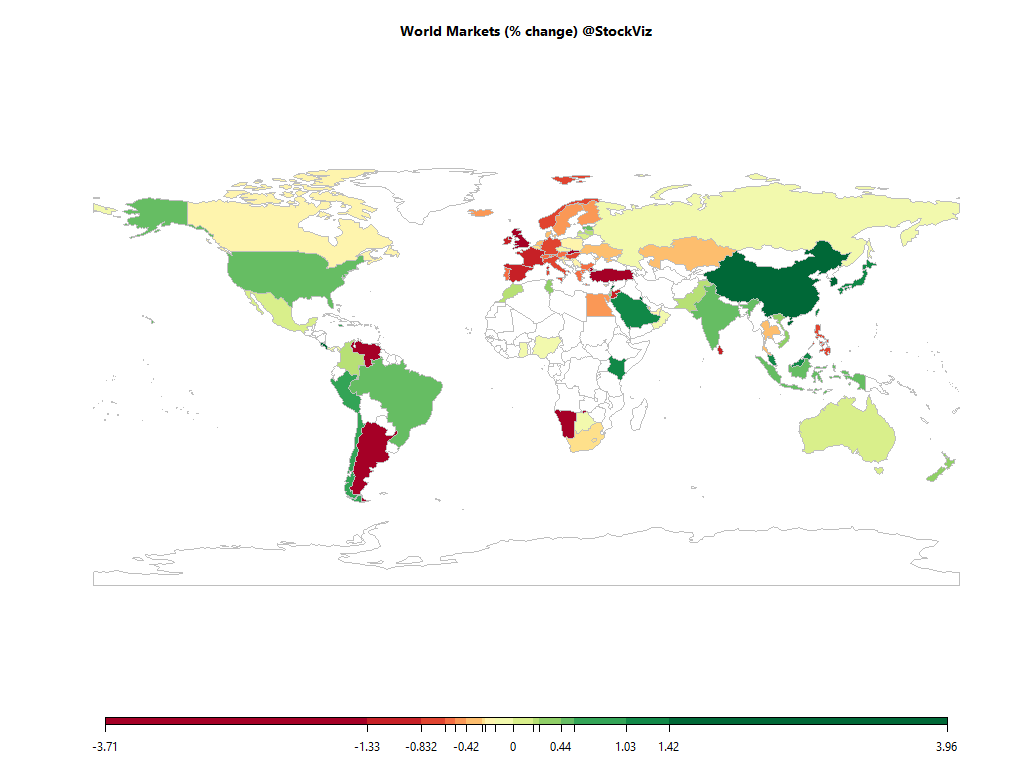 Equities
Commodities
Energy
Ethanol

+0.00%

Heating Oil

+0.30%

Brent Crude Oil

-0.13%

RBOB Gasoline

+0.41%

Natural Gas

+0.30%

WTI Crude Oil

-0.03%
Metals
Gold 100oz

+0.00%

Platinum

+1.19%

Silver 5000oz

+0.84%

Copper

+0.74%

Palladium

+1.16%
Agricultural
Cattle

+0.00%

Lean Hogs

+0.00%

Orange Juice

+0.00%

Soybean Meal

+0.21%

Wheat

+0.20%

White Sugar

+0.00%

Coffee (Arabica)

+0.00%

Corn

+0.99%

Lumber

+0.00%

Sugar #11

+0.00%

Coffee (Robusta)

+0.00%

Feeder Cattle

+0.00%

Soybeans

+0.43%

Cocoa

+0.00%

Cotton

+1.14%
Out of 43 world ETFs listed in NYSE that we track, 38 are trading above their 10-day SMA and 42 are trading above their 50-day SMA.
Must Reads
Opinion | The opening up of India's space sector is a big bang policy reform
Had we not been so engrossed by the covid-19 pandemic and Chinese transgressions in the Himalayas, the Narendra Modi government's deregulation of the space sector would have stood out as a structural, big-bang reform.
Gundlach lashes Fed's 'incredible fiscal lending' during coronavirus collapse
Billionaire bond investor Jeffrey Gundlach believes the Federal Reserve has "propped up the economy" with extraordinary feats of lending and bond buying that have curbed market volatility during the COVID-19 crisis, but may come back to haunt policymakers.
A $10 Trillion Rally Hinges on Earnings Nobody Has a Clue About
Remember last earnings season? When companies were reporting their worst quarter since the financial crisis. And nobody dared guess what the future held. Bankruptcy risk was everywhere. Oh, and stocks rallied so hard that $5 trillion got added to share prices.
Kelly Bet on Everything
It's a core staple of Putanumonit to apply ideas from math and finance out of context to your everyday life. Finance is about making bets, but so is everything else. And one of the most useful concepts related to making bets is the Kelly criterion.
What Most Active vs. Passive Debates Miss
Do active funds outperform their passive counterparts? From the 1970s, when passive funds first launched, up until today, when their assets under management (AUM) have overtaken those of active funds, the active vs. passive debate has centered on that question.
Pragmatic Capitalism
I turn 40 years old today. Since I hate birthday presents I figured I'd pass along some of the presents people have taught me over the last 40 years.  1) Always try to be a good person. This is the most obvious one and also often the hardest one.
Peter Bernstein's Checklist for "Growth Companies"
There is a big difference between a growth stock and a company that grows. …the term "growth stock" is meaningless; a growth stock can be identified only in hindsight — it is simply a stock which went way up.
Keep Running!
Leigh Van Valen was a crazy-looking evolutionary biologist who came up with a theory so crazy no academic journal would publish it. So he created his own journal, published it, and the idea eventually became accepted wisdom.
How Berkshire Hathaway May Have Been Snookered in Germany
FRANKFURT — Only a few weeks after Berkshire Hathaway bought what looked like an upstanding example of German engineering prowess, a manager in Warren Buffett's widely admired corporate empire received an unsettling email.
Specialty chemicals biz pique PE players' interest
India's specialty chemicals companies are catching the fancy of private equity (PE) investors due to the robust growth of the industry in the last few years, and with Indian chemicals businesses finding favour with global companies seeking to de-risk their supply chains from China.
Consumer  durable cos  bet on small towns for revival
Small towns and parts of rural India could hold the key to reviving short-term demand as forecast of a normal monsoon and enhanced government schemes are likely to encourage households in these markets to spend on low-ticket consumer electronics, said consumer durable companies.
Govt notifies tax rules for non-resident e-commerce players
2 min read .
Check out our Global Macro Dashboard for currency, commodity, bonds and credit charts.
Good luck!