Your world at 9am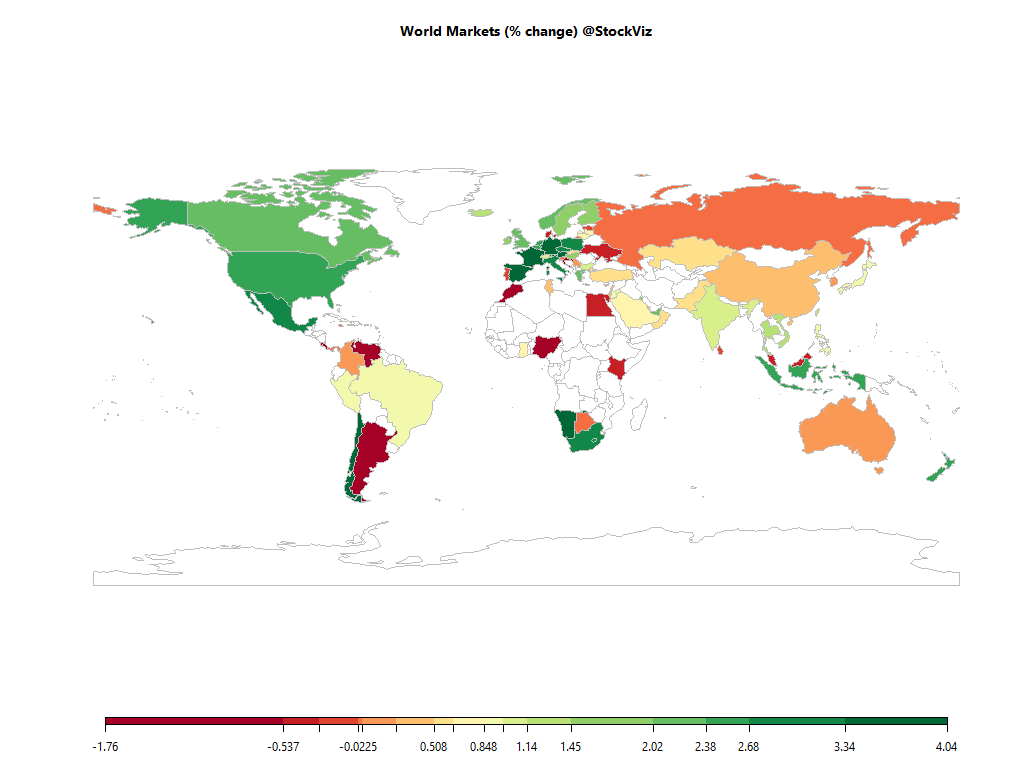 Equities
Commodities
Energy
RBOB Gasoline

+1.81%

Ethanol

+4.30%

Heating Oil

+1.58%

Natural Gas

-0.34%

Brent Crude Oil

+1.30%

WTI Crude Oil

+0.83%
Metals
Platinum

+1.12%

Gold 100oz

+0.07%

Palladium

+1.17%

Silver 5000oz

+0.00%

Copper

-0.49%
Agricultural
Corn

+0.23%

Soybean Meal

+0.07%

Soybeans

-0.12%

Cattle

-1.64%

Coffee (Arabica)

+0.76%

Coffee (Robusta)

+0.00%

Cotton

-1.10%

Lumber

+3.02%

Wheat

-0.29%

Feeder Cattle

-0.80%

Sugar #11

+2.82%

White Sugar

+0.00%

Cocoa

+0.00%

Lean Hogs

-2.06%

Orange Juice

+1.43%
Out of 43 world ETFs listed in NYSE that we track, 43 are trading above their 10-day SMA and 43 are trading above their 50-day SMA.
Must Reads
I'm a Developer. I Won't Teach My Kids to Code, and Neither Should You.
On a recent late-night formula run, I passed by a large display of books about teaching children to code. I have seen these books around, but never such a large display directed toward elementary-aged children.
Boosting demand key for economic revival
What will be the Covid-19 pandemic's impact on India? The Reserve Bank of India expects the Indian economy to contract in the current fiscal year. But given the recent release of GDP numbers for the quarter ending March 2020, a big-picture analysis may be needed.
Risk-averse lenders press pause on new home loans
MUMBAI : Lenders are hitting the brakes on disbursing sanctioned home loans, unwilling to take risks. Home loans make up over 50% of the retail loan sector.
Why is Extrapolation so Dangerous for Investors?
At the start of the last decade everyone was bullish on emerging market equities.  It is hard to recall now, but it was the consensus trade.
Timeless Lessons from Bubbles
Every market bubble reveals important lessons after it bursts. Some of those lessons are one-off, tied to a specific bubble. The important lessons emerge each time prices reach euphoric heights.
My Five Truths
MANY MEMBERS of the military live in a crisis-like state. They're frequently deployed to dangerous places. Their families often have to move every few years. Today, that sense of crisis is shared by many others. In fact, with 23.
The Things That Used to Matter to Stock Investors Don't Anymore
Rising earnings. Economic growth. Bargains. A lot of the stuff investors were thought to cherish has been in short supply in the rally that has swept markets since March. Also: share repurchases, all but gutted as the coronavirus lockdown put a premium on conserving cash.
As India unlocks, electronics makers see strong revival in demand
NEW DELHI : With the government allowing several relaxations in the last two phases of the lockdown including sale of non-essentials on ecommerce platforms, consumer electronics companies in India have seen sharp recovery in demand and are hopeful that the trend will continue in the coming quarters.
Discom dues to hit all-time high of ₹4.5 tn: Crisil
1 min read .
Near-term outlook for FMCG sector 'extremely uncertain: HUL CMD Sanjiv Mehta
The near-term outlook for the FMCG market is "extremely uncertain" as the COVID-19 outbreak had a "terrible impact" and the situation remains volatile with the trajectory of the coronavirus undetermined, according to HUL.
India banks need capital to face coronavirus pandemic, says Uday Kotak
MUMBAI : India should prepare to inject capital into state banks and private-sector lenders need to strengthen their balance sheets, to help bolster the economy against the coronavirus pandemic, according to a senior banker.
Why Is the Human Brain So Efficient?
How massive parallelism lifts the brain's performance above that of AI. The brain is complex; in humans it consists of about 100 billion neurons, making on the order of 100 trillion connections.
A new order: When the world emerges from the pandemic, we'll wake up to a new multilateral order
Covid has accelerated changes in the global multilateral system that have been on over the past few years.AgenciesWhile these new groups can be useful in limited capacities, we do need a multilateral system that offers a level-playing field to all countries.
Check out our Global Macro Dashboard for currency, commodity, bonds and credit charts.
Good luck!