Your world at 9am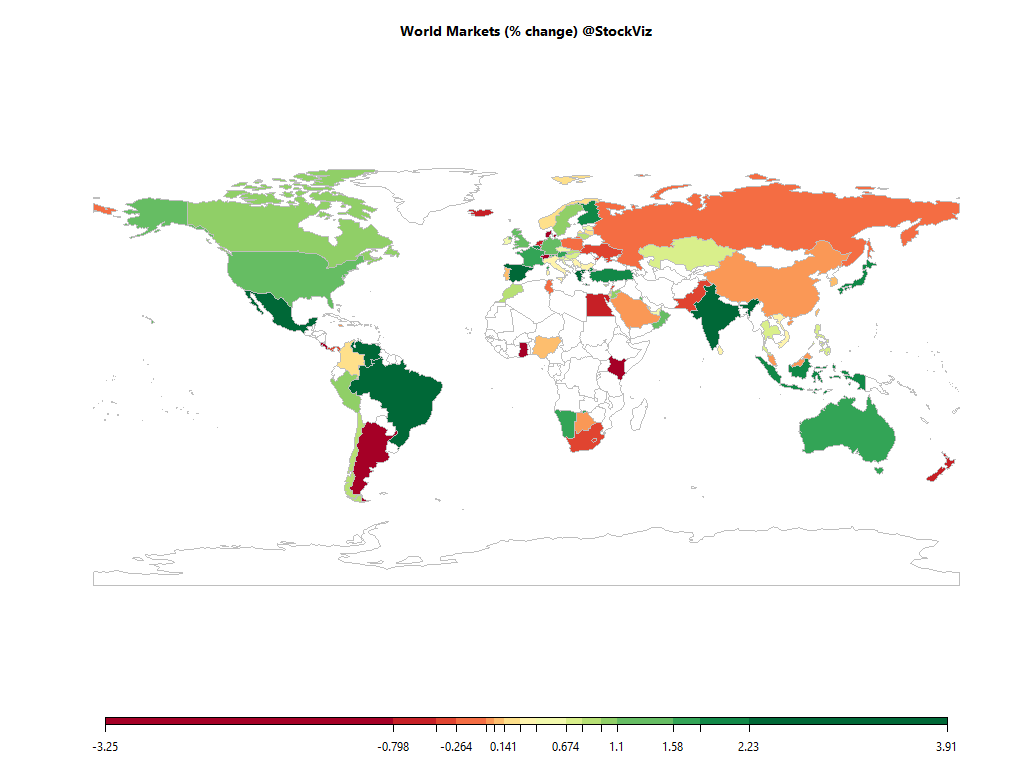 Equities
Commodities
Energy
Brent Crude Oil

-2.71%

Ethanol

+0.00%

WTI Crude Oil

-3.66%

Heating Oil

-2.24%

Natural Gas

-1.43%

RBOB Gasoline

-1.70%
Metals
Copper

+0.00%

Palladium

-0.09%

Silver 5000oz

+0.00%

Platinum

-0.36%

Gold 100oz

+0.04%
Agricultural
Cattle

+0.00%

Cotton

-0.46%

Lean Hogs

+0.00%

Soybean Meal

+0.28%

Wheat

+0.05%

Cocoa

+0.00%

Feeder Cattle

+0.00%

Soybeans

-0.09%

Sugar #11

+0.00%

Coffee (Robusta)

+0.00%

Lumber

+0.00%

Orange Juice

+0.00%

White Sugar

+0.00%

Coffee (Arabica)

+0.00%

Corn

+0.08%
Out of 43 world ETFs listed in NYSE that we track, 40 are trading above their 10-day SMA and 42 are trading above their 50-day SMA.
Must Reads
Banks may need to raise $20 bn in additional capital: Credit Suisse
MUMBAI : Indian banks may need to raise $20 billion in additional capital for increased provisioning over the next 12 months as credit quality weakens, Credit Suisse said in a report on Wednesday.
EPFO withdrawals data puts spotlight on worsening job crisis
NEW DELHI : Temporary income losses due to the coronavirus lockdown are turning into job losses, indicates data on India's retirement fund withdrawals, painting a grim picture of the country's employment scenario.
Investment Risk is about the Extreme and the Unseen
When an event such as the coronavirus pandemic hits markets, investor attention is inevitably drawn to the damage that can be wrought by high impact, unpredictable episodes. This is understandable as such occurrences can have disastrous financial consequences.
IEA says the coronavirus crisis has set in motion the largest drop of global energy investment in history
The International Energy Agency believes the coronavirus pandemic has paved the way for the largest decline of global energy investment in history, with spending set to plummet in every major sector this year.
Growing the Atma Nirbhar way
In 1991, India only had three weeks' worth of foreign reserves. Liberalising our markets was an idea whose time had come knocking at our door in the 1980s — it left us some cool drinks for our many summers of discontent that followed and, was finally back, ready to break down the door.
Salaries Get Chopped for Many Americans Who Manage to Keep Jobs
Sign up here for our daily coronavirus newsletter on what you need to know, and subscribe to our Covid-19 podcast for the latest news and analysis. Companies across the U.S.
India's PMS industry delivering abysmal returns! Here is why
Returns (if one can even call them that) have been worse than putting money under the mattress.The three-year CAGR returns of most schemes are negative in the -2% to -14% range, while for some it is in the low 2-3% range. There is no easy way to say this.
JP Morgan chief economist forecasts 'strong rebound' in Indian markets
NEW DELHI : Global investment bank JP Morgan is forecasting a "very strong rebound" in Indian markets for the second half of the year while it remains "worried" about what it describes as deterioration in the country's public finances, social disruption and the limits of public financing in the long
Indian food delivery unicorns clubbed by own government
TOKYO — India's stringent coronavirus lockdown has rebounded badly on the country's food delivery sector, forcing two of the biggest players to cut jobs as rivals around the world enjoy bumper growth.
TIAA Says Negative Yields Could Soon be a Possibility in Money-Market Products. Why That's a 'Horrible Deal' for Investors.
Negative yields could be a possibility for U.S. investors sooner than expected—at least, for investors in a couple of money-market products managed by TIAA.
Four Myths of Bundling
A huge round of thanks to the following folks for reviewing and contributing to this doc.
It's a perfect storm of stupid in the stock market right now
There are a lot of words people who watch the markets use to describe it's conditions. Sometimes it's choppy, other times it's swooning. Right now the condition of the market is stupid. This herd of newbies has charged into the market at a time of incredible uncertainty.
Check out our Global Macro Dashboard for currency, commodity, bonds and credit charts.
Good luck!