Your world at 9am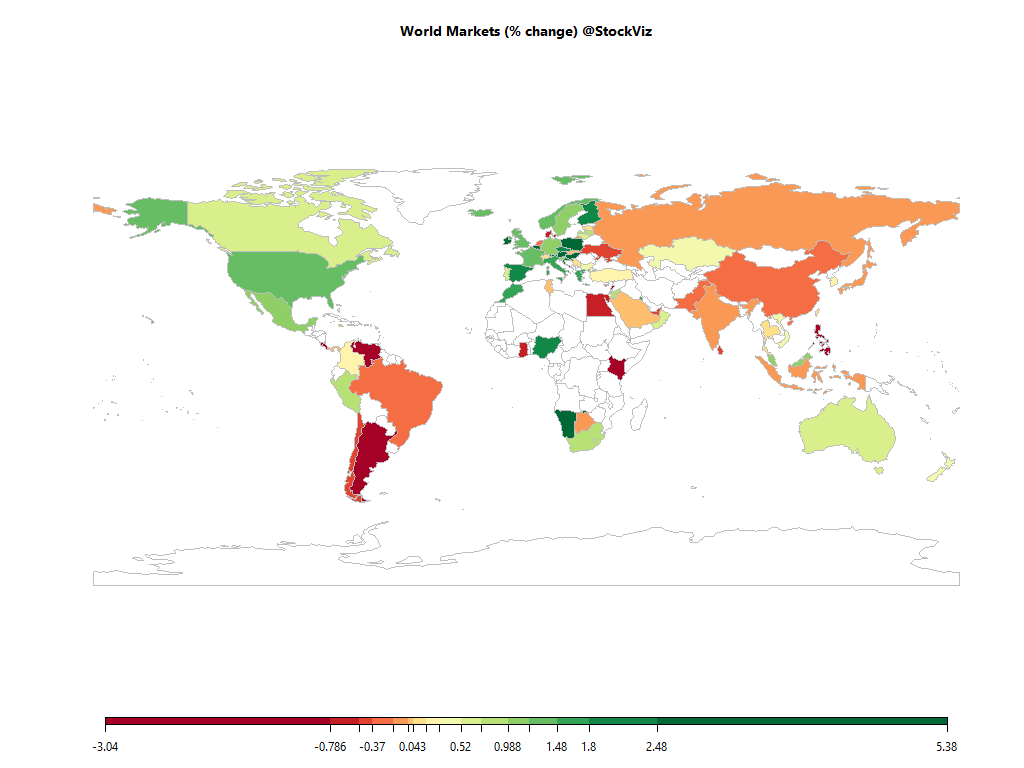 Equities
Commodities
Energy
Ethanol

+0.00%

Heating Oil

-0.64%

Natural Gas

-0.84%

Brent Crude Oil

-0.39%

RBOB Gasoline

-0.94%

WTI Crude Oil

-0.67%
Metals
Copper

+0.00%

Palladium

-1.21%

Gold 100oz

+0.00%

Silver 5000oz

+0.00%

Platinum

-0.70%
Agricultural
Cattle

+0.00%

Coffee (Arabica)

+0.00%

Corn

+0.31%

Soybean Meal

+0.18%

Wheat

-0.15%

Cocoa

+0.00%

Feeder Cattle

+0.00%

Soybeans

+0.00%

Cotton

+0.48%

Lean Hogs

+0.00%

White Sugar

+0.00%

Coffee (Robusta)

+0.00%

Lumber

+0.00%

Orange Juice

+0.00%

Sugar #11

+0.00%
Out of 43 world ETFs listed in NYSE that we track, 36 are trading above their 10-day SMA and 41 are trading above their 50-day SMA.
Must Reads
World Health Organization warns of 'second peak' in areas where coronavirus is declining
Countries where coronavirus infections are declining could still face an "immediate second peak" if they let up too soon on measures to halt the outbreak, the World Health Organization said on Monday.
The Diversification Drag & The Management of Luck
Diversification has been a drag on investor portfolios for a number of years now. In a world where one asset class (U.S. large-cap growth stocks in this instance) is far and away the best performer, diversifying into other asset classes or strategies will make you feel silly.
The business plan for Make In India 2.0
NEW DELHI : The sales head of an Indian consumer products company got cracking, a day after Prime Minister Narendra Modi advocated that India become self-reliant and become "vocal for their local". He circulated a survey with two questions among his contacts on LinkedIn.
Opinion | Why RBI should now be our lender of first resort
Its monetary easing tools are turning blunt even as the government relies on lending for an economic revival. Perhaps RBI could fight credit-risk aversion by buying corporate bonds
Live free and die: Sweden's coronavirus experience
We now know much more about Covid-19 than we did even a month ago. First, serology tests have shown that only fairly small numbers of people in Europe and the US have had Covid-19 (and nearly everyone who has had the virus seems to get antibodies against it).
A Vigilante in Statistical Badlands
Something didn't seem right to epidemiologist Eric Weinhandl when he glanced at an article published in the venerated Journal of the American Medical Association (JAMA) on a crisp fall evening in Minnesota.
As Covid-19 Disrupts Global Supply Chains, Will Companies Turn to India?
We've made our coronavirus coverage free for all readers. To get all of HBR's content delivered to your inbox, sign up for the Daily Alert newsletter.
Lockdown drives India's economy into deep coma
India's months-long-lockdown may not have succeeded in flattening the infection curve but it has flattened the economic growth curve, the latest edition of the Mint Macro Tracker shows.
We Are All The Burnout Generation
Approximately 7,000 years ago, the Irish elk roamed the land we now call Siberia. Bulls (male elk) wielded large antlers, which they would use in fights with other bulls over mates.
Many Americans used part of their coronavirus stimulus check to trade stocks
The U.S. government passed the largest piece of stimulus legislation in our nation's history to allow people to keep paying their bills during the forced economic shutdowns due to the coronavirus.  Consumers, in turn, used a lot of that money to speculate in the stock market.
Deepak Fertilisers: Preying on the market price?
Deepak Fertilisers' promoters recently let their warrants lapse but may subscribe to the company's rights issue. The fall in the company's stock price will enable the promoter group to increase their shareholding for the same quantum of equity infusion.
BOJ's Kuroda says ready to do more for economy after emergency lifts
TOKYO (Reuters) – Bank of Japan Governor Haruhiko Kuroda said on Tuesday the central bank may take more steps to cushion the economic impact from the coronavirus pandemic, maintaining his gloomy outlook even as a state of emergency was lifted in the capital Tokyo.
The Most Misunderstood Investing Concepts: Portfolio Management
In this edition of The Most Misunderstood Investing Concepts I discuss portfolio management, which, in my opinion is overwrought. In case you have missed other pieces in this series here are links to each of them:
Check out our Global Macro Dashboard for currency, commodity, bonds and credit charts.
Good luck!