Your world at 9am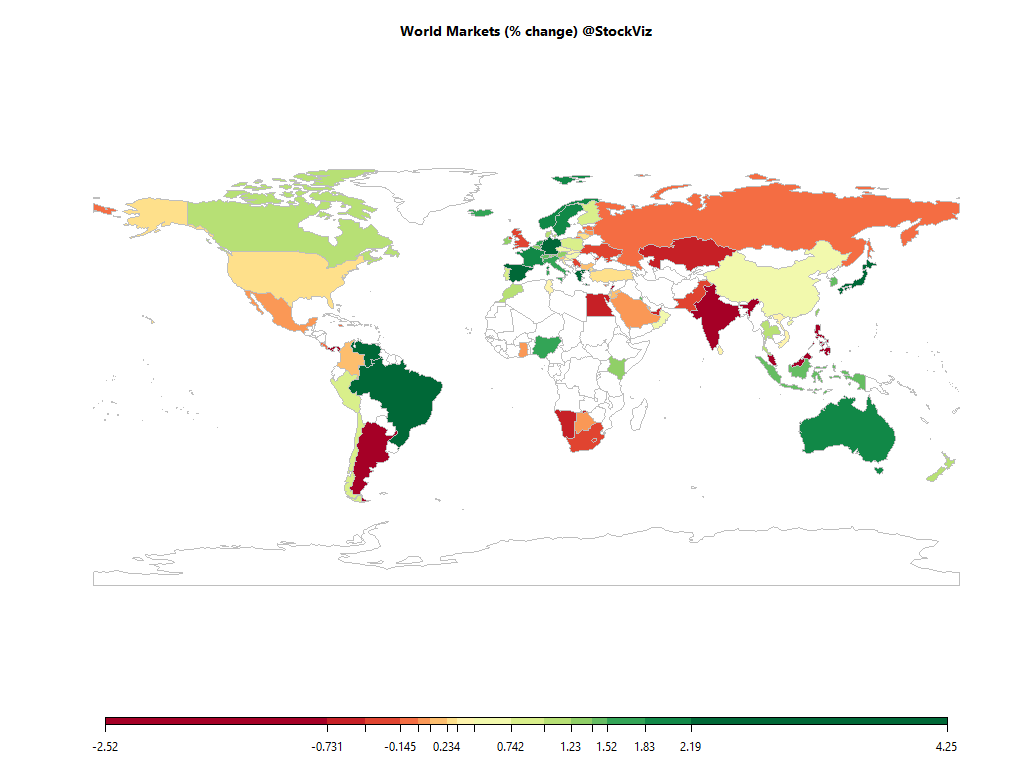 Equities
Commodities
Energy
RBOB Gasoline

+2.10%

Heating Oil

+2.39%

Natural Gas

+0.00%

Brent Crude Oil

+1.13%

Ethanol

+0.27%

WTI Crude Oil

+2.53%
Metals
Gold 100oz

-0.47%

Platinum

+2.01%

Silver 5000oz

+0.00%

Copper

+0.44%

Palladium

+3.10%
Agricultural
Lumber

+0.00%

Orange Juice

+0.00%

White Sugar

+0.00%

Corn

+0.16%

Cotton

+1.09%

Wheat

+0.05%

Cocoa

+0.00%

Coffee (Arabica)

+0.00%

Coffee (Robusta)

+0.00%

Cattle

+0.00%

Feeder Cattle

+0.00%

Lean Hogs

+0.00%

Soybean Meal

+0.53%

Soybeans

+0.87%

Sugar #11

+0.00%
Out of 43 world ETFs listed in NYSE that we track, 33 are trading above their 10-day SMA and 41 are trading above their 50-day SMA.
Must Reads
The Coronavirus Is Exposing Wall Street's Reckless Gamble on Bad Debt
In January of 2019, Mark Carney, the governor of the Bank of England, appeared before a House of Commons committee to discuss global threats to financial stability. At that time, the U.S.
Big Story | How Atmanirbhar Bharat impacts sectors, stocks
The stimulus package, which was expected to offer huge respite to businesses and individuals reeling under the pandemic crisis, has instead left the banking sector with a huge burden.
Sales Inducements In Asia Pacific
Australia banned sales commissions paid to advisers, including trailer fees, in 2012. However, misconduct and mis-selling practices have continued.
India is chasing an elusive China dream
BENGALURU : A decade ago, as China's labour costs began to rise by double-digits in industrial provinces such as Guangdong, the Hong Kong-based Epic Group rapidly expanded its garment factories in Bangladesh to take advantage.
Opinion: We're now seeing the sharp edge of volatility's sword and it cuts deep
Artificially low volatility has driven a wide range of investment strategies which generate small returns under stable conditions but are vulnerable to large losses under stressful conditions.
Amazon is a logistics beast – A detailed teardown
Supply chains globally have been disrupted on account of Covid19. Yet, platform players like Amazon and Alibaba have demonstrated how their approach to logistics and supply chain management is not only scalable but also responsive and resilient to such disruptions.
Many Jobs May Vanish Forever as Layoffs Mount
With over 38 million U.S. unemployment claims in nine weeks, one economist says the situation is "grimmer than we thought." Even as states begin to reopen for business, a further 2.
RBI's surprise rate cut, shift in focus to growth, loan moratorium and more
MUMBAI: The coronavirus pandemic has forced the Reserve Bank of India (RBI) to advance its scheduled monetary policy meet a second time and announce deep cuts to benchmark rates.
Opinion | The government blinks as the virus throws it a curveball
There is a renewed emphasis on curves. Most business and economic trends are expressed through graphs, particularly curves, that explain linkages between key variables. After the emergence of the novel coronavirus, different curves now dominate our quotidian lives.
Ten Myths About the 1918 Flu Pandemic
This year marks the 100th anniversary of the great influenza pandemic of 1918. Between 50 and 100 million people are thought to have died, representing as much as 5 percent of the world's population. Half a billion people were infected.
Canadian economy on track for healthy post-pandemic recovery, Poloz says
Bank of Canada Governor Stephen Poloz believes Canada's economy remains on track for a healthy recovery this year from the COVID-19 crisis, despite the steady flow of discouraging economic headlines in recent weeks.
Check out our Global Macro Dashboard for currency, commodity, bonds and credit charts.
Good luck!