Your world at 9am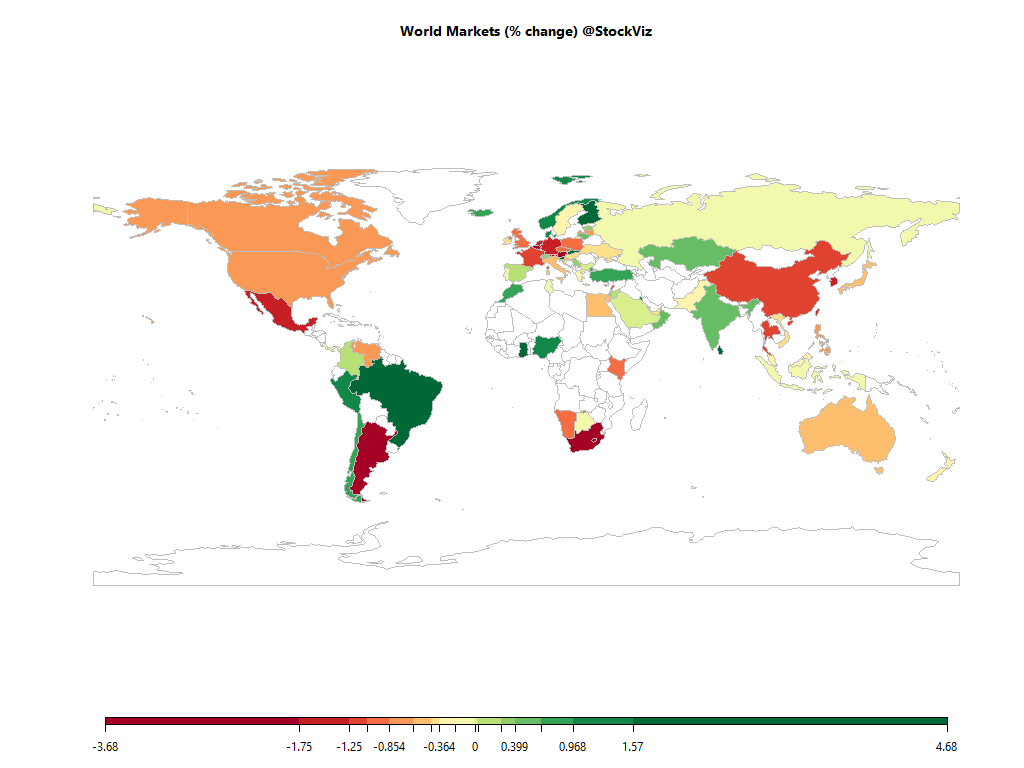 Equities
Commodities
Energy
Ethanol

+0.00%

Heating Oil

-3.17%

Natural Gas

-0.88%

Brent Crude Oil

-3.85%

RBOB Gasoline

-3.54%

WTI Crude Oil

-4.60%
Metals
Platinum

-0.53%

Silver 5000oz

+0.00%

Copper

+0.00%

Gold 100oz

+0.00%

Palladium

+0.53%
Agricultural
Cocoa

+0.00%

Coffee (Arabica)

+0.00%

Coffee (Robusta)

+0.00%

Soybean Meal

+0.25%

White Sugar

+0.00%

Cattle

+0.00%

Feeder Cattle

+0.00%

Lean Hogs

+0.00%

Corn

-0.24%

Cotton

-0.78%

Soybeans

-0.12%

Sugar #11

+0.00%

Lumber

+0.00%

Orange Juice

+0.00%

Wheat

-0.63%
Out of 43 world ETFs listed in NYSE that we track, 37 are trading above their 10-day SMA and 43 are trading above their 50-day SMA.
Must Reads
London may have gone into a covid-accelerated decline
BEFORE IT WAS blown off course by covid-19, Boris Johnson's government had big plans to reshape the economic geography of Britain. Poor parts of the Midlands and north of England would get lots of infrastructure investment, helping them to close the productivity gap with London.
India's economy has suffered even more than most
Recognising the pain, Narendra Modi, the prime minister, on May 12th pledged an almost mythical-sounding 20 lakh crore rupees of fresh government spending, equivalent to $265bn or 10% of GDP, to reignite growth.
Small auto parts suppliers fear closure with demand freezing
MUMBAI : Several micro and small auto parts suppliers, categorised as tier 2 or 3, or even smaller in the supply chain, fear shutdowns as liabilities, including wages, inventory costs, unutilized production capacities, interest on loans and other fixed overheads, continue to rise, industry executive
In large-cap equities, is alpha generation a zero-sum game?
Globally, as markets have matured, we have seen the institutional share of public equity increasing. Professional managers are continuing to enter the investment management industry, resulting in market research becoming more institutionalized.
India has over 17 'bad banks' and a BIG BAD BANK is not required: Sandeep Parekh
In a series of many announcements, India has been changing its laws to ensure that fewer companies fold during The Great Lockdown. Sandeep Parekh of Finsec Law Advisors believes that all laws that support Ínspector Raj' and criminalise 'technical offences'should be done away with.
Senate Passes Bill to Delist Chinese Companies From Exchanges
The Senate overwhelmingly approved legislation Wednesday that could lead to Chinese companies such as Alibaba Group Holding Ltd. and Baidu Inc. being barred from listing on U.S. stock exchanges amid increasingly tense relations between the world's two largest economies.
Check out our Global Macro Dashboard for currency, commodity, bonds and credit charts.
Good luck!