Your world at 9am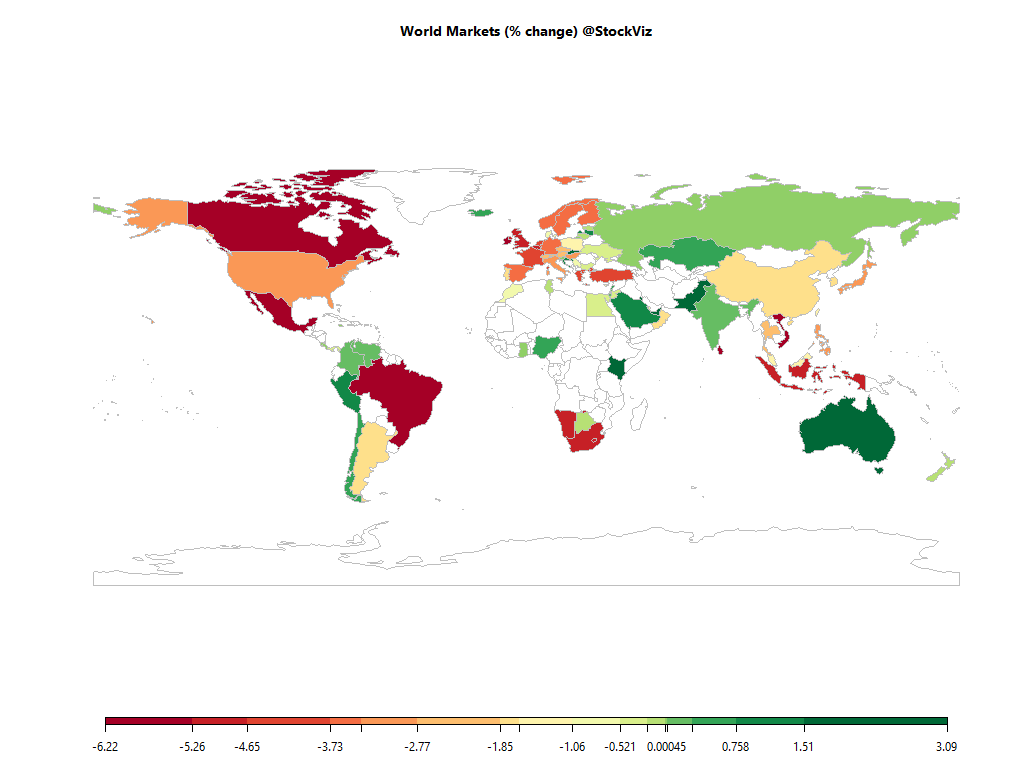 Equities
Commodities
Energy
Brent Crude Oil

-6.26%

Ethanol

-6.57%

Natural Gas

-2.81%

WTI Crude Oil

-5.11%

Heating Oil

-2.13%

RBOB Gasoline

-9.80%
Metals
Palladium

-1.68%

Silver 5000oz

-3.01%

Copper

-0.55%

Gold 100oz

+0.01%

Platinum

-3.74%
Agricultural
Cattle

-4.27%

Corn

-0.36%

White Sugar

+0.00%

Cocoa

+0.00%

Coffee (Arabica)

-6.64%

Lumber

-3.87%

Wheat

+1.05%

Cotton

-2.07%

Soybean Meal

+1.58%

Sugar #11

-2.12%

Coffee (Robusta)

+0.00%

Feeder Cattle

-7.82%

Lean Hogs

-7.08%

Orange Juice

-2.39%

Soybeans

+1.05%
Out of 43 world ETFs listed in NYSE that we track, 41 are trading above their 10-day SMA and 0 are trading above their 50-day SMA.
Must Reads
Life lessons from the history of lockdowns
NEW DELHI : Prime Minister Narendra Modi's announcement of a national lockdown for 21 days is an unprecedented decision in Indian history.
India turns to location surveillance to contain spread of Covid-19
Police forces, Centre and state governments around the country are using location-tracking on smartphones to identify possible Covid-19 infections and to keep people indoors.
E-commerce, online firms struggle to get permits to deliver essentials, run warehouses
BENGALURU : After four days of the lockdown, e-commerce and other online delivery companies are still struggling to obtain permits to operate warehouse and deliver food, medicines and other essential items to customers.
A Global Consumer Default Wave Is Just Getting Started in China
Like millions of people around the world, Zhang Chunzi borrowed money she thought she'd be able to repay before the coronavirus changed everything.
Long Toilet Paper / Short Equities – Why We Panic Buy and Sell
Panic is an overwhelming feeling of fear that can dominate our decision making.  It typically begins with a significant and sudden change in circumstance.
Coronavirus – getting angry
I am going to give you a few stylised facts about severe acute respiratory syndrome coronavirus 2 and the data. First – no matter what you say about the Chinese data – and the Chinese data was full of lies at first – China has controlled the outbreak.
Econometric modelling as junk science
from Lars Syll Do you believe that 10 to 20% of the decline in crime in the 1990s was caused by an increase in abortions in the 1970s? Or that the murder rate would have increased by 250% since 1974 if the United States had not built so many new prisons? Did you believe predictions that the welfare
Ten Takes on COVID-19 as an Economist and Citizen
I have been studying Resource Economics for forty years, studying the evolution and control of diseases in plants, animals, ecosystems, and humans. The research in this and related topics have produced significant knowledge that can help to address the COVID-19 pandemic.
A new FDA-authorized COVID-19 test doesn't need a lab and can produce results in just 5 minutes
There's a new COVID-19 test from healthcare technology maker Abbott that looks to be the fastest yet in terms of producing results, and that can do so on the spot right at point-of-care, without requiring a round trip to a lab.
The Hardest Part of a Buy & Hold Strategy
In a 2014 interview with Justin Fox, former Federal Reserve Chair Alan Greenspan relayed a comment he made to Warren Buffett about the Oracle's approach to investing: That tells you why somebody like Warren Buffet does so well.
RBI loads ₹3.74 trillion bazooka in war on coronavirus pandemic
MUMBAI : The Reserve Bank of India (RBI) on Friday went all out to make ample liquidity available in the market and nudge banks to aid the productive sectors of the economy, announcing measures to inject ₹3.74 trillion.
Regulator allows banks to trade in offshore rupee derivative market
The Reserve Bank of India allowed offshore units of Indian banks to participate in the offshore rupee derivative market to curtail volatility in currency markets due to the Covid-19 pandemic.
Opinion | What the RBI has done (in English)
The RBI's Governor's 'bazooka' announcement earlier today has seen the usually conservative institution and its head pull out the big guns in word and action.
Black Death Makes Us Think About Interest Rates
All upheavals leave their marks. Some fade away, some linger.
Why Didn't We Test Our Trade's 'Antifragility' Before COVID-19?
World The EU's Betrayal of Italy May Be Its Undoing When countries are turning to China because their supranational institutions won't help, that's a problem.
Check out our Global Macro Dashboard for currency, commodity, bonds and credit charts.
Good luck!