Your world at 9am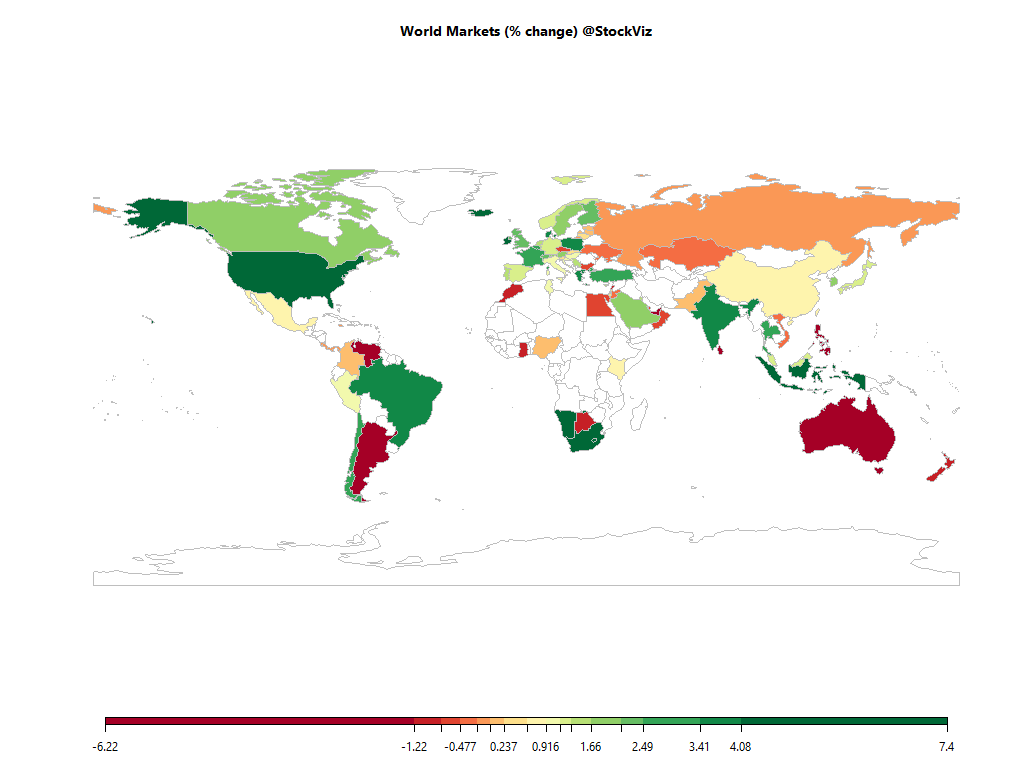 Equities
Commodities
Energy
Ethanol

+0.00%

Heating Oil

+0.98%

RBOB Gasoline

+2.98%

Brent Crude Oil

+1.21%

Natural Gas

+0.06%

WTI Crude Oil

+1.86%
Metals
Platinum

+0.42%

Palladium

-1.17%

Copper

+0.00%

Gold 100oz

+0.00%

Silver 5000oz

+0.00%
Agricultural
Cocoa

+0.00%

Corn

-0.57%

Feeder Cattle

+0.00%

Lean Hogs

+0.00%

Orange Juice

+0.00%

Soybeans

+0.40%

Sugar #11

+0.00%

Cattle

+0.00%

Coffee (Arabica)

+0.00%

Soybean Meal

+0.56%

White Sugar

+0.00%

Cotton

+0.66%

Coffee (Robusta)

+0.00%

Lumber

+0.00%

Wheat

+0.00%
Out of 43 world ETFs listed in NYSE that we track, 39 are trading above their 10-day SMA and 0 are trading above their 50-day SMA.
Must Reads
₹1.7 lakh cr. package with doubled food rations, cash transfers for poor
The Union government on Thursday announced a ₹1.7 lakh crore package, providing free food and cash transfers to support the poorest citizens who are most vulnerable during the COVID-19 pandemic and the resultant countrywide lockdown.
Coronavirus cases in India rise to 694, death toll at 16: State-wise tally
Amid the novel coronavirus outbreak in the country, the number of confirmed cases in India rose to 694 on Thursday. 88 new virus cases was reported in India today, the highest in a single day. Out of these cases, 47 are foreign nationals, said the Union Health Ministry.
US now has the world's most coronavirus cases
On Thursday, the United States crossed an unfortunate milestone in the global fight against the novel coronavirus: leading the world in confirmed cases. By Thursday afternoon around 3 p.m. PT, the U.S.
How grasshoppers triumphed over ants in Europe
TO EXPLAIN A complicated story, it helps to have a fable.
The pandemic shock will make big, powerful firms even mightier
Editor's note: The Economist is making some of its most important coverage of the covid-19 pandemic freely available to readers of The Economist Today, our daily newsletter. To receive it, register here. For more coverage, see our coronavirus hub
Long Toilet Paper / Short Equities – Why We Panic Buy and Sell
Panic is an overwhelming feeling of fear that can dominate our decision making.  It typically begins with a significant and sudden change in circumstance.
Hope, Faith, and Destiny
One month ago, Wuhan and the Hubei Provence were the epicenter of the coronavirus outbreak. In the past week, new reported cases there have moved down to zero. In broader China, the number of Active Cases is at its lowest level since January 26.
Regulators to the Rescue? — Albert Bridge Capital
Short-sellers aren't the reason the stock market screamed lower this month. The market moved lower because the corona virus and our reaction to it is impacting the global economy. Individual equities would have plummeted with or without short-sellers.
Check out our Global Macro Dashboard for currency, commodity, bonds and credit charts.
Good luck!