Your world at 9am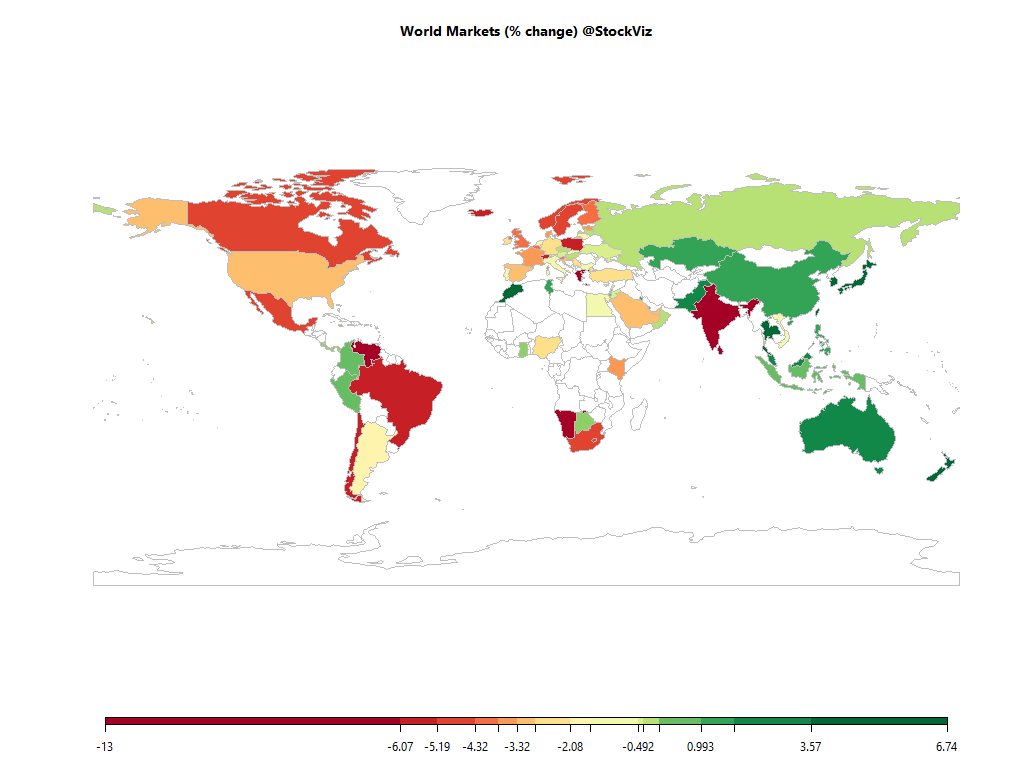 Equities
Commodities
Energy
Heating Oil

+4.95%

RBOB Gasoline

+9.35%

Brent Crude Oil

+3.14%

Ethanol

+0.00%

Natural Gas

-0.75%

WTI Crude Oil

+3.98%
Metals
Platinum

+5.47%

Silver 5000oz

+6.09%

Copper

+1.49%

Gold 100oz

+0.00%

Palladium

+10.93%
Agricultural
Cocoa

+0.00%

Coffee (Robusta)

+0.00%

Feeder Cattle

+0.00%

Lumber

+1.00%

Orange Juice

+0.00%

Soybeans

-0.23%

Coffee (Arabica)

+0.00%

Sugar #11

+0.00%

Cattle

+0.00%

Lean Hogs

+0.00%

Corn

-0.44%

Cotton

+1.13%

Soybean Meal

+0.57%

Wheat

-1.11%

White Sugar

+0.00%
Out of 43 world ETFs listed in NYSE that we track, 1 are trading above their 10-day SMA and 0 are trading above their 50-day SMA.
Must Reads
Oil price drop may change the equation on ethanol blending for OMCs
With crude oil prices dropping below $30/barrel, oil marketing companies (OMCs) may not show as much interest for ethanol-blended petrol programme. In 2018-19 ethanol supply year (December-November), oil marketing companies lifted 188.
World's back office scrambles to stay online as India locks down
India's data centers are vital for many global finance cos. Barclays has more than 20,000 staff in back offices.
Coronavirus Outbreak: 22 states shutdown as total cases in India rise to 468; domestic airlines halt operations starting tomorrow till 31 March
The number of deaths in India due to the novel coronavirus rose to nine on Monday with 468 testing positive as the Centre announced a lockdown in 22 states and Union Territories across the country and the Indian Council of Medical research recommended the use of an anti-malarial drug in cases of hi
Central banks deploy record sums to break financial logjam, but may need more
LONDON/BOSTON (Reuters) – Central banks have offered trillions of dollars of support to markets in recent days to keep them from freezing up, as investors worried about the economic damage from the coronavirus and made a chaotic dash for the exits.
The Coronavirus Crisis Could Wipe Out Entire Industries. These Are the Ones at Risk.
When the world emerges from the coronavirus pandemic—hopefully sooner rather than later—some businesses, and perhaps entire industries, will probably have vanished, absent a federal rescue.
Check out our Global Macro Dashboard for currency, commodity, bonds and credit charts.
Good luck!