Your world at 9am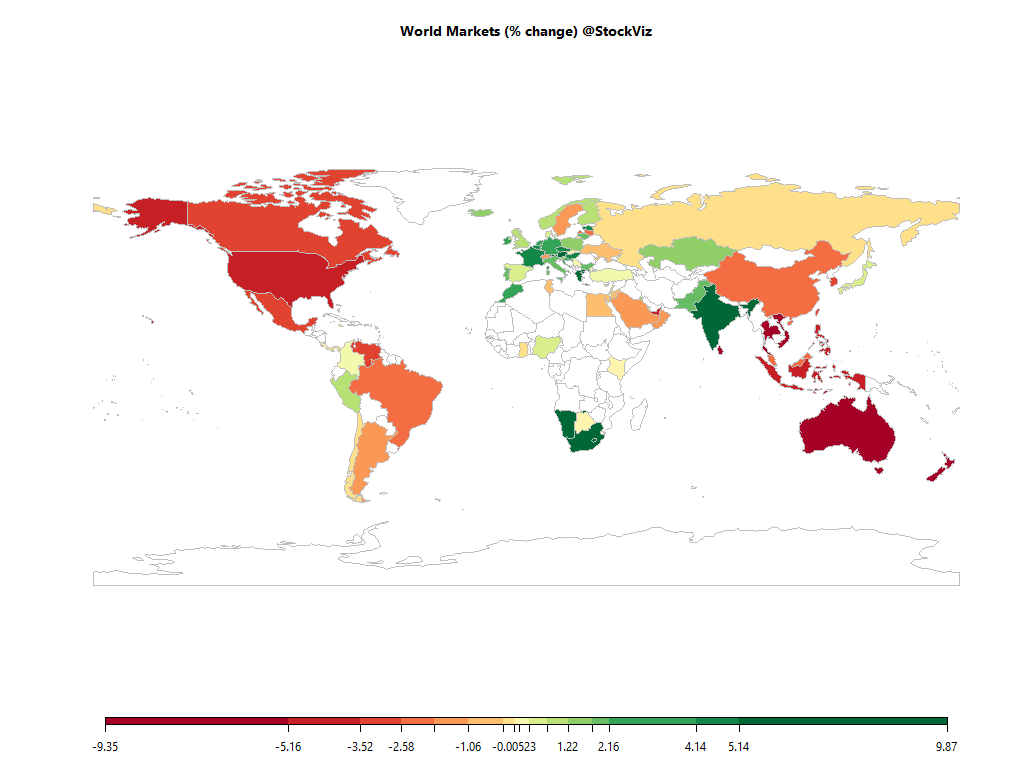 Equities
Commodities
Energy
Brent Crude Oil

-3.22%

Ethanol

-2.77%

Natural Gas

-4.11%

WTI Crude Oil

+0.97%

Heating Oil

-1.82%

RBOB Gasoline

-8.37%
Metals
Platinum

+0.58%

Palladium

-0.34%

Silver 5000oz

+0.00%

Copper

+0.00%

Gold 100oz

+0.77%
Agricultural
Cocoa

+0.00%

Coffee (Arabica)

+7.30%

Lumber

+0.54%

Soybean Meal

+1.35%

Soybeans

+0.70%

Cotton

-4.01%

Feeder Cattle

+3.14%

Lean Hogs

+1.76%

Orange Juice

+5.33%

Sugar #11

+1.87%

Wheat

+0.28%

Coffee (Robusta)

+0.00%

White Sugar

+0.00%

Cattle

+4.63%

Corn

-0.51%
Out of 43 world ETFs listed in NYSE that we track, 1 are trading above their 10-day SMA and 0 are trading above their 50-day SMA.
Must Reads
How RBI set up war-room in just one day amid coronavirus outbreak
The facility, operational from March 19 as part of the Business Contingency Plan (BCP), was up and running in 24 hours of the central bank taking a decision to this effect, according to an official.
Opinion | We may finally have a chance to transform the country
Do you believe there are reformers? People who can make other people quit what they want to do and instead do what is not so enjoyable, natural or profitable to them? Preachers who want to say, "why can't you be like me?", but say something nicer to achieve the same end? Can a very popular perso
A different fight-back
A small tech company in Canada — BlueDot — was among the first outside China to spot a new epidemic spreading out from Wuhan last December.
The Doctor Who Helped Defeat Smallpox Explains What's Coming
Larry Brilliant says he doesn't have a crystal ball. But 14 years ago, Brilliant, the epidemiologist who helped eradicate smallpox, spoke to a TED audience and described what the next pandemic would look like. At the time, it sounded almost too horrible to take seriously.
EU suspends budget rules for first time 
The European Commission is suspending its strict rules on public deficits to allow governments to open the money taps to battle the coronavirus pandemic.
U.S. Orders Up To A Yearlong Break On Mortgage Payments
Updated at 2:49 p.m. ET Homeowners who have lost income or their jobs because of the coronavirus outbreak are getting some relief. Depending on their situation, they should be eligible to have their mortgage payments reduced or suspended for up to 12 months.
Nine points to consider on the outlook for equities
Given the volatility in the financial markets beginning the week of February 20th, it's helpful to review the state of the U.S. economy entering into this stressful period, what's happened since, and some of the potential economic impacts. Here is my take on those topics.
How the Coronavirus Could Take Over Your Body (Before You Ever Feel It)
You call a friend and arrange to meet for lunch. It's unseasonably springlike, so you choose a place with outdoor seating, which seems like it should be safer.
How the World Will Look After the Coronavirus Pandemic
Like the fall of the Berlin Wall or the collapse of Lehman Brothers, the coronavirus pandemic is a world-shattering event whose far-ranging consequences we can only begin to imagine today.
How Do You Know If You're Living Through the Death of an Empire?
The fall of an empire is supposed to be a dramatic thing. It's right there in the name. "Fall" conjures up images of fluted temple columns toppling to the ground, pulled down by fur-clad barbarians straining to destroy something beautiful.
UK state to pay workers' wages to stem coronavirus layoffs
LONDON (Reuters) – Britain's government will pay a massive share of private sector wage bills to discourage bosses from firing staff as it resorts to war-time levels of borrowing to prop up the economy during its coronavirus shutdown.
Goldman Sachs predicts brutal second quarter as unemployment spikes above 2 million
Even as the Trump Administration calls for states to not release unemployment data for the month of March, Goldman Sachs on Thursday issued its own predictions on the jobs market and the broader health of the U.S. economy on Friday.
The stock market may bottom long before the coronavirus epidemic peaks, analysts say
Despite the cascade of negative headlines as increased coronavirus testing capacity reveals the extent of the outbreak in the U.S., some analysts are arguing that the equity market may have already begun a bottoming process, and that equity prices are nearing their most attractive levels.
Coronavirus scare may deliver ₹5,000 crore blow to advertising
NEW DELHI : The Indian advertising industry may suffer a ₹5,000 crore blow in the next three to four months if the Covid-19 outbreak is not contained, according to estimates by media buyers.
Check out our Global Macro Dashboard for currency, commodity, bonds and credit charts.
Good luck!