Your world at 9am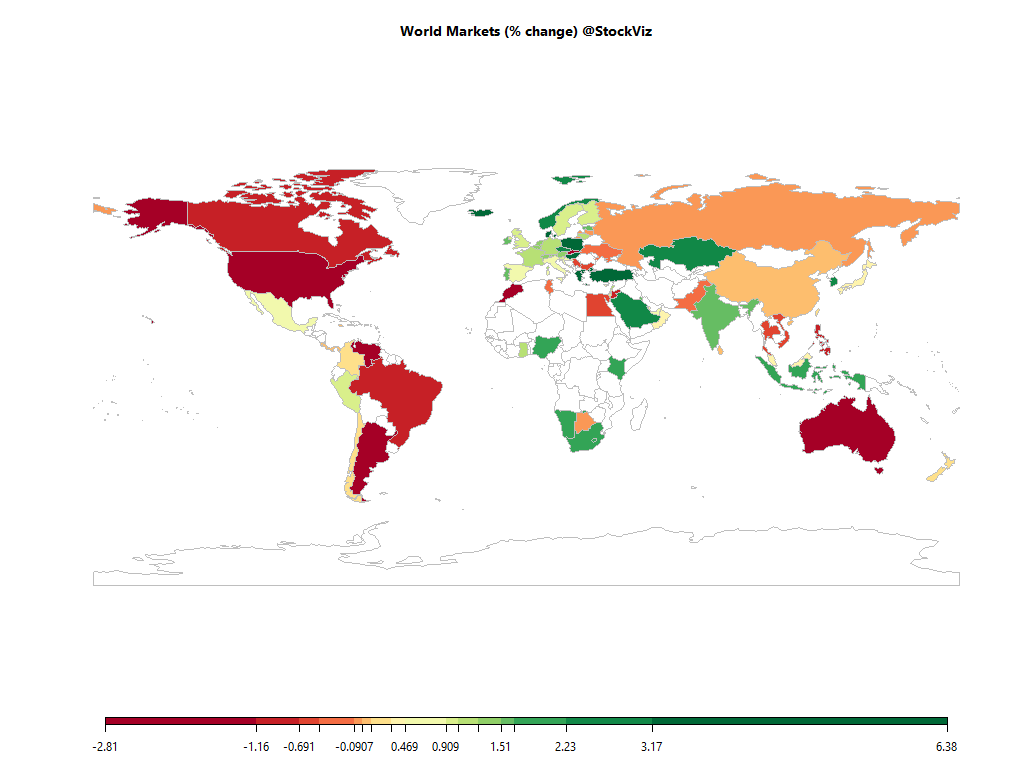 Equities
Commodities
Energy
Heating Oil

+1.27%

WTI Crude Oil

+1.89%

Brent Crude Oil

+1.83%

Ethanol

+0.00%

Natural Gas

+0.61%

RBOB Gasoline

+1.61%
Metals
Copper

-0.82%

Gold 100oz

+0.13%

Palladium

-0.40%

Silver 5000oz

+0.41%

Platinum

+1.78%
Agricultural
Sugar #11

+0.00%

Cocoa

+0.00%

Coffee (Arabica)

+0.00%

Corn

+0.07%

Lean Hogs

+0.00%

Orange Juice

+0.00%

Soybeans

+0.00%

Cattle

+0.00%

Cotton

+0.00%

Feeder Cattle

+0.00%

Soybean Meal

+0.00%

Wheat

-0.14%

White Sugar

+0.00%

Coffee (Robusta)

+0.00%

Lumber

+0.00%
Out of 43 world ETFs listed in NYSE that we track, 1 are trading above their 10-day SMA and 0 are trading above their 50-day SMA.
Must Reads
Shaktikanta Das sees room to cut rates as coronavirus dents growth
Options include a rate cut and supporting the market through liquidity measures, says Das. India's central bank governor said he's ready to act to shield the economy from the coronavirus and reiterated there's room to cut interest rates if needed.
It's Too Late
It's too late for containment. "COVID-19" coronavirus is here and spreading in communities all over the United States. China, the second largest economy in the world, has shut down major manufacturing facilities for over a month. Supply chain disruption is already happening.
Why It Was Easier to Be Skinny in the 1980s
There's a meme aimed at Millennial catharsis called "Old Economy Steve.
Investors Should Not Be Making Forecasts About Coronavirus
You have to have some sympathy for those strategists working at asset managers and investment banks who spent the tail end of last year writing lengthy outlook pieces for 2020.
A Potentially Unpopular Opinion on the Future of DTC
What is the future of DTC…? Well, to understand the future, we need to go back to the genesis of this recent DTC surge, then analyze the present, and finally look to the likely future.
Check out our Global Macro Dashboard for currency, commodity, bonds and credit charts.
Good luck!