Your world at 9am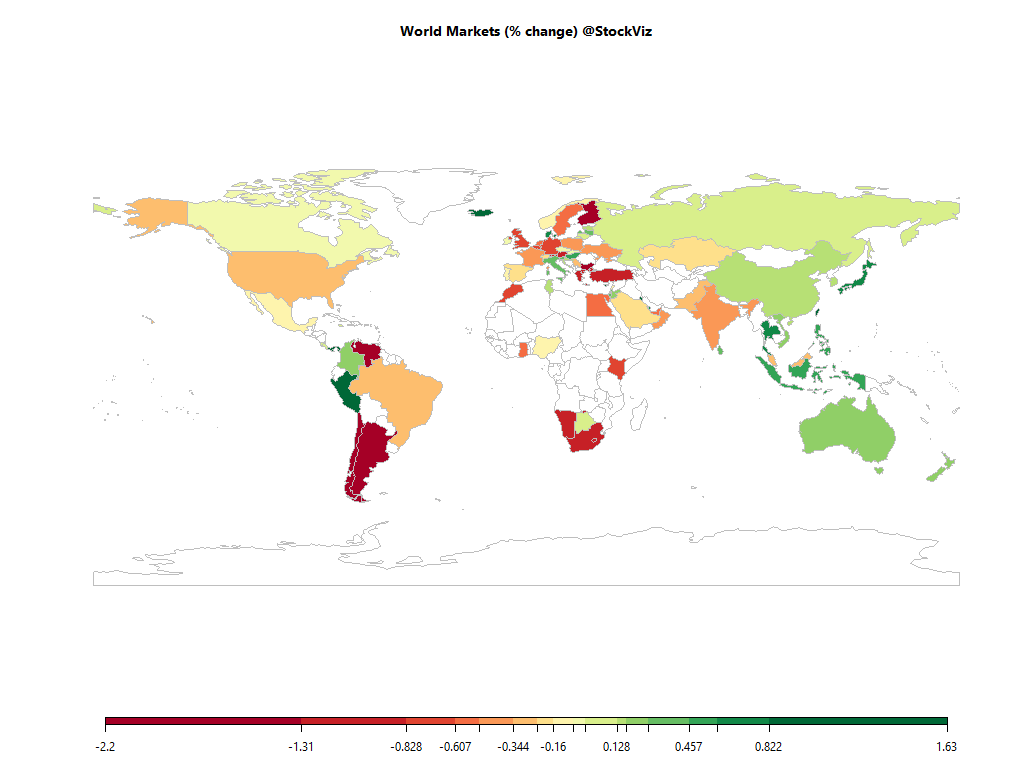 Equities
Commodities
Energy
Brent Crude Oil

+0.99%

Ethanol

+0.00%

Natural Gas

-0.96%

RBOB Gasoline

+0.60%

Heating Oil

+0.45%

WTI Crude Oil

+0.98%
Metals
Palladium

+4.04%

Copper

+0.13%

Gold 100oz

+0.04%

Platinum

+1.05%

Silver 5000oz

+0.52%
Agricultural
Cattle

+0.00%

Coffee (Arabica)

+0.00%

Cotton

+0.40%

Orange Juice

+0.00%

Corn

-0.20%

Lumber

+0.00%

Coffee (Robusta)

+0.00%

Feeder Cattle

+0.00%

Lean Hogs

+0.00%

Soybeans

+0.06%

Wheat

-0.44%

White Sugar

+0.00%

Cocoa

+0.00%

Soybean Meal

-0.17%

Sugar #11

+0.00%
Out of 43 world ETFs listed in NYSE that we track, 19 are trading above their 10-day SMA and 13 are trading above their 50-day SMA.
Must Reads
RBI remains focused on growth, says governor Shaktikanta Das
New Delhi: The Reserve Bank of India remains focused on boosting economic growth but decided to take a pause on rate cuts following a spike in inflation, governor Shaktikanta Das said on Wednesday in an interview to Indian Express.
How Long Can You Handle Underperforming?
Today, we have good news and bad news. Well, not so much "bad" news, as sobering news.
Jio, Airtel brace for the worst, plan upgrades in case Voda Idea fails
Telecom operators Bharti Airtel Ltd and Reliance Jio Infocomm Ltd have started internal consultations on how the two companies can swiftly upgrade their networks to absorb users from rival Vodafone Idea in case it shuts down.
Opinion | It's evident that Kejrinomics is neither scalable nor replicable
The results of the recent Delhi assembly elections, which brought Arvind Kejriwal's Aam Aadmi Party back to power with a massive majority, has been partially attributed to the freebies and subsidies given to the electorate. Among other things, Kejriwal subsidizes power, water and bus rides.
Avoid the Zeros
My favorite fable as a child was Aesop's The Tortoise and the Hare. For those that aren't familiar, the story centers around a race between a fast, arrogant rabbit and his much slower, shelled counterpart.
Has Wealth Gone Digital?
A revolution is underway around us and it's called the digital. And it's changing everything. More than 80% of wealth is now non-material. Has wealth gone digital?
About Rs 30,000 crore tenders cancelled to promote Make in India products: DPIIT Secretary
"Many of the restrictive and discriminative tender practices have been identified. Almost Rs 30,000 crore (worth) of tenders have been cancelled because of discriminatory practices," DPIIT Secretary Guruprasad Mohapatra said.
If Vodafone Idea disconnects, India picks up the bill
India Business News: India faces a multi-billion-dollar hit to its economy and a tarnished reputation as a place for multinationals to invest unless it can keep Vodafone I
The Myth of Drug Expiration Dates — ProPublica
This story was co-published with NPR's Shots blog. The box of prescription drugs had been forgotten in a back closet of a retail pharmacy for so long that some of the pills predated the 1969 moon landing. Most were 30 to 40 years past their expiration dates — possibly toxic, probably worthless.
Check out our Global Macro Dashboard for currency, commodity, bonds and credit charts.
Good luck!