Your world at 9am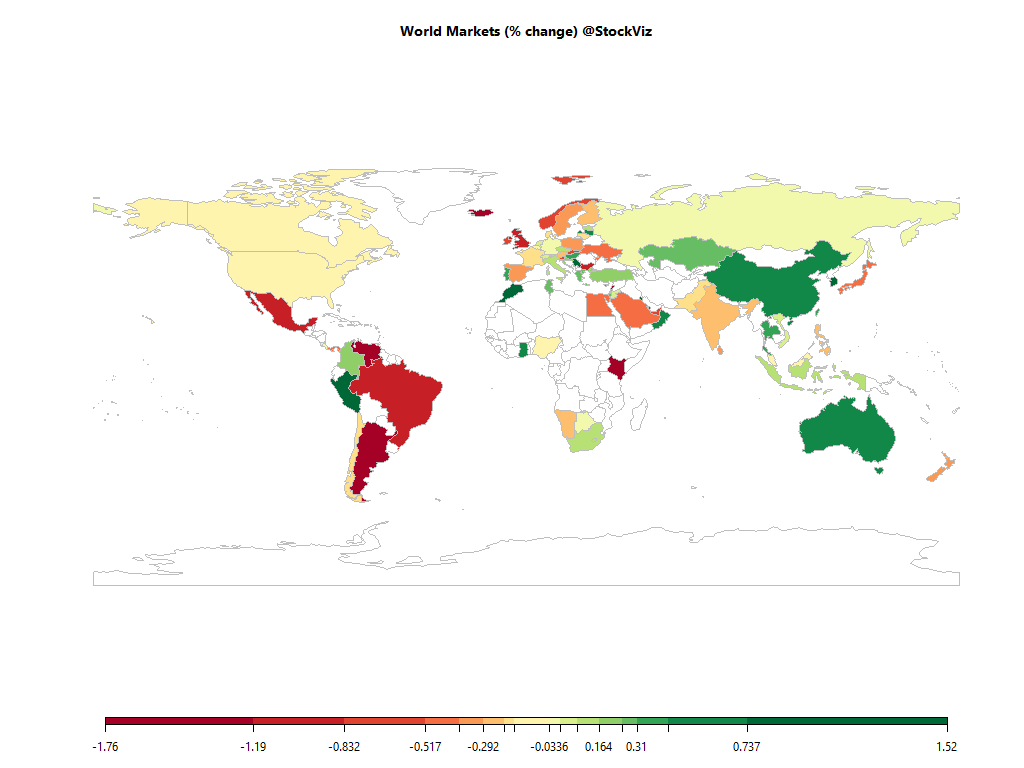 Equities
Commodities
Energy
Heating Oil

-0.20%

RBOB Gasoline

+0.06%

WTI Crude Oil

+0.10%

Brent Crude Oil

-0.07%

Natural Gas

-0.27%

Ethanol

+0.00%
Metals
Gold 100oz

+0.00%

Palladium

+0.15%

Copper

+0.00%

Silver 5000oz

+0.00%

Platinum

+0.01%
Agricultural
Cocoa

+0.00%

Coffee (Arabica)

+0.00%

Soybean Meal

-0.55%

Coffee (Robusta)

+0.00%

Feeder Cattle

+0.00%

Sugar #11

+0.00%

Wheat

+0.05%

White Sugar

+0.00%

Cattle

+0.00%

Corn

-0.07%

Lean Hogs

+0.00%

Soybeans

-0.31%

Cotton

-0.06%

Lumber

+0.00%

Orange Juice

+0.00%
Out of 43 world ETFs listed in NYSE that we track, 31 are trading above their 10-day SMA and 22 are trading above their 50-day SMA.
Must Reads
Why trend growth is collapsing in Britain
OVER THE past decade Britain has combined sluggish growth with booming employment. The government has been keen to talk up "the jobs miracle" and less keen on its counterpart: weak productivity growth.
India Inc sees a silver lining amid supply disruption over coronavirus
Indian businesses see potential benefits over the longer term from the novel coronavirus epidemic as companies focus more on local sourcing to offset supply disruptions in the future.
India Rating maintains negative outlook on real estate sector for FY21
1 min read .
For once, RBI can be easy about rising inflation
If 7.35% wasn't bad enough, here is 7.59%. Old foe inflation is back to haunt the Reserve Bank of India (RBI) but this time there isn't much power in it. Also, the reasons are pretty much known and anticipated by the central bank.
Global oil demand set to see first quarterly decline in over 10 years, IEA says
Global oil demand is now expected to see its first quarterly contraction in over a decade, according to the International Energy Agency (IEA), as the new coronavirus and widespread shutdown of China's economy hits demand for crude.
Positional Scarcity
Each day on Tech Twitter, we get up in the morning, open up the website, and then go see what it is we're mad about. A few days ago, it was this: The concept of "pay to get a better place in line" when it comes to advertising or product placement is hardly new.
Check out our Global Macro Dashboard for currency, commodity, bonds and credit charts.
Good luck!