Your world at 9am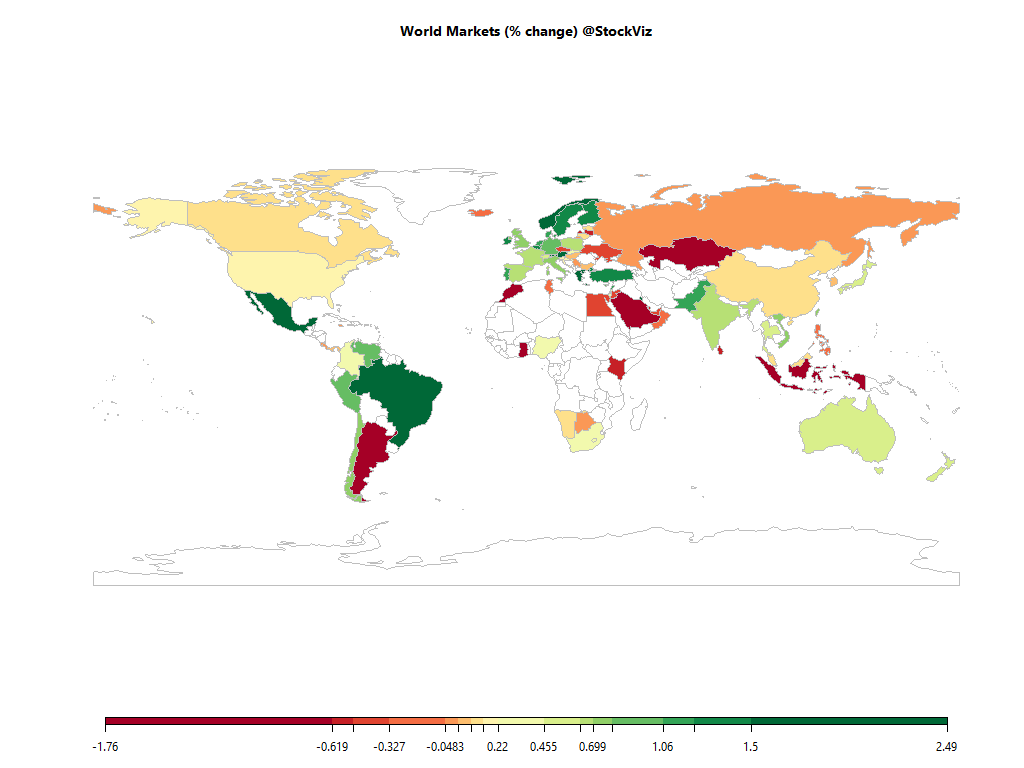 Equities
Commodities
Energy
Brent Crude Oil

+1.91%

Ethanol

+0.00%

Natural Gas

+0.45%

Heating Oil

+1.29%

RBOB Gasoline

+1.46%

WTI Crude Oil

+1.40%
Metals
Copper

+0.00%

Palladium

-0.08%

Gold 100oz

-0.03%

Silver 5000oz

+0.00%

Platinum

+0.07%
Agricultural
Cotton

-0.19%

Wheat

-0.23%

Cattle

+0.00%

Lumber

+0.00%

Coffee (Arabica)

+0.00%

Orange Juice

+0.00%

Soybean Meal

+0.07%

Soybeans

-0.08%

White Sugar

+0.00%

Cocoa

+0.00%

Coffee (Robusta)

+0.00%

Corn

-0.13%

Feeder Cattle

+0.00%

Lean Hogs

+0.00%

Sugar #11

+0.00%
Out of 43 world ETFs listed in NYSE that we track, 27 are trading above their 10-day SMA and 18 are trading above their 50-day SMA.
Must Reads
How Will Coronavirus Affect Your Portfolio?
As you have already heard, coronavirus is sweeping the globe. With 1,018 confirmed deaths and over 43,000 reported cases across 28 countries (as of this writing), this illness has caused an international panic.
In MP, 4.5 lakh Swachh toilets disappear in Rs 540cr scam
BHOPAL: Call it the vanishing-toilet scam. More than 4.5 lakh Swachh loos have been flushed into oblivion in Madhya Pradesh, along with the Rs 540 crore it took to build them.
Opinion: What money flows and mutual funds really say about the stock market's future
Many stock market bulls are expressing surprise that a net $88 billion was pulled out of U.S. equity funds and ETFs last year. They would have predicted that the net fund flow would have been in the opposite direction. After all, the stock market in 2019 had one of its best years in modern U.S.
U.S. charges Chinese spies with massive Equifax hack
Federal prosecutors today charged four Chinese intelligence officers with hacking the credit-reporting giant Equifax in one of the largest data breaches in history.
RBI proposes draft rules to set up alternative retail payments system
Mumbai: The Reserve bank of India on Tuesday proposed a draft framework for setting up a new umbrella entity (NUE) focussed on retail payments system, along the lines of National Payments Corporation of India (NPCI).
Amazon is 'biggest advertiser on Earth' as adspend hits $11bn
Amazon is now "the biggest advertiser on Earth" after reporting annual advertising expense soared to $11bn (£8.4bn) – an increase of 34%, or $2.8bn, year on year.
Check out our Global Macro Dashboard for currency, commodity, bonds and credit charts.
Good luck!