Your world at 9am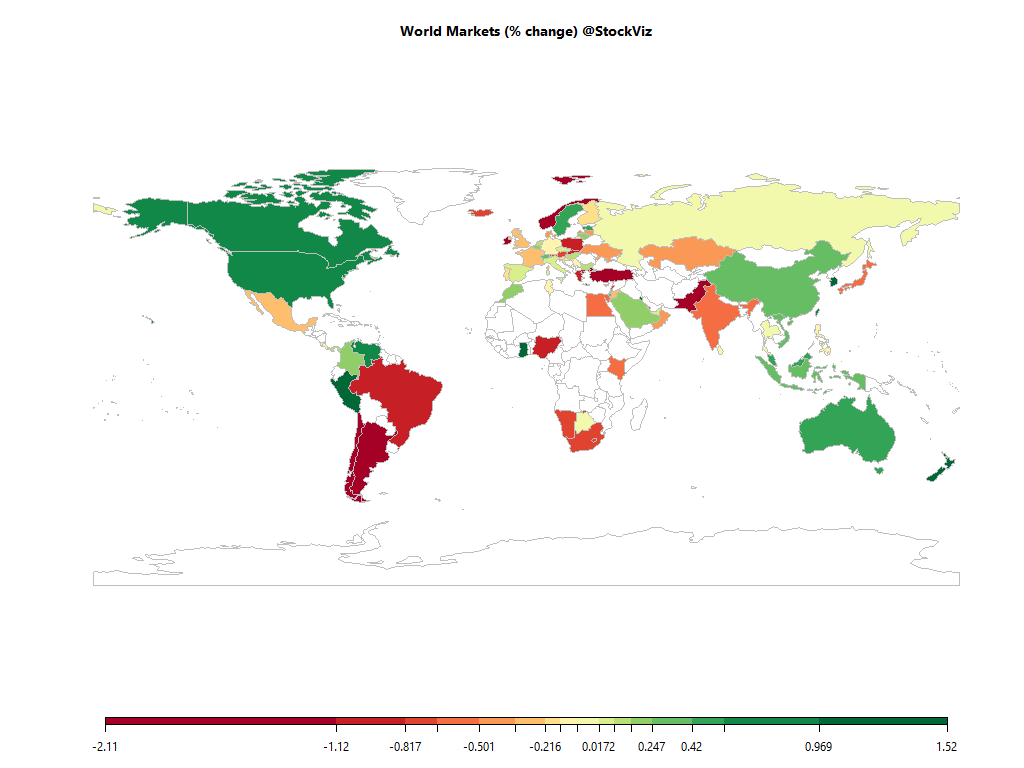 Equities
Commodities
Energy
Brent Crude Oil

+1.37%

Ethanol

+0.00%

Heating Oil

+0.96%

RBOB Gasoline

+1.19%

WTI Crude Oil

+1.15%

Natural Gas

+0.17%
Metals
Platinum

+0.06%

Silver 5000oz

+0.00%

Copper

+0.00%

Gold 100oz

-0.50%

Palladium

+0.92%
Agricultural
Cocoa

+0.00%

Feeder Cattle

+0.00%

Lean Hogs

+0.00%

Sugar #11

+0.00%

Corn

-0.20%

Cotton

+0.04%

Lumber

+0.00%

Orange Juice

+0.00%

Wheat

-0.68%

White Sugar

+0.00%

Cattle

+0.00%

Coffee (Arabica)

+0.00%

Coffee (Robusta)

+0.00%

Soybean Meal

+0.24%

Soybeans

+0.31%
Out of 43 world ETFs listed in NYSE that we track, 21 are trading above their 10-day SMA and 14 are trading above their 50-day SMA.
Must Reads
Instagram-inspired plastic surgery is still on the rise
Last fall, Instagram banned filters that let users see what they might look like with a little nip and tuck — or a major face-lift. It's not hard to see why people thought the digital effects were sketchy — one of the filters was literally called FixMe.
Opinion | Lessons from how Western economies got ahead of us
The coronavirus is a capitalist conspiracy to stop the convergence of the Chinese economy with that of the developed West" is a possible headline one of these days.
Slowdown impact: Britannia to delay new launches
New Delhi: Biscuit major Britannia Industries Ltd will wait for a few months before it launches some of its new products such as croissants and salty snacks as the maker of Good Day and Tiger biscuits awaits revival in consumer demand. The new products are in the trial phase.
Opinion | India's rerun of its protectionist folly mars the liberalization era
Minister of finance Nirmala Sitharaman delivered one of the longest Union budget speeches in recent memory on 1 February. Notable by their absence in the speech were the specifics of a raft of tariff increases, which had been telegraphed in advance and tucked away in an annexure.
Solar storage tariff spells trouble for coal
NEW DELHI: When solar power tariff dropped to Rs 2.
What Libra means for money creation
When Facebook announced its intentions last June to issue a digital currency, Libra, the official sector was muted in its initial response.
Why Wealthsimple and robo-advisers aren't scaring Bay Street anymore
Michael Katchen hit $1-billion in assets, and the bombast started to flow.
Check out our Global Macro Dashboard for currency, commodity, bonds and credit charts.
Good luck!