Your world at 9am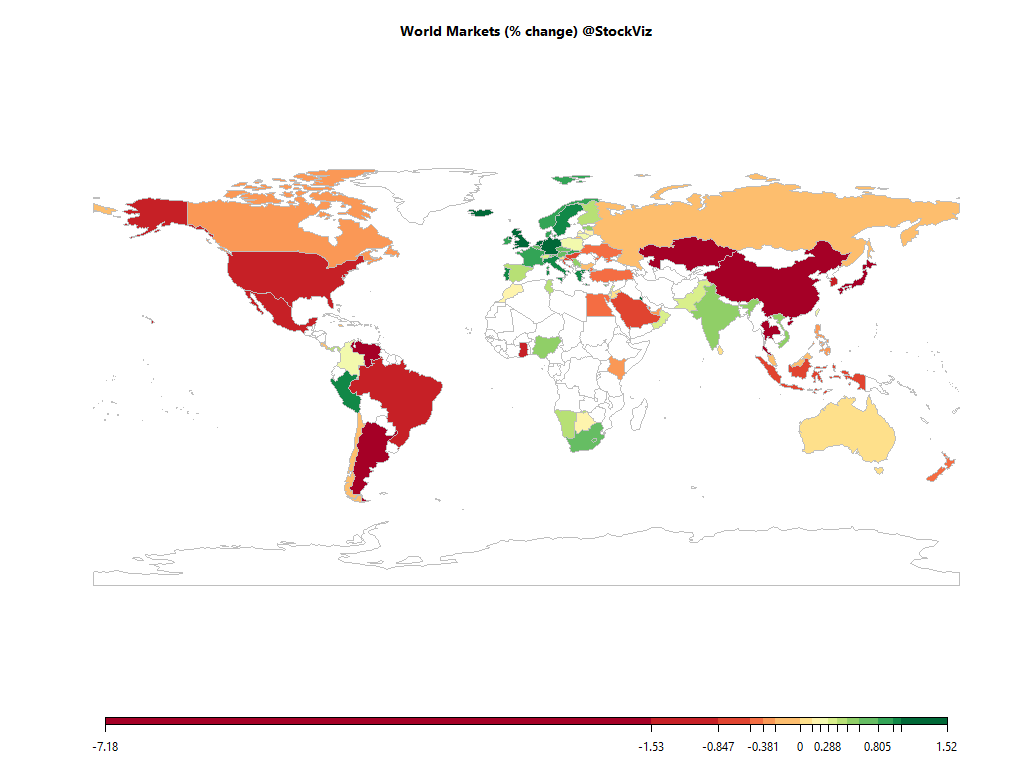 Equities
Commodities
Energy
Ethanol

-0.60%

Natural Gas

+3.80%

Brent Crude Oil

-2.19%

Heating Oil

-2.00%

RBOB Gasoline

-2.42%

WTI Crude Oil

-2.38%
Metals
Copper

+0.00%

Gold 100oz

+0.55%

Palladium

-1.45%

Platinum

-0.81%

Silver 5000oz

+0.00%
Agricultural
Feeder Cattle

-0.70%

Lumber

+0.89%

Soybeans

-0.67%

Cattle

+0.04%

Cocoa

+0.00%

Coffee (Robusta)

+0.00%

Corn

-0.97%

Cotton

-0.85%

Orange Juice

+0.63%

Sugar #11

-1.30%

Wheat

-1.79%

Coffee (Arabica)

-1.43%

Lean Hogs

-2.80%

Soybean Meal

-0.40%

White Sugar

+0.00%
Out of 43 world ETFs listed in NYSE that we track, 9 are trading above their 10-day SMA and 36 are trading above their 50-day SMA.
Must Reads
Opinion | The convergence of rich nations with the rest has gone off track
The theory of convergence is one of the most powerful and noblest ideas in economics: The concept that, other things being equal, poorer economies should catch up with richer ones so that inequality between the rich and the poor attenuates, and conceivably even disappears over time.
Explained: How India Tripled Its Mobile Handset Exports In Just One Year, And Ambitious Plans For The Future
Made in India mobile handsets have emerged as an export success between April to November 2019, with their export sales tripling to $2.45 billion (over Rs 17,000 crore), Times of India has reported.
Why Do We Chase Past Performance And What Can We Do About It?
We have all seen the wording discretely appended to mutual fund marketing stating that 'past performance is no guide to future results'. Despite the ubiquity of this message we struggle to heed its warning.
Pzena Investment Management –
Click for a printable version This material has been prepared for, and is suitable for, institutional investors only. Value is a philosophy — not a factor.
CASPERhaps | No Mercy / No Malice

Learn from Peter Lynch but Don't Think You Can Replicate Him – Validea's Guru Investor Blog
In December, Barron's had two good pieces on the legendary Fidelity fund manager, Peter Lynch.
My thoughts on perma-bears and gold
Why did I think gold was a terrible investment? A huge reason for my gold aversion is the influence of Warren Buffett's writings on my life and thinking. Here is what Warren has to say on the asset: "It gets dug out of the ground in Africa, or someplace.
One Out of Five Asset Managers Could Disappear in Five Years
Asset managers are increasingly turned to mergers and acquisitions in an attempt to solve the problem of slowing growth and falling fees. In five years, PricewatehouseCoopers expects 20 percent of asset managers to be acquired or eliminated.
Mumbai's real estate is on its deathbed. It's time to bury it
My last column asked the question 'Who killed Mumbai's real estate?' When I highlighted the scale of distortion that the proliferation of slums had caused, many readers asked me on Twitter and Linkedin about the possibility of real estate reviving in the city again.
Separating fact from economic fiction
If politics is mixed with economics, and the two are combined with ideology, then what we have is what can be called a "potent" mixture. That is the case today with discussions on the Indian economy.
Check out our Global Macro Dashboard for currency, commodity, bonds and credit charts.
Good luck!