Your world at 9am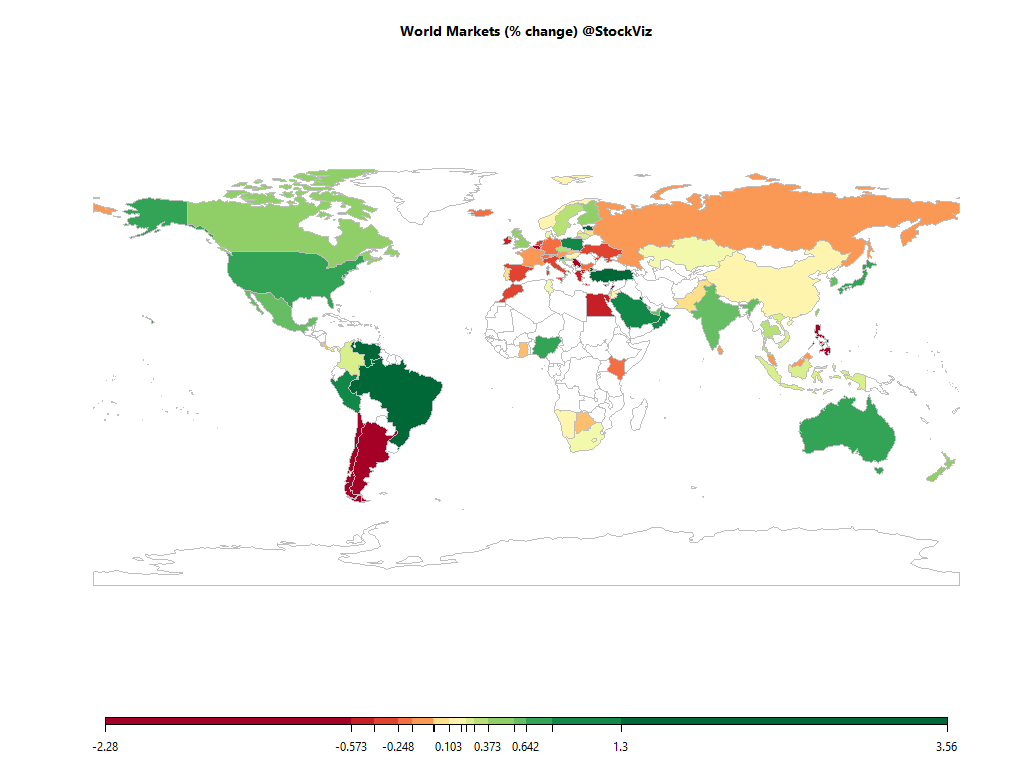 Equities
Commodities
Energy
Brent Crude Oil

+0.26%

Natural Gas

+0.37%

Ethanol

+0.00%

Heating Oil

+0.30%

RBOB Gasoline

+0.41%

WTI Crude Oil

+0.17%
Metals
Copper

-0.14%

Palladium

-0.05%

Platinum

-0.75%

Silver 5000oz

-0.28%

Gold 100oz

-0.73%
Agricultural
Cocoa

+0.00%

Wheat

-0.13%

White Sugar

+0.00%

Coffee (Arabica)

+0.00%

Coffee (Robusta)

+0.00%

Lean Hogs

+0.00%

Soybeans

-0.03%

Cattle

+0.00%

Corn

-0.13%

Feeder Cattle

+0.00%

Lumber

+0.00%

Sugar #11

+0.00%

Cotton

-0.29%

Orange Juice

+0.00%

Soybean Meal

+0.00%
Out of 43 world ETFs listed in NYSE that we track, 32 are trading above their 10-day SMA and 40 are trading above their 50-day SMA.
Must Reads
For Howard Marks, Investing Is Like a Game
Investors can take apply lessons from games like backgammon and poker to their day jobs, according to Oaktree Capital Management's Howard Marks. Marks — who has enjoyed pursuits like Old Maid and gin rummy since childhood — shared those lessons in his latest memo, published Monday.
Beware Strategies That Fall Down on Good Data
Sources of long-term historical data are few and far between. Because it's been generously provided for free, one of the most often used is data from Professor French (of Fama-French fame). Others include Shiller and Ibbotson.
Opinion | It's still too early to worry about a middle-income trap
The Indian economy is in deep trouble. Gross domestic product (GDP) growth for FY20 is likely to come in at 5%, an 11-year low. Nominal GDP growth will likely be at more than a four-decade low. Grim statistics abound.
Opinion | Small policy tweaks could be all that we need to revive MSMEs
The present government has set great store by micro, small and medium enterprises (MSMEs) and entrepreneurship as engines of growth. Rightly so. The Mudra and Start-up India initiatives are illustrative of its keenness to promote a million new enterprises.
Economic reforms are best done brick by boring brick
The accepted conventional wisdom is that economic reforms in India happen only in a crisis or by stealth. The big example of the former are the 1991 reforms, when the country faced a huge foreign exchange crisis, resulting partly from the fiscal profligacy of the previous decade.
SC directs ED to attach assets of JP Morgan for transacting with Amrapali Group
New Delhi: The Supreme Court Monday asked the Enforcement Directorate to attach Indian properties of JP Morgan, which engaged in transaction with the now defunct Amrapali Group to allegedly siphon off home buyers money in violation of the Foreign Exchange Management Act (FEMA) and FDI norms.
India's about to hand people data Americans can only dream of
India has more than 560 million internet users, all generating data by the terabyte. Soon they'll have an unprecedented amount of control over their digital financial footprints, with the ability to decide what to share, with whom, and for how long.
Oil threat looms for India as inflation set to breach 6% limit
Oil briefly rose above $70 a barrel last week for the first time since September amid U.S.-Iran tensions, and while they've since eased, prices remain elevated compared to last year.
Pick Your Poison: Implicit vs Explicit Forecasts
Bottom up stocks pickers like ourselves, who run focused portfolios, often say they are "macro agnostic".
Check out our Global Macro Dashboard for currency, commodity, bonds and credit charts.
Good luck!