Your world at 9am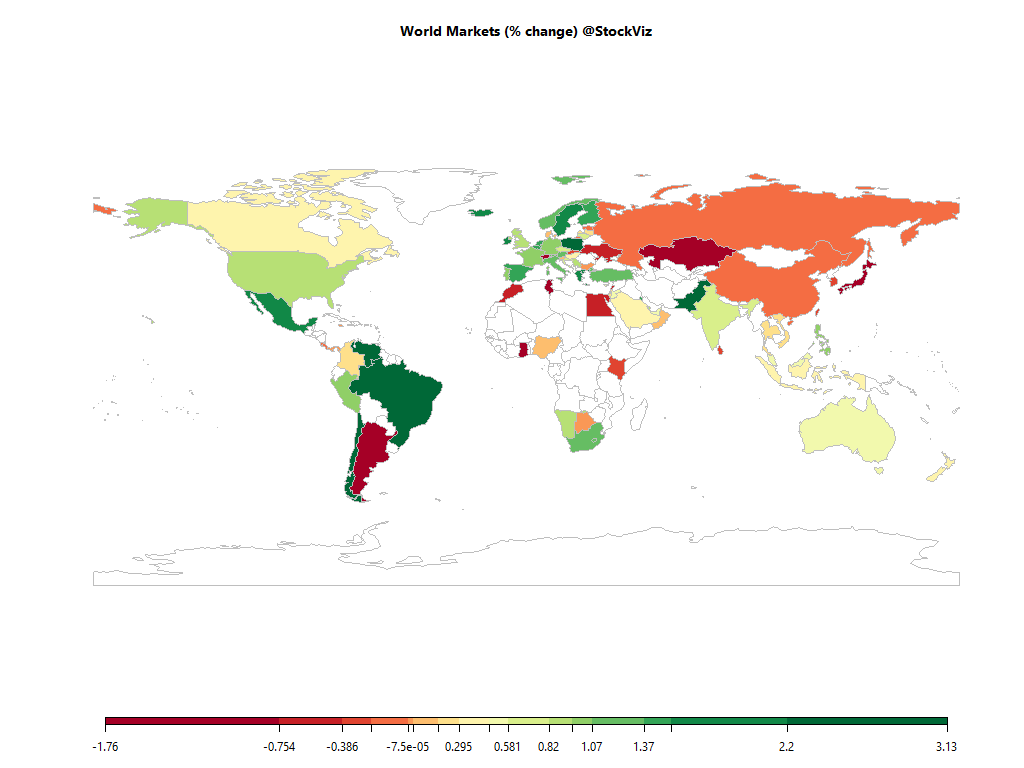 Equities
Commodities
Energy
Natural Gas

+0.57%

RBOB Gasoline

+3.06%

Brent Crude Oil

+3.14%

Ethanol

+0.00%

Heating Oil

+2.23%

WTI Crude Oil

+2.97%
Metals
Palladium

+0.37%

Copper

+0.00%

Platinum

+0.32%

Silver 5000oz

+0.80%

Gold 100oz

+0.95%
Agricultural
Cattle

+0.00%

Lumber

+0.00%

Coffee (Arabica)

+0.00%

Feeder Cattle

+0.00%

Soybeans

-0.24%

Wheat

+0.18%

Corn

+0.06%

Cotton

+0.29%

Lean Hogs

+0.00%

Orange Juice

+0.00%

Cocoa

+0.00%

Coffee (Robusta)

+0.00%

Soybean Meal

+0.03%

Sugar #11

+0.00%

White Sugar

+0.00%
Out of 43 world ETFs listed in NYSE that we track, 42 are trading above their 10-day SMA and 39 are trading above their 50-day SMA.
Must Reads
Jimmy Iovine Knows Music and Tech. Here's Why He's Worried.
The record executive who made the leap to Silicon Valley looks back on the decade in the music business, and sees a major problem on the horizon.
Quantitative Trading Summary
This summary is an attempt to shed some light on modern quantitative trading since there is limited information available for people who are not already in the industry.
India News
NEW DELHI: To boost the commercial use of civil nuclear energy in the country, the Modi government has decided to commission a every year.
Is Active Investing Doomed as a Negative Sum Game? A Critical Review.
In an influential piece, Sharpe (1991) 1 put forward the proposition that active investing must be a losing pursuit in aggregate, as it amounts to a zero-sum game in gross terms and hence must be a negative-sum game after costs.
Opinion | A faulty service delivery system could thwart any rural stimulus
The regular flow of data confirms our worst fears about the economy. With the index of industrial production (IIP) declining successively in September and August, there are serious concerns about jobs and incomes in the manufacturing sector. Construction has failed to recover too.
Forecasting Follies 2020
Note: A version hereof will appear in my ninth annual Investment Outlook. Watch this space. We are all natural-born and equal opportunity extremists who want to live in exceptional times.
No One Wants to Follow a Pessimist
Our brains aren't hard-wired to handle the sheer amount of information thrown at us through news alerts, emails, texts, tweets, and Facebook posts. There have always been terrible things happening in the world but never before has it been so easy to stay current on those terrible things.
The Idea Trap
Your country is falling apart. Unemployment and inflation are sky high. World war is on the horizon, and there are riots in the streets. But never fear: An election is coming up! The incumbent will be thrown out for his failed policies.
How Technology Grows (a restatement of definite optimism)
I consider Definite Optimism as Human Capital to be my most creative piece. Unfortunately, it's oblique and meandering. So I thought to write a followup to lay out its premises more directly and to offer a restatement of its ideas.
India electricity supply declines for fifth straight month in December
NEW DELHI : India's electricity supply fell for the fifth straight month in December, provisional government data showed, potentially reflecting sluggish industrial activity amid an overall economic slowdown. Power supply fell to 101.92 billion units in December, down 1.1% from 103.
The Big Con: India's burgeoning stock market 'training' scene
Money control churns out 52 stock market trainers a year — someone jokingly said to me the other day commenting on the fame the site is giving some traders by selecting one almost every week.
CAA, NRC introduce meddlesome officialdom into a question as fundamental as citizenship
In 2014, then candidate Narendra Modi's slogan of "maximum governance minimum government" had resonated with many voters who felt that the Indian government loomed too large in their lives while delivering too little to them.
What's next for psychology's embattled field of social priming
Three years ago, a team of psychologists challenged 180 students with a spatial puzzle. The students could ask for a hint if they got stuck. But before the test, the researchers introduced some subtle interventions to see whether these would have any effect.
Trendspotting: 2020 can make or break
Hark back to last December: Dunzo was the hottest startup in town. It appeared the economy may turn around on the back of some confident moves by the finance ministry (the Budget proved that optimism was misplaced). Softbank was the reigning emperor of startup land that could do no wrong.
Check out our Global Macro Dashboard for currency, commodity, bonds and credit charts.
Good luck!