Your world at 9am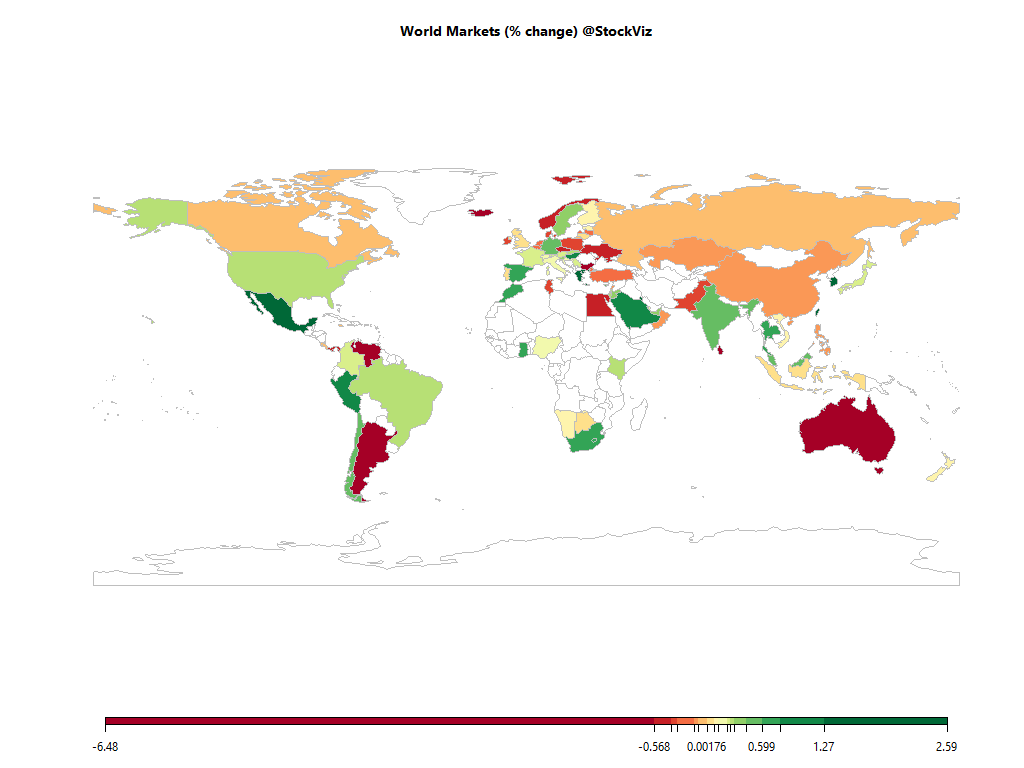 Equities
Commodities
Energy
RBOB Gasoline

+0.53%

Heating Oil

+0.27%

Brent Crude Oil

+0.41%

Natural Gas

+0.36%

WTI Crude Oil

+0.19%

Ethanol

+0.00%
Metals
Silver 5000oz

+0.60%

Palladium

+0.20%

Gold 100oz

+0.00%

Copper

+0.05%

Platinum

+0.28%
Agricultural
Corn

+0.14%

Cotton

+0.08%

Lumber

+0.00%

Soybeans

+0.00%

Wheat

-0.33%

Cocoa

+0.00%

Coffee (Robusta)

+0.00%

Sugar #11

+0.00%

Coffee (Arabica)

+0.00%

Feeder Cattle

+0.00%

Lean Hogs

+0.00%

Cattle

+0.00%

Orange Juice

+0.00%

Soybean Meal

+0.00%

White Sugar

+0.00%
Out of 43 world ETFs listed in NYSE that we track, 35 are trading above their 10-day SMA and 34 are trading above their 50-day SMA.
Must Reads
The link between NPAs and frauds at govt-run banks
The finance minister informed Parliament last month that state-run banks reported frauds of over ₹95,760 crore in April-September. Mint explains why rising incidence of bank frauds is a cause of concern for RBI, the Centre and people with savings and deposits in these banks.
NBFCs to grow at decadal low levels of 6-8% in FY20, says Crisil
MUMBAI : Non-banking financial companies (NBFCs) and housing finance companies (HFCs) are expected to report to a decadal low growth in assets under management (AUM) of 6-8% in FY20, compared with around 15% last fiscal, said rating agency Crisil on Wednesday.
InvIT: Why NHAI's Infrastructure Investment Trust Is A Potential Gamechanger For Road Infra Funding In India
The Union Cabinet, chaired by the Prime Minister Narendra Modi, has just approved the proposal of Ministry of Road Transport and Highways,authorizingNational Highways Authority of India (NHAI) to set up Infrastructure Investment Trust(s) (InvIT) as per InvIT Guidelines issued by SEBI.
Cryptocurrency Is Most Useful for Breaking Laws and Social Constructs
This post is part of CoinDesk's 2019 Year in Review, a collection of 100 op-eds, interviews and takes on the state of blockchain and the world.
Where has all the money gone from the system?
What's happened to the Indian economy? From an aspiring 10% growth, we are struggling to do half of that. The mood is down. Consumers are not buying. Household savings are at a low. Corporates are not investing. Gold prices are have fallen. Real estate is still comatose.
People in Delhi have too much preference for rating agencies, they are not that important: Chris Wood, Jefferies
Highlights The collapse in growth this year in India has been dramatic. People in Delhi have too much preference for rating agencies. They are not that important. DeMon and GST were short-term shocks but they are long term positives.
Randomness in Momentum Everywhere
Randomness explains much of the "Momentum Effect" in stocks. Yes, you read that correctly, much of the evidence for momentum can actually be explained through randomness. In part 2 of my evaluation of momentum, I'm going to show you how.
Check out our Global Macro Dashboard for currency, commodity, bonds and credit charts.
Good luck!