Your world at 9am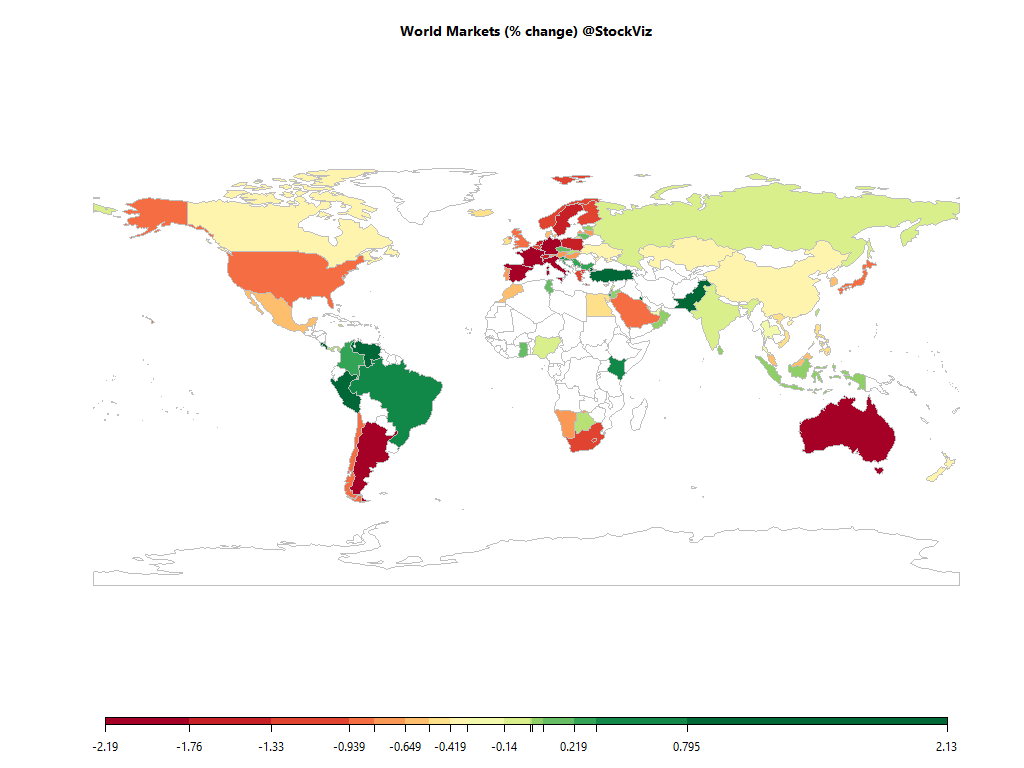 Equities
Commodities
Energy
Brent Crude Oil

+0.30%

Ethanol

+0.00%

Natural Gas

+0.77%

RBOB Gasoline

+0.38%

Heating Oil

+0.23%

WTI Crude Oil

+0.39%
Metals
Copper

-0.02%

Gold 100oz

-0.08%

Palladium

+0.13%

Platinum

+0.03%

Silver 5000oz

+0.11%
Agricultural
Feeder Cattle

+0.00%

Lean Hogs

+0.00%

Soybeans

+0.37%

Cattle

+0.00%

Coffee (Arabica)

+0.00%

Corn

+0.00%

Lumber

+0.00%

Orange Juice

+0.00%

Soybean Meal

+0.48%

Sugar #11

+0.00%

Wheat

+0.46%

Cocoa

+0.00%

Coffee (Robusta)

+0.00%

Cotton

+0.00%

White Sugar

+0.00%
Out of 43 world ETFs listed in NYSE that we track, 9 are trading above their 10-day SMA and 26 are trading above their 50-day SMA.
Must Reads
Does America have an antitrust problem?
To those who are worried about the state of contemporary American politics—those who are concerned about the historically high levels of polarization between the two main political parties, who despair of the disappearance of anything that could be called common ground, who bristle at the apparen
Opinion |Address underlying problems to raise our growth trajectory
Much hand-wringing is going on in public spaces over the fact that India's real gross domestic product (GDP) growth printed at 4.5% year-on-year in the second quarter of fiscal 2019-20. Before we dive deeper into the implications of the figure, it is important to put it in context.
Opinion | How to get the economy out of the twin traps
India's economic troubles appear to come in pairs. The twin deficit problem of stretched corporate balance sheets and a large fiscal gap has been replaced by twin "traps".
Private equity firms sense big opportunity in last-mile real estate funding
Mumbai: Private equity (PE) firms are increasingly looking at capitalizing on the growing requirement of last-mile funding by real estate developers, considering that the prolonged slump in the residential segment has been aggravated by the ongoing liquidity crisis.
GM Crops Like Golden Rice Will Save the Lives of Hundreds of Thousands of Children
Any day now, the government of Bangladesh may become the first country to approve the growing of a variety of yellow rice by farmers known as Golden Rice.
Cellphone plans get up to 40% costlier in India
India has long been a wonderland for cellphone users. At a time when most telecom operators across the globe charge anywhere between $5 to $10 for a gigabyte of mobile data, telcos in India deliver that for just a few cents.
Grinding – AVC
It is tempting to search for the one magic move that will make everything better. A new VP of Sales. A new database layer in your tech stack. A new brand for your company. Moving everything to the cloud. More capital in the business. But it is rarely one thing that a business needs to succeed.
A Cycle of Addiction
Two of the world's major central banks – namely the Bank of Japan (BOJ) and the European Central Bank (ECB) – have created what is akin to a cycle of addiction to negative interest rates. Moreover, even those developed economies with positive rates appear addicted to near-zero rates.
Are You Sticking to Your Investment Principles or Suffering from Escalating Commitment?
Our investment behaviour is a tangle of contradictions.  Whilst there is an understandable desire to draw clean lines of causality – X bias leads to Y action – things are rarely so simple.
How Indian regulators have cost you money
You, the Indian investor, have been pick-pocketed, stolen from, mis-sold, cheated and defrauded in all kinds of scams perpetrated not by knife-wielding muggers but white-collar criminals who bend, twist and totally escape from regulatory norms that are meant to protect you.
Check out our Global Macro Dashboard for currency, commodity, bonds and credit charts.
Good luck!