Your world at 9am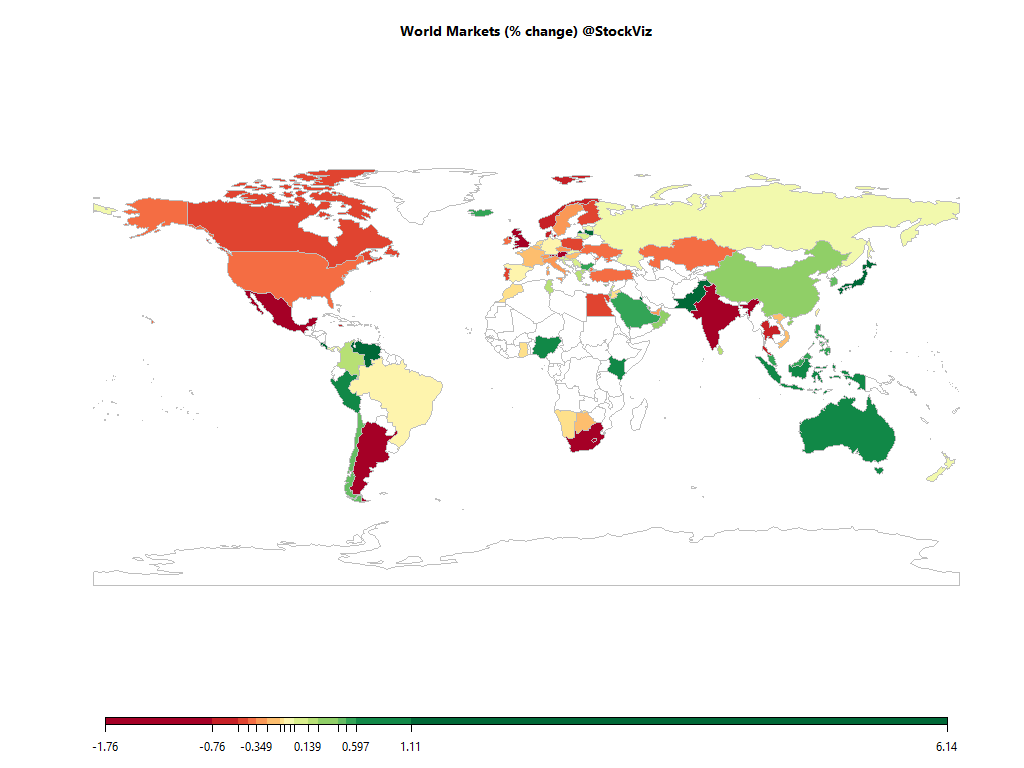 Equities
Commodities
Energy
Ethanol

+0.00%

Heating Oil

+0.94%

RBOB Gasoline

+1.36%

Brent Crude Oil

+1.34%

Natural Gas

+2.98%

WTI Crude Oil

+1.70%
Metals
Gold 100oz

-0.46%

Copper

+0.36%

Platinum

-0.10%

Silver 5000oz

-0.47%

Palladium

+0.28%
Agricultural
Cattle

-0.39%

Coffee (Robusta)

+0.00%

Feeder Cattle

-0.77%

Sugar #11

+1.33%

Coffee (Arabica)

+0.60%

Lumber

+0.02%

Soybean Meal

+0.58%

Soybeans

+0.51%

Wheat

+0.09%

Corn

+0.34%

Orange Juice

-1.10%

White Sugar

+0.00%

Cocoa

+0.00%

Cotton

+0.00%

Lean Hogs

+2.48%
Out of 43 world ETFs listed in NYSE that we track, 13 are trading above their 10-day SMA and 26 are trading above their 50-day SMA.
Must Reads
Mikhail Gorbachev's Pizza Hut Thanksgiving Miracle
It's dangerous for leaders to outlive their countries. Whether they move on or become obsessed with returning to power, they cannot escape their role as symbols of a vanished world—a condition fraught with both nostalgia and danger.
Opinion | What economists must do to quell the rising disquiet
The unexpected financial crash of 2008, the persistence of the slowdown that occurred in its wake, the failure of conventional monetary and fiscal policies to revive economies, and the cracks in global trade that we are witnessing now have all given rise to a widespread disquiet about conventional e
CII, FICCI close ranks against Reliance Jio
New Delhi: Industry bodies, CII and FICCI have closed ranks and written to the Finance Minister Nirmala Sitharaman to address the situation on the precarious financial position of telecom operators with a debt of ₹7 lakh and to ensure there is robust competition for the vibrancy in the sector.
Severe slowdown: When will the Indian economy recover and how?
Will FM's slew of interventions — from slashing corporate tax to doling out a real estate package — pay off? Getty Images For the government, the low Q2 GDP growth numbers should be a clear sign it is time to go full throttle to put the economy on an upward trajectory.
Check out our Global Macro Dashboard for currency, commodity, bonds and credit charts.
Good luck!