Your world at 9am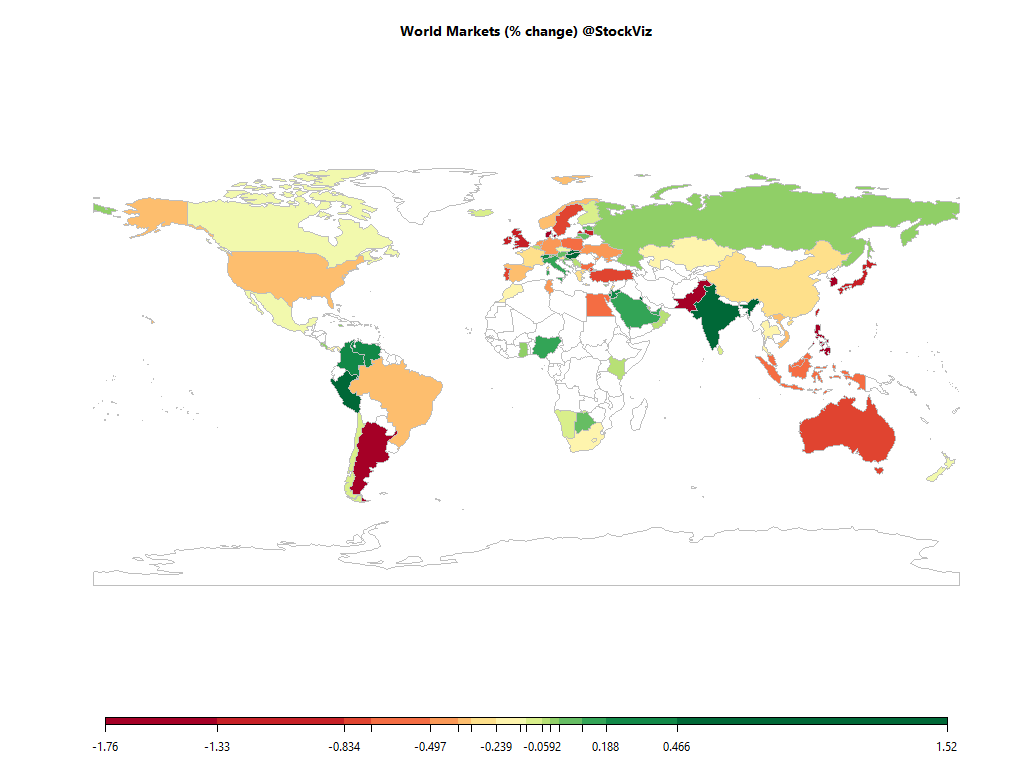 Equities
Commodities
Energy
Brent Crude Oil

-0.30%

Heating Oil

-0.14%

Ethanol

+0.00%

Natural Gas

+0.66%

RBOB Gasoline

-0.07%

WTI Crude Oil

-0.28%
Metals
Gold 100oz

+0.00%

Silver 5000oz

+0.00%

Platinum

-0.25%

Copper

+0.00%

Palladium

-0.36%
Agricultural
Coffee (Arabica)

+0.00%

Coffee (Robusta)

+0.00%

Orange Juice

+0.00%

Soybeans

+0.14%

Wheat

-0.29%

White Sugar

+0.00%

Cattle

+0.00%

Corn

+0.00%

Feeder Cattle

+0.00%

Sugar #11

+0.00%

Cocoa

+0.00%

Cotton

-0.16%

Lumber

+0.00%

Lean Hogs

+0.00%

Soybean Meal

+0.07%
Out of 43 world ETFs listed in NYSE that we track, 14 are trading above their 10-day SMA and 34 are trading above their 50-day SMA.
Must Reads
Cabinet approves sale of stakes in BPCL, four other PSUs
1 min read .
By Our Own Petard
For 'tis the sport to have the enginer Hoist with his own petard; and 't shall go hard But I will delve one yard below their mines And blow them at the moon. O, 'tis most sweet When in one line two crafts directly meet.
Forget what you've read: Most mergers create value
Mergers fail more often than marriages." So ran a headline on CNN's website a few years back, accompanying a story referring to a 2004 study by Bain & Company, which found that 70 percent of mergers failed to increase shareholder value.
Ghost ships, crop circles, and soft gold: A GPS mystery in Shanghai
On a sultry summer night in July 2019, the MV Manukai was arriving at the port of Shanghai, near the mouth of the Huangpu River. This busy tributary of the Yangtze winds through the city and includes the Bund, a historic waterfront area and tourist hot spot.
Check out our Global Macro Dashboard for currency, commodity, bonds and credit charts.
Good luck!