Your world at 9am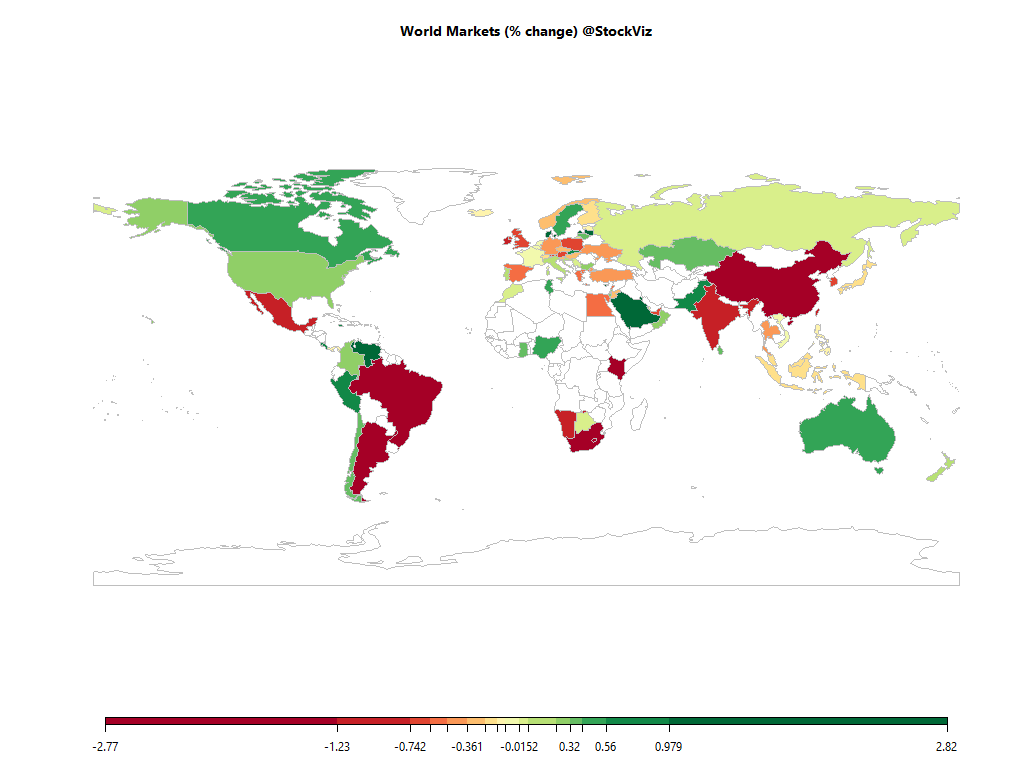 Equities
Commodities
Energy
Brent Crude Oil

-0.78%

Heating Oil

-0.54%

Natural Gas

-3.41%

WTI Crude Oil

-0.70%

Ethanol

+0.43%

RBOB Gasoline

-0.63%
Metals
Platinum

-0.57%

Copper

-0.11%

Palladium

+0.37%

Silver 5000oz

+0.00%

Gold 100oz

+0.00%
Agricultural
Cocoa

+0.00%

Corn

-0.46%

Lumber

-0.24%

Orange Juice

+0.36%

Soybean Meal

-0.72%

Sugar #11

+1.62%

Cattle

+0.04%

Lean Hogs

-0.04%

Coffee (Arabica)

-0.55%

Coffee (Robusta)

+0.00%

Cotton

-0.14%

Feeder Cattle

+0.17%

Wheat

-0.24%

Soybeans

-0.46%

White Sugar

+0.00%
Out of 43 world ETFs listed in NYSE that we track, 33 are trading above their 10-day SMA and 37 are trading above their 50-day SMA.
Must Reads
Opinion | Recalling Communism thirty years after the Berlin Wall fell
Thirty years ago, on 9 November 1989, the gates of the Berlin Wall were thrown open by the tottering communist government of East Germany, and thousands of wildly happy East Berliners trooped freely into West Berlin to celebrate, and meet relatives and friends, they had cruelly been kept apart from
Cash Back
AMAZON.COM is the world's fourth most valuable company, based on its stock market capitalization. At that size, it isn't about to get bought by another company. It doesn't pay a dividend. The last time it repurchased its own shares was seven years ago.
How much cash should you hold? The case for being fully invested
Over the past decade, a number of highly-regarded value investors with attractive long term track records have lagged the major benchmarks, and not just over one or two years, which can reasonably be expected to occur to any investor from time to time, but over stretches as long as 5-10 years.
Top steel makers brace for long winter, cut capex to conserve cash
Mumbai: After a lacklustre performance in the second quarter, several top domestic steelmakers are cutting down on capital expenditure and conserving cash, for what can be described as a long winter before demand revives.
Happy days for customers as retailers go the private label way
Most of the pasta sold in India comes out of gunny bags, not packets. Households with a monthly income under ₹60,000 love pasta just as much as their affluent cousins, but they buy it from wholesale markets because they can't afford branded pasta. Now they have another option.
Check out our Global Macro Dashboard for currency, commodity, bonds and credit charts.
Good luck!