Your world at 9am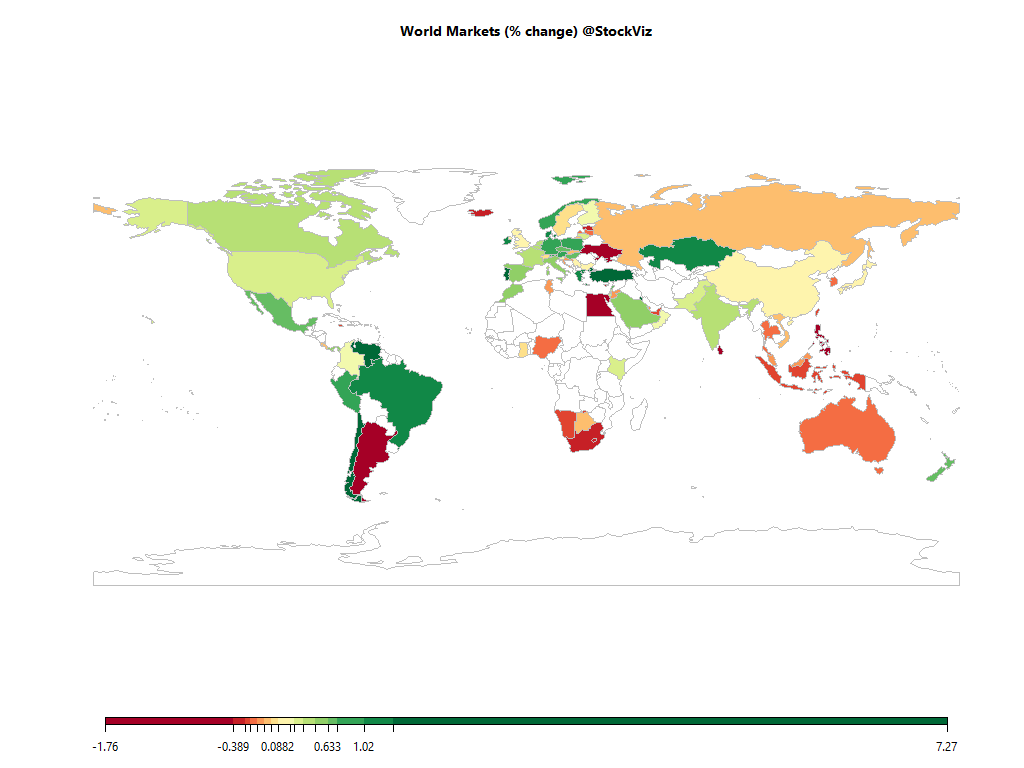 Equities
Commodities
Energy
Heating Oil

-0.20%

RBOB Gasoline

-0.03%

WTI Crude Oil

-0.44%

Brent Crude Oil

-0.21%

Natural Gas

+0.36%

Ethanol

+0.00%
Metals
Palladium

-0.52%

Silver 5000oz

+0.00%

Copper

+0.00%

Gold 100oz

+0.00%

Platinum

-0.48%
Agricultural
Cattle

+0.00%

Cotton

-0.39%

Soybean Meal

+0.00%

Coffee (Robusta)

+0.00%

Lean Hogs

+0.00%

Orange Juice

+0.00%

Wheat

+0.15%

Cocoa

+0.00%

Coffee (Arabica)

+0.00%

Corn

+0.00%

Feeder Cattle

+0.00%

Lumber

+0.00%

Soybeans

+0.00%

White Sugar

+0.00%

Sugar #11

+0.00%
Out of 43 world ETFs listed in NYSE that we track, 37 are trading above their 10-day SMA and 38 are trading above their 50-day SMA.
Must Reads
What is the illiquidity premium?
IMAGINE TWO bonds listed on different exchanges that are otherwise identical. The risk-free rate of return is 2%. Investors hold bonds for an average of one year. A central bank acts as market-maker, supplying cash on demand for bonds.
China says some tariffs must be canceled on both sides for trade deal with U.S.
FILE PHOTO: China's Ministry of Commerce spokesperson Gao Feng attends a news conference at the commerce ministry in Beijing, China, June 19, 2018.
Opinion | A close look at the economic slowdown reveals its origins
Most indicators of economic activity for the July-September quarter are now out. The message is clear that despite the sectoral tweaks and announcements, the economy does not appear to be reviving.
Opinion | Shut the door on RCEP but let's get our act together at home
The third summit of the Regional Comprehensive Economic Partnership (RCEP) held in Bangkok, which concluded this week, sought to finalize a mega free-trade agreement among 16 countries from Asia and Oceania, which are home to one-half of the world's population and account for about 40% of the worl
Why PSBs have gained by not moving to lower corporate tax rate in Q2
The Centre's move to bring down corporate tax rate may have cheered the market. But public sector banks (PSBs)have not jumped the gun and adopted the new tax regime yet.
Check out our Global Macro Dashboard for currency, commodity, bonds and credit charts.
Good luck!