Your world at 9am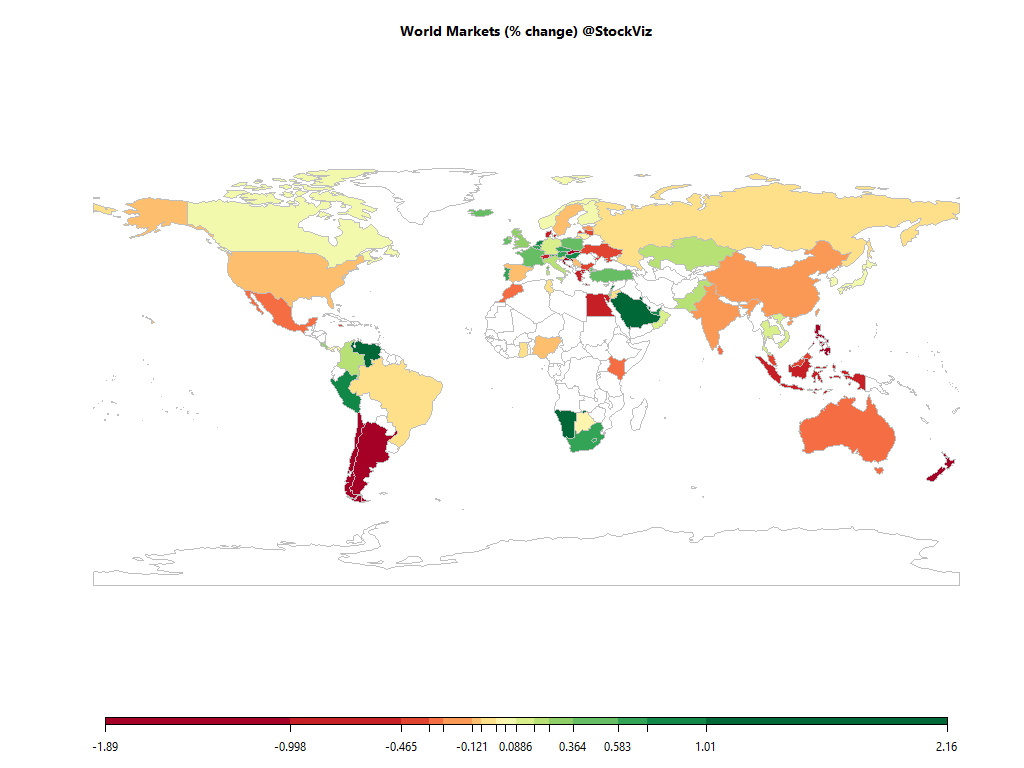 Equities
Commodities
Energy
RBOB Gasoline

-0.32%

Ethanol

+0.00%

WTI Crude Oil

-0.49%

Brent Crude Oil

-0.52%

Heating Oil

-0.38%

Natural Gas

-0.10%
Metals
Copper

+0.00%

Silver 5000oz

+0.05%

Platinum

-0.19%

Gold 100oz

+0.16%

Palladium

-0.40%
Agricultural
Cattle

+0.00%

Coffee (Arabica)

+0.00%

Coffee (Robusta)

+0.00%

Corn

+0.39%

Lean Hogs

+0.00%

Orange Juice

+0.00%

Soybean Meal

+0.03%

Sugar #11

+0.00%

Cotton

-0.22%

Wheat

+0.19%

White Sugar

+0.00%

Cocoa

+0.00%

Feeder Cattle

+0.00%

Lumber

+0.00%

Soybeans

-0.11%
Out of 43 world ETFs listed in NYSE that we track, 39 are trading above their 10-day SMA and 38 are trading above their 50-day SMA.
Must Reads
India's Q2 gold demand crashes 32%
CHENNAI: High prices and falling disposable incomes due to the economic slowdown put a damper on gold demand in the country. The yellow metal saw a 32% yearon-year drop in demand by volume to 124 tonnes in the July-September quarter from 183 tonnes in the same period in previous year.
The World Has Gone Mad and the System Is Broken
This set of circumstances is unsustainable and certainly can no longer be pushed as it has been pushed since 2008. That is why I believe that the world is approaching a big paradigm shift.
The central contradiction of Modinomics
Shortly after becoming India's Prime Minister in 2014, Narendra Modi had declared that his dream was to make India a $20 trillion economy. Economists lauded his ambition then even as they pointed out that the task would be daunting.
Indian businesses buoyant about growth amid global uncertainties: report
MUMBAI : Companies in India are optimistic about their growth prospects despite geopolitical uncertainty, according to an HSBC report released on Tuesday.
Opinion | India's real trade battle begins now that RCEP is behind us
Prime Minister Narendra Modi's decision to walk out of the Regional Comprehensive Economic Partnership (RCEP) is the right one. Walking away from a bad deal is always better than accepting one merely out of fear of isolation. There is no strength in a unity based on fear.
Disinformation 'works better than censorship,' warns internet freedom report
Although Freedom House said that the U.S. enjoys some of the greatest internet freedoms in the world, its placement in the worldwide rankings declined for the third year in a row. Last year's single-point drop was blamed on the repeal of net neutrality.
India makes historic blunder in abandoning RCEP trade deal
It is hard to view India's decision to abandon the Regional Comprehensive Economic Partnership trade deal, or RCEP, as anything other than a historic blunder.
Check out our Global Macro Dashboard for currency, commodity, bonds and credit charts.
Good luck!