Your world at 9am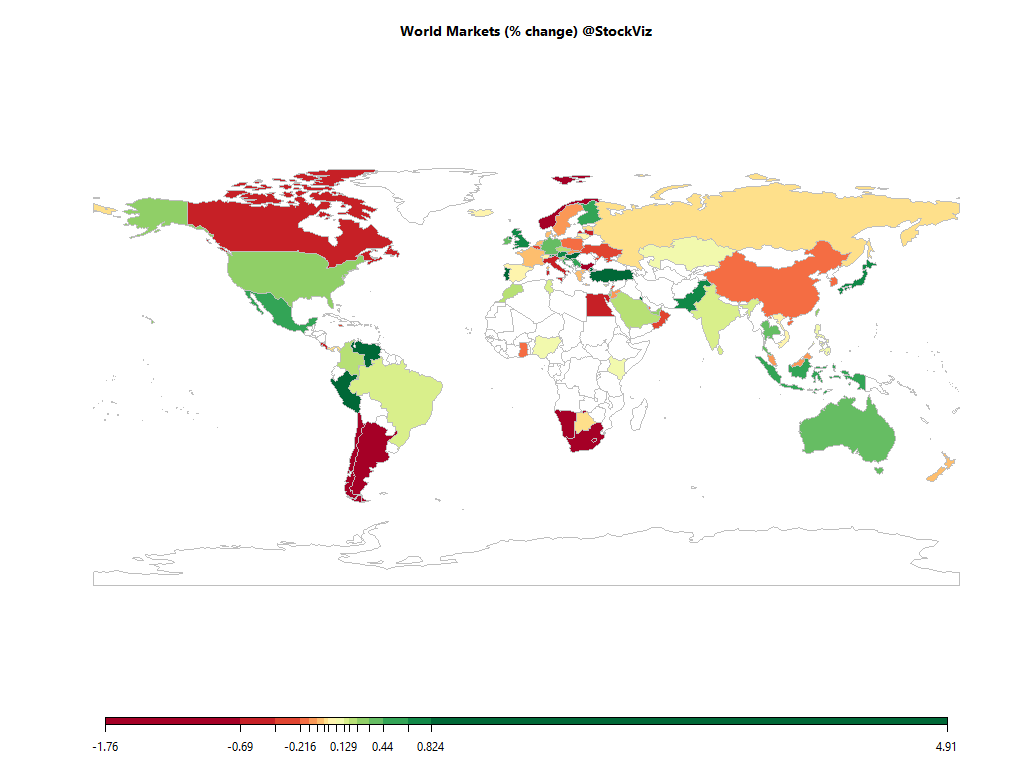 Equities
Commodities
Energy
RBOB Gasoline

-0.50%

Ethanol

+0.00%

Heating Oil

-0.51%

Brent Crude Oil

-0.62%

Natural Gas

+0.44%

WTI Crude Oil

-0.84%
Metals
Palladium

+0.45%

Platinum

+0.47%

Gold 100oz

+0.04%

Silver 5000oz

+0.00%

Copper

+0.00%
Agricultural
Coffee (Robusta)

+0.00%

Lumber

+0.00%

Sugar #11

+0.00%

Cattle

+0.00%

Coffee (Arabica)

+0.00%

Cotton

+0.03%

Feeder Cattle

+0.00%

Lean Hogs

+0.00%

Soybean Meal

+0.16%

Corn

+0.45%

Wheat

+0.38%

Cocoa

+0.00%

Orange Juice

+0.00%

Soybeans

+0.13%

White Sugar

+0.00%
Out of 43 world ETFs listed in NYSE that we track, 38 are trading above their 10-day SMA and 41 are trading above their 50-day SMA.
Must Reads
Black Monday
It was on a Monday, almost exactly 32 years ago, that the stock market suffered its worst day ever. I was still practicing law then, and I was working in my firm office.
Union cabinet approves BSNL-MTNL merger, revival plan; VRS package to be offered to employees
NEW DELHI : As part of National Democratic Alliance (NDA) government's strategy for Bharat Sanchar Nigam Ltd (BSNL) and Mahanagar Telecom Nigam Ltd (MTNL), the Union cabinet on Wednesday approved a merger and revival plan for the state run telecommunication firms.
Small players can now enter the fuel retailing business
The cabinet committee on economic affairs (CCEA) on Wednesday opened up the fuel retail market by lowering the entry barrier and allowing all companies with a net worth of ₹250 crore to set up outlets.
We have the tools and technology to work less and live better
In 1930, a year into the Great Depression, John Maynard Keynes sat down to write about the economic possibilities of his grandchildren.
Suzuki may find it challenging to hold on to 50% Indian market share: T Suzuki
Maruti Suzuki India Ltd, a subsidiary of Japan's Suzuki Motor Corporation, will face significant challenges to protect its 50% market share in the Indian passenger vehicle market, over the next decade, on account of disruptions in the automobile sector and increased competition, according to a top
Think The Indian Growth Story Is Skewed In Favour Of The Rich? You May Be Wrong 
The Central Bureau of Direct Taxes (CBDT) recently released their data for direct tax collections for the financial year 2018-19. The data was of interest as this was the third tax assessment report to be released by CBDT post-demonetization.
Check out our Global Macro Dashboard for currency, commodity, bonds and credit charts.
Good luck!