Your world at 9am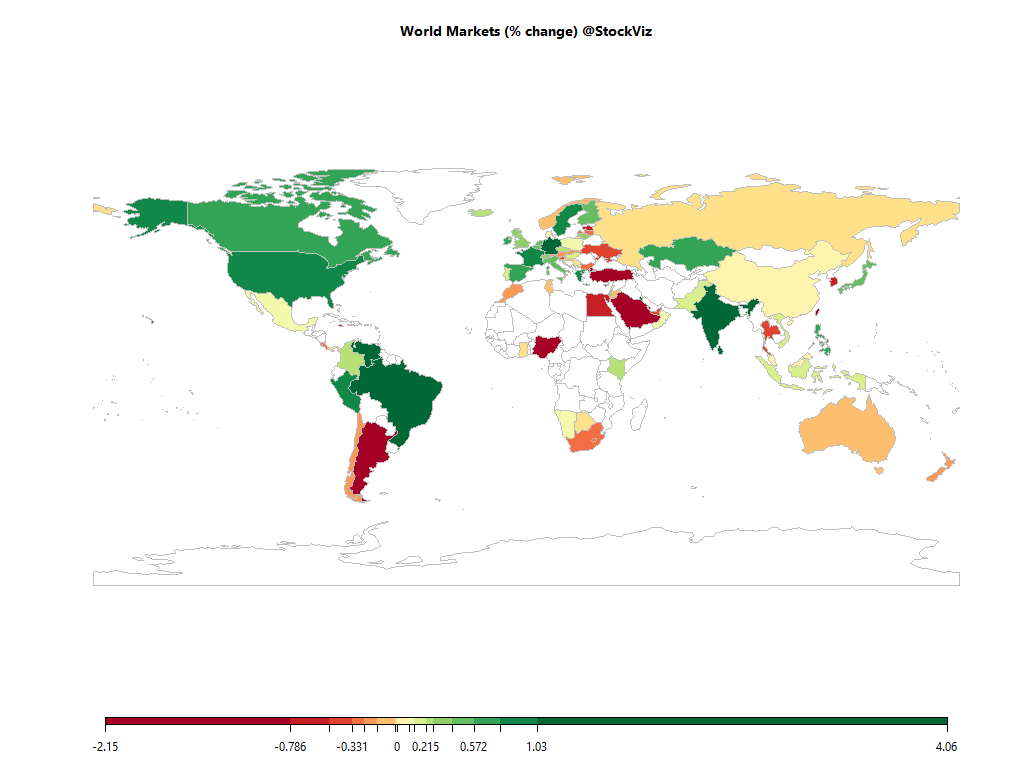 Equities
Commodities
Energy
Heating Oil

-0.31%

RBOB Gasoline

-0.47%

Natural Gas

+0.45%

Ethanol

+0.00%

WTI Crude Oil

-0.29%

Brent Crude Oil

-0.24%
Metals
Gold 100oz

+0.20%

Copper

-0.62%

Platinum

-0.08%

Silver 5000oz

+0.00%

Palladium

+0.02%
Agricultural
Lean Hogs

+0.00%

Orange Juice

+0.00%

Soybeans

+0.08%

Cocoa

+0.00%

Coffee (Arabica)

+0.00%

Corn

-0.13%

Feeder Cattle

+0.00%

Soybean Meal

+0.00%

White Sugar

+0.00%

Coffee (Robusta)

+0.00%

Cotton

+0.10%

Lumber

+0.00%

Sugar #11

+0.00%

Wheat

+0.15%

Cattle

+0.00%
Out of 43 world ETFs listed in NYSE that we track, 13 are trading above their 10-day SMA and 14 are trading above their 50-day SMA.
Must Reads
Mahindra & Mahindra Stock Call: Is the worst over?
The Mahindra & Mahindra stock is a good bet for investors with a long-term perspective.
Spotify's market cap value has fallen by $15bn in 14 months. Is declining ARPU freaking investors as much as record companies?
"Here's what I don't get: Why do they expect our music to cost next to nothing in emerging markets, but when I go to India, a BMW costs the same as a BMW everywhere else?" A high-ranking major record company executive, speaking in private this week, raises an interesting point.
Indian dollar bond rush seen unabated even as returns drop
Indian issuers look set to keep tapping the dollar bond market in the fourth quarter even after record issuance so far this year, as US currency borrowing costs remain attractive and strains persist in rupee debt markets.
Check out our Global Macro Dashboard for currency, commodity, bonds and credit charts.
Good luck!