Your world at 9am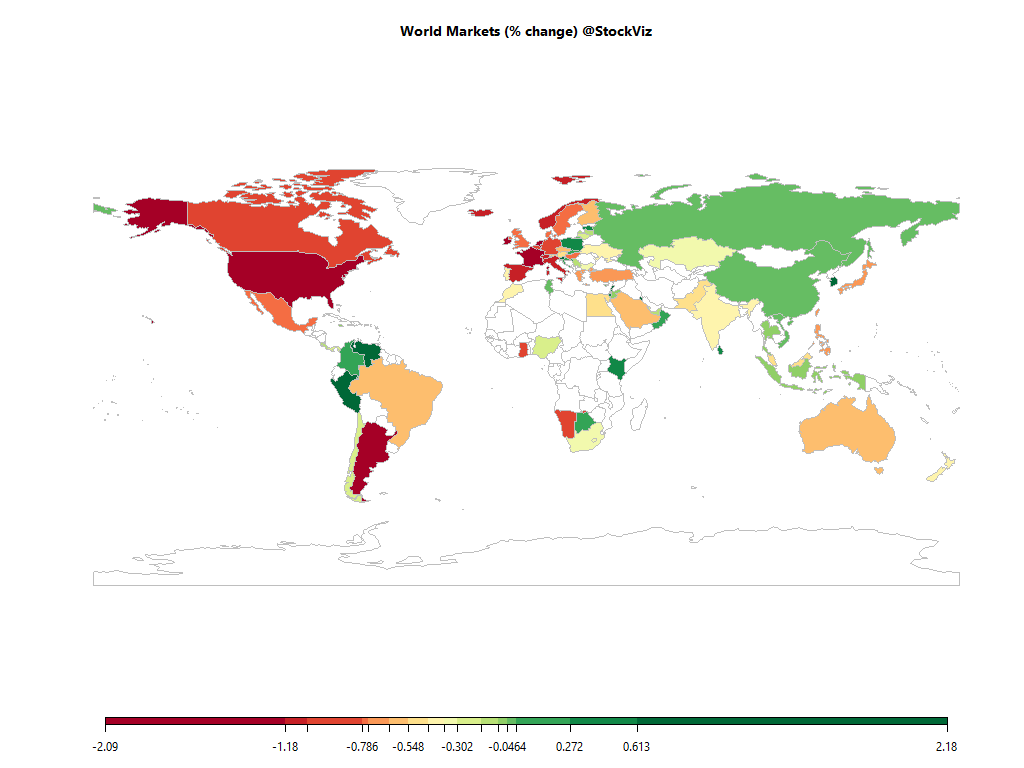 Equities
Commodities
Energy
RBOB Gasoline

-0.13%

Brent Crude Oil

-0.33%

Ethanol

+0.00%

Heating Oil

-0.21%

Natural Gas

+0.31%

WTI Crude Oil

-0.32%
Metals
Copper

+0.00%

Gold 100oz

+0.00%

Platinum

+0.80%

Silver 5000oz

+0.00%

Palladium

-0.15%
Agricultural
Cattle

+0.00%

Lumber

+0.00%

Sugar #11

+0.00%

White Sugar

+0.00%

Coffee (Arabica)

+0.00%

Corn

-0.13%

Cotton

+0.00%

Feeder Cattle

+0.00%

Coffee (Robusta)

+0.00%

Orange Juice

+0.00%

Wheat

+0.20%

Cocoa

+0.00%

Lean Hogs

+0.00%

Soybean Meal

+0.00%

Soybeans

+0.16%
Out of 43 world ETFs listed in NYSE that we track, 12 are trading above their 10-day SMA and 14 are trading above their 50-day SMA.
Must Reads
Uncaging India
Cutting edge economics views development as a game of scrabble where vowels provided by the government enable the private sector to make more words and longer words.
Closing bell? Finance ministry wants BSNL, MTNL closed down
After shooting down the proposal of the department of telecommunications (DoT) to pump in a massive Rs 74,000 crore to revive the ailing BSNL and MTNL, the finance ministry has suggested that both the sick PSUs be closed down.
The China Cultural Clash
"It" refers to the current imbroglio surrounding Daryl Morey, the General Manager for the Houston Rockets of the National Basketball Association (NBA), and the latter's dealings with China.
Why manufacturers are not rushing into India
SINGAPORE : Out of 56 companies that relocated their production out of China between April 2018 and August 2019, only three went to India and two to Indonesia. This was the finding of a study by Nomura, a Japanese financial group.
Opinion | India's capex cycle should be primed by foreign capital
It is an irony that in an age of extreme capital glut, India should be fretting about the lack of capital investment to boost growth. True, our savings and investment rates have plummeted, and we also have a double balance-sheet problem which is yet to be fully corrected.
Check out our Global Macro Dashboard for currency, commodity, bonds and credit charts.
Good luck!