Your world at 9am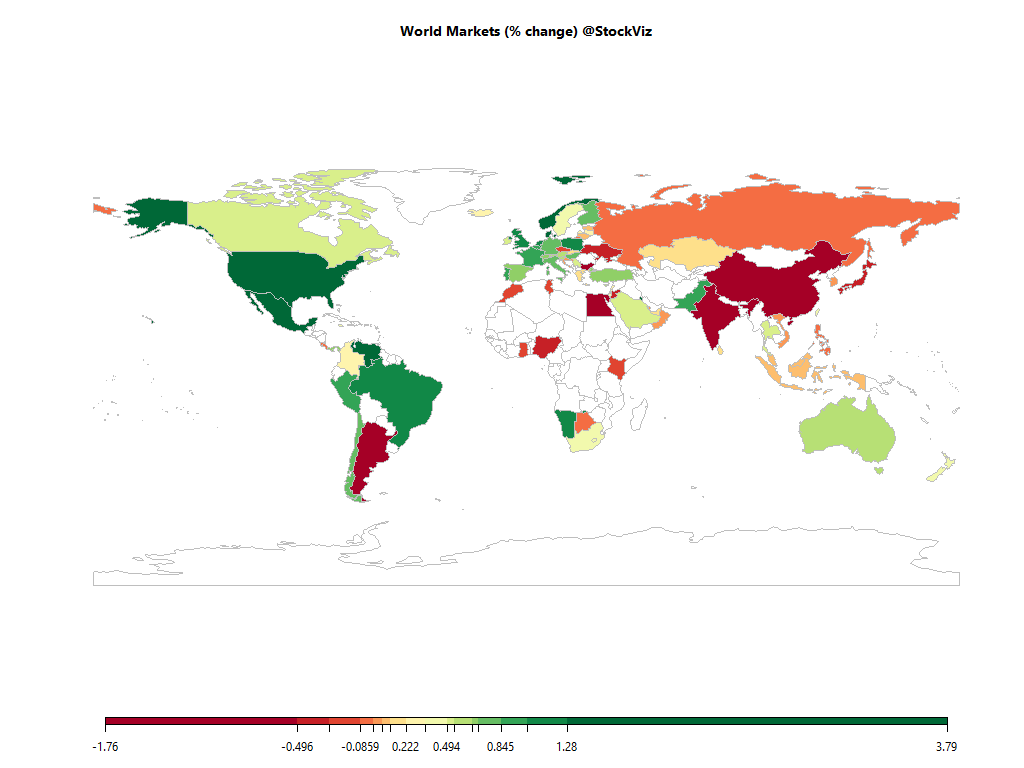 Equities
Commodities
Energy
Brent Crude Oil

-0.46%

Ethanol

-6.21%

Natural Gas

-1.57%

RBOB Gasoline

-0.79%

Heating Oil

-0.35%

WTI Crude Oil

-0.32%
Metals
Copper

+0.25%

Gold 100oz

-0.03%

Palladium

-0.14%

Platinum

-0.11%

Silver 5000oz

+0.00%
Agricultural
Cattle

+0.58%

Lean Hogs

-0.12%

Orange Juice

+0.20%

Soybean Meal

+0.17%

Feeder Cattle

-0.35%

Lumber

+0.33%

White Sugar

+0.00%

Coffee (Arabica)

-3.43%

Coffee (Robusta)

+0.00%

Corn

+0.58%

Soybeans

+0.22%

Sugar #11

+0.16%

Cocoa

+0.00%

Cotton

+0.00%

Wheat

+0.61%
Out of 43 world ETFs listed in NYSE that we track, 18 are trading above their 10-day SMA and 20 are trading above their 50-day SMA.
Must Reads
BPCL nationalisation act repealed; way clear for privatisation
NEW DELHI : Ahead of a proposed move to fully privatise state-owned fuel retailer Bharat Petroleum Corp Ltd (BPCL), the government had quietly repealed the legislation that had nationalised the company, doing away with the need to seek Parliament nod before selling it off to private and foreign firm
$63 billion of stalled residential projects in India sound warning for banks
Ashish Shah is caught in the middle of India's latest financial crisis. As chief operating officer of Radius Developers, he's struggling to fund construction of apartment complexes because of a liquidity crunch in the nation's bloated shadow-banking sector.
Behind HDIL downfall lies a failed slum project that became financial drain
Mumbai: Once considered the third largest realty developer in India, Mumbai-based Housing Development and Infrastructure Ltd (HDIL) has only spiralled down over the last few years, with the latest knock being the arrest of its promoters in connection to one of the country's biggest bank scams.
Opinion | The limits of what RBI can do for the economy
If Friday's monetary easing failed to enthuse markets, it was partly because the efficacy of its actions is in doubt. That banks can avail of cheaper funds is good, but hardly enough
Alibaba's Jack Ma: Whistling Past The Graveyard
Alibaba's Jack Ma is still young, healthy, and his company is firing on all cylinders. Yet, he recently stepped down as chairman at a handsome ceremony – posing as a rock star and singing a few tunes. The musical theme was appropriate.
Check out our Global Macro Dashboard for currency, commodity, bonds and credit charts.
Good luck!