Your world at 9am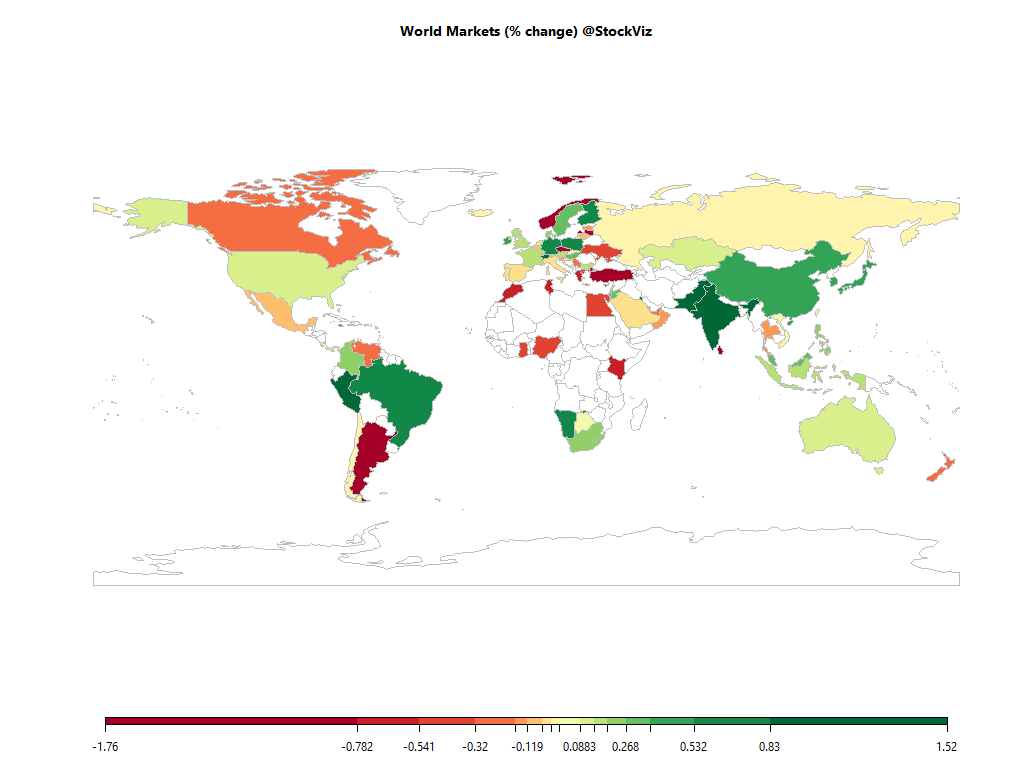 Equities
Commodities
Energy
RBOB Gasoline

+0.52%

Brent Crude Oil

+0.96%

Ethanol

+1.69%

Heating Oil

+0.78%

WTI Crude Oil

+1.13%

Natural Gas

+0.44%
Metals
Gold 100oz

+0.19%

Copper

-0.08%

Platinum

-0.58%

Palladium

-0.84%

Silver 5000oz

+0.90%
Agricultural
Coffee (Arabica)

+1.79%

Cotton

+0.34%

Sugar #11

+0.18%

Wheat

+0.00%

Cocoa

+0.00%

Coffee (Robusta)

+0.00%

Feeder Cattle

-0.49%

Lean Hogs

-4.67%

Lumber

-0.94%

White Sugar

+0.00%

Cattle

-2.74%

Corn

+0.00%

Soybean Meal

-0.17%

Orange Juice

-2.63%

Soybeans

+0.00%
Out of 43 world ETFs listed in NYSE that we track, 40 are trading above their 10-day SMA and 19 are trading above their 50-day SMA.
Must Reads
Why yields are the best guide to future stockmarket returns
IN 2011 JOHN COCHRANE, a professor at the University of Chicago's Booth School of Business, gave a presidential address on "Discount Rates" to the American Finance Association. It was published as a paper a few months later.
Status Anxiety or: how our neighbours make us worse investors
Note: This post has originally been published on the CFA Institute Enterprising Investor Blog on 14 August 2019.
The Investment Drama Triangle — J.C. Corrigan Essential Wealth
Many of you have likely heard about staying out of someone's "drama triangle". The drama triangle is about having a victim, a savior, and a persecutor and being in a place to change roles when it is convenient for you. Unfortunately, the Drama Triangle exists in Investing as well.
Coming Soon to a Battlefield: Robots That Can Kill
Tomorrow's wars will be faster, more high-tech, and less human than ever before. Welcome to a new era of machine-driven warfare.
Opinion | India must not mollycoddle its automobile industry
Hot on the heels of the news that gross domestic product (GDP) growth clocked in at a disastrously low 5% for the first quarter of 2019-20, came bad news from the automobile industry. Car sales, which had fallen by 30% in July, again fell by about the same amount in August.
Check out our Global Macro Dashboard for currency, commodity, bonds and credit charts.
Good luck!