Your world at 9am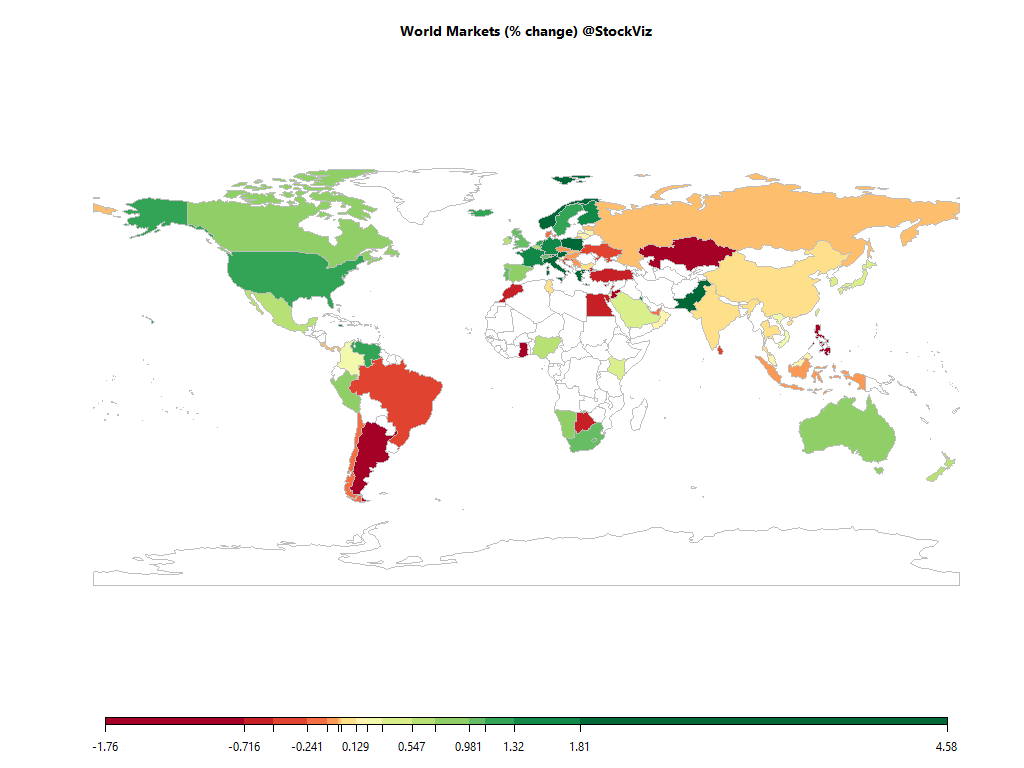 Equities
Commodities
Energy
Brent Crude Oil

-0.07%

RBOB Gasoline

-0.05%

Ethanol

+0.00%

Heating Oil

-0.11%

Natural Gas

+0.14%

WTI Crude Oil

+0.00%
Metals
Platinum

-0.22%

Silver 5000oz

+0.00%

Copper

+0.00%

Gold 100oz

-0.19%

Palladium

-0.26%
Agricultural
Coffee (Arabica)

+0.00%

Corn

+0.68%

Lumber

+0.00%

Cattle

+0.00%

Coffee (Robusta)

+0.00%

Cotton

+0.00%

Feeder Cattle

+0.00%

Lean Hogs

+0.00%

Orange Juice

+0.00%

Soybeans

+0.53%

Sugar #11

+0.00%

White Sugar

+0.00%

Soybean Meal

+0.41%

Cocoa

+0.00%

Wheat

+0.27%
Out of 43 world ETFs listed in NYSE that we track, 15 are trading above their 10-day SMA and 3 are trading above their 50-day SMA.
Must Reads
Did we evolve to see reality as it exists? No, says cognitive psychologist Donald Hoffman.
What is reality and how do we know? For many the answer is simple: What you see — hear, feel, touch, and taste — is what you get. Your skin feels warm on a summer day because the sun exists. That apple you just tasted sweet and that left juices on your fingers, it must have existed.
Low interest rates are often a cure. Now they're also a symptom.
Recession alarm bells are ringing around the world. From Europe to Asia and Latin America, signs of economic weakness have emerged or worsened recently.
Suggestions to rescue India from a structural slowdown
Many economists are struggling to classify the Indian economic slowdown. Should it be called "cyclical" or "structural"? Typically, a cyclical slowdown is caused by an excess of investment demand—over-investment in capital assets (residential and non-residential) and in inventory.
Why Are So Many Investment Decisions Based on Biased and Contrived Stories?
I recently read Will Storr's excellent book 'The Science of Storytelling'[i]; which is an exploration of how our brains process stories and why they are such a fundamental component of human experience.
Mind the Gap 2019
This report was done in collaboration with Maciej Kowara, Matias Möttölä, Chau Pham, and Timothy Strauts. Timing is the bane of investors everywhere.
Check out our Global Macro Dashboard for currency, commodity, bonds and credit charts.
Good luck!