Your world at 9am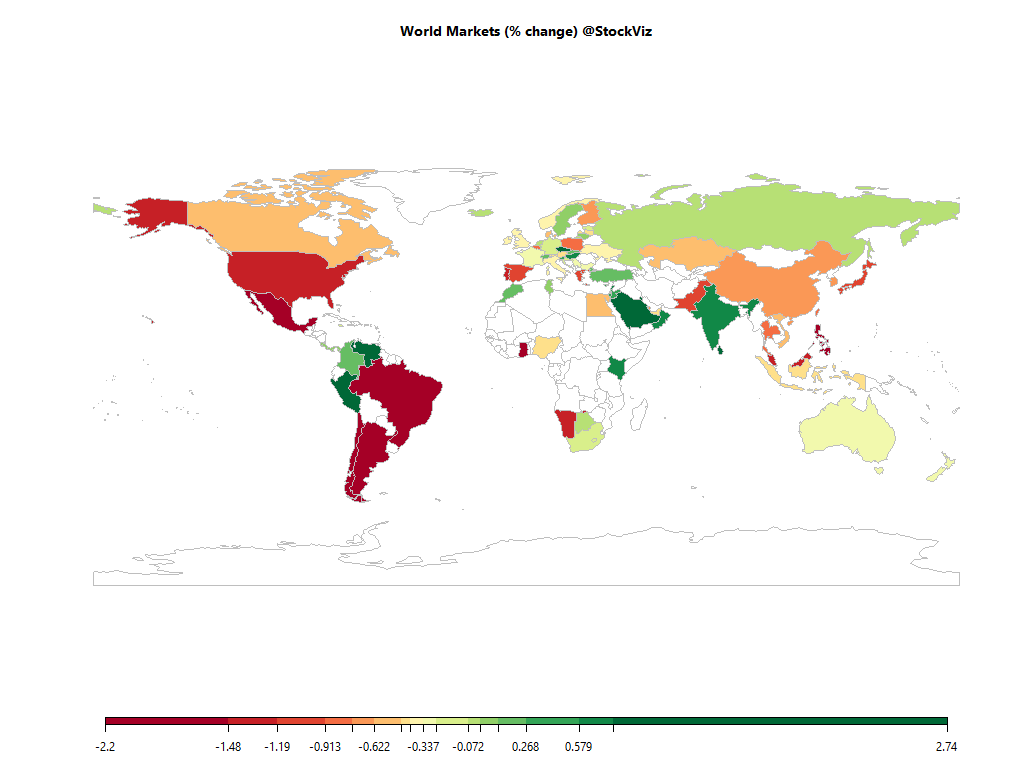 Equities
Commodities
Energy
Heating Oil

-0.04%

Brent Crude Oil

-0.27%

Ethanol

+0.00%

Natural Gas

+0.19%

RBOB Gasoline

-0.25%

WTI Crude Oil

-0.18%
Metals
Copper

-0.08%

Gold 100oz

+0.34%

Palladium

+0.03%

Silver 5000oz

+0.00%

Platinum

-0.05%
Agricultural
Coffee (Robusta)

+0.00%

Lean Hogs

+0.00%

Wheat

+0.05%

Coffee (Arabica)

+0.00%

Orange Juice

+0.00%

Soybean Meal

-0.10%

Soybeans

+0.00%

Cattle

+0.00%

Cotton

+0.00%

Lumber

+0.00%

Cocoa

+0.00%

Corn

-2.08%

Feeder Cattle

+0.00%

Sugar #11

+0.00%

White Sugar

+0.00%
Out of 43 world ETFs listed in NYSE that we track, 3 are trading above their 10-day SMA and 6 are trading above their 50-day SMA.
Must Reads
Stocks For The Long Run?
I'm not a "stocks for the long run" guy. I'm a "probably stocks for the long run, most of the time" guy.
Bank recap plan Indradhanush failed to meet objectives, says India Ratings
The government's bank recapitalization programme — Indradhanush – has failed to meet desired objectives, said a report by India Ratings and Research.
Bankruptcy data reflects pain points in a slowing economy
NEW DELHI: Manufacturing, real estate and construction firms account for nearly two-thirds of all companies facing bankruptcy proceedings since the new insolvency and bankruptcy code (IBC) came into effect in 2016, official data showed.
Opinion | What India Inc wants
Any stimulus package that requires and extra expenditure by the government would be unrealistic. Unless the Centre's social sector schemes are scaled back, there just isn't enough headroom for it
When Everything That Counts Can't Be Counted
An analysis of book value captures things like plants and equipment and facilities and hard-money, real assets that corporations have managed to accumulate over their lifetimes.
Govt seeks used cooking oil to cut down on energy imports
1 min read . Updated: 10 Aug 2019, 06:57 PM IST Bloomberg IOC, BPCL and HPCL will pay ₹51 per liter to buy used cooking oil in the first year, ₹52.7 in the second year and ₹54.5 in the third India uses 27 billion liters of cooking oil each year, of which 1.4 billion liters can produce 1.
This is What Happens as Societies Become Wealthier
The negative interest rate stuff is entering silly town. This week it was reported a bank in Denmark will be offering negative interest rate mortgages.
Opinion | Let's accept a fact: India's new normal is now 5% growth
Last week chief executives of automobile companies reached out to finance minister Nirmala Sitharaman requesting a stimulus package to bail them out. It had the predictable mix of requests: reduction in taxes, easier credit facilities and so on.
Why IBC success in recovering bad loans is middling
The overall bad loans of Indian scheduled commercial banks peaked at ₹10.36 trillion as of March 2018. In May 2016, the Insolvency and Bankruptcy Code (IBC) was put in place to deal with this problem. Three years later, its success has been middling. Mint takes a look.
IMO 2020: The biggest macro event you have never heard of
Boston – A new regulation limiting the sulfur content of the fuel used by marine shipping is likely to have a significant impact on the global economy and inflation in 2020. Maritime shipping is the backbone of the world's commerce.
Some macroprudential policies to help kick-start a credit boom
Last week, this column said that it was time for the Reserve Bank of India (RBI) to consider three regulatory measures to allow bank credit to start flowing again. One was differentiated risk weights for assets.
After a turbulent year, is the worst over for banks?
At first glance, aggregate earnings of banks in the latest June quarter that ended in the black — from a loss posted in the same quarter last year, a double-digit loan growth, a fall in provisions and bad loans — usher in a sense of optimism that the worst may be over for the beaten-down sector.
Check out our Global Macro Dashboard for currency, commodity, bonds and credit charts.
Good luck!