Your world at 9am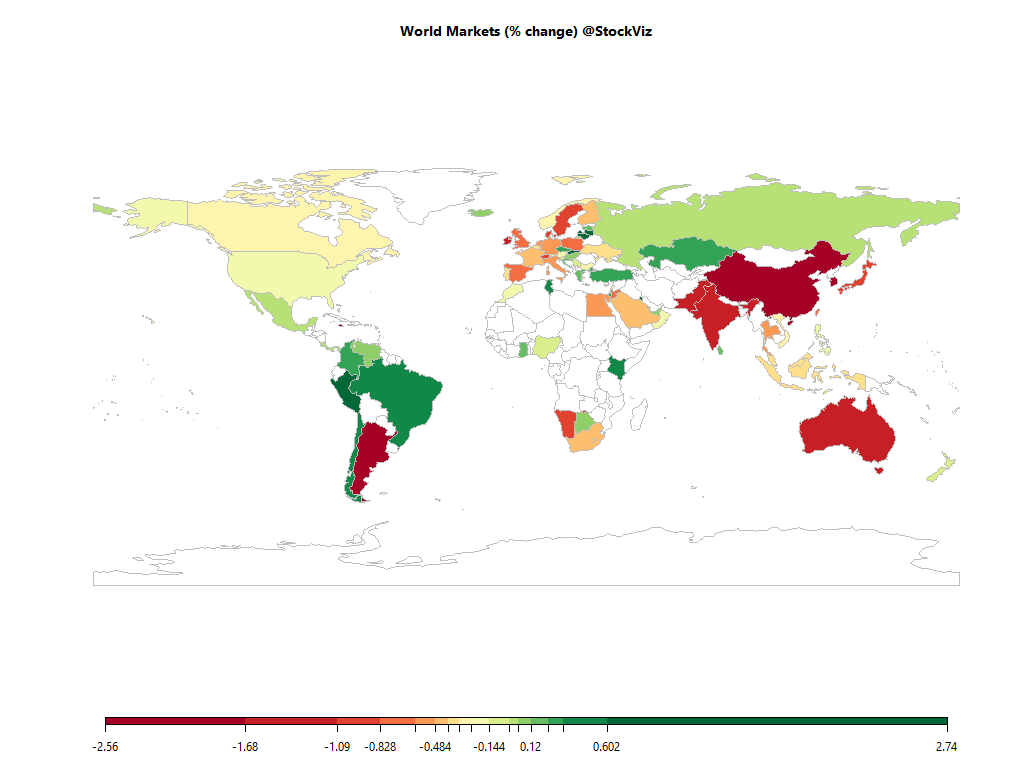 Equities
Commodities
Energy
Natural Gas

+0.29%

Ethanol

+1.05%

WTI Crude Oil

+0.16%

Brent Crude Oil

-0.02%

RBOB Gasoline

-0.22%

Heating Oil

-0.10%
Metals
Palladium

-0.37%

Platinum

+0.39%

Gold 100oz

+0.00%

Silver 5000oz

+0.28%

Copper

-0.15%
Agricultural
Coffee (Arabica)

-0.85%

Corn

+1.84%

Cotton

+0.00%

Soybeans

+0.72%

Lumber

+1.04%

Wheat

+0.14%

White Sugar

+0.00%

Cocoa

+0.00%

Lean Hogs

-2.27%

Cattle

+0.94%

Coffee (Robusta)

+0.00%

Feeder Cattle

+1.40%

Orange Juice

+1.24%

Soybean Meal

+0.76%

Sugar #11

-1.75%
Out of 43 world ETFs listed in NYSE that we track, 36 are trading above their 10-day SMA and 41 are trading above their 50-day SMA.
Must Reads
Farewell, Flat World
The single most important economic development of the last 50 years has been the catch-up in income of a large cohort of poor countries.
Stop Counting Other People's Money
A few months ago there was an article called You don't need that: Average American spends almost $18,000 a year on nonessentials. Shaming people for their spending habits is extremely clickable, so expect to see more of these in the future. This is the basic gist of:
Opinion | A budget built on a scaffolding of wishes and goals
One singular characteristic distinguishes the Bharatiya Janata Party (BJP) from all other political parties: a perpetual and unflagging state of electioneering. Finance minister Nirmala Sitharaman's maiden budget speech reinforces this notion.
Financial Astrology, From Manure to Markets
Forecasting the short term movements of the markets is virtually impossible. This tidbit hasn't stopped people from trying Making money from failed predictions is a big-time business.
Interest Rates Just Keep Falling. Economic Orthodoxy Is Falling With Them.
Investors expect even lower growth and inflation; this isn't the way it's supposed to work.
Opinion | Budget's lack of urgency to fix growth problems is a worry for markets
Indian stocks trade at a premium of about 45% compared to emerging market peers, which means investors are banking on big reforms to drive the high earnings growth expectations they have from Indian companies.
How Costco gained a cult following — by breaking every rule of retail
On first impression, Costco makes no sense.
Check out our Global Macro Dashboard for currency, commodity, bonds and credit charts.
Good luck!