Your world at 9am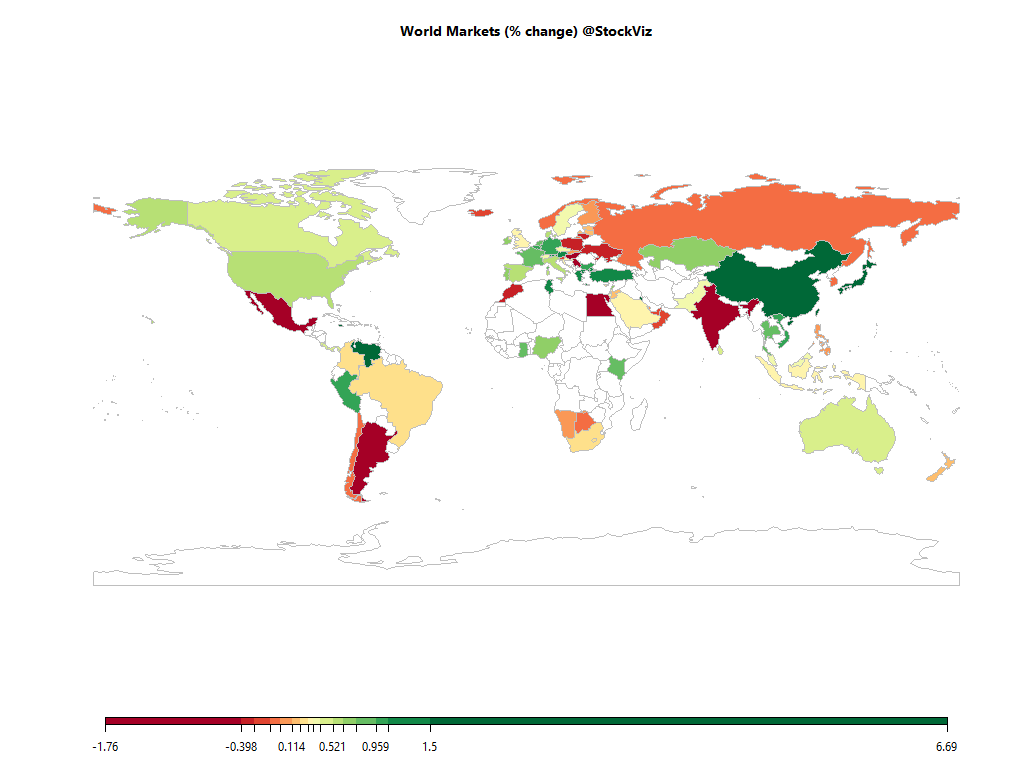 Equities
Commodities
Energy
Heating Oil

+1.78%

Natural Gas

+0.17%

Brent Crude Oil

+2.10%

WTI Crude Oil

+2.05%

Ethanol

+0.00%

RBOB Gasoline

+1.92%
Metals
Gold 100oz

-1.18%

Platinum

-0.36%

Palladium

-0.62%

Silver 5000oz

-0.58%

Copper

+1.15%
Agricultural
Cocoa

+0.00%

Soybean Meal

+0.54%

Soybeans

+0.81%

White Sugar

+0.00%

Feeder Cattle

+0.70%

Lumber

-0.60%

Cotton

+0.00%

Orange Juice

+1.99%

Cattle

-0.27%

Coffee (Arabica)

+1.89%

Coffee (Robusta)

+0.00%

Corn

+0.06%

Lean Hogs

-2.49%

Sugar #11

-0.88%

Wheat

+0.19%
Out of 43 world ETFs listed in NYSE that we track, 42 are trading above their 10-day SMA and 39 are trading above their 50-day SMA.
Must Reads
Unlimited Upside
Let's say there was an asset that you thought had the potential to do really well. Not 50% better than the market, but fifty times better than the market. How would you go about putting this in your portfolio?
The Placebo Effect in Investment
The placebo effect is both fascinating and real, with compelling evidence of its impact in both a medical and marketing context.
The Impossible Dream
We hold these truths to be self-evident, that all men are created equal, that they are endowed by their Creator with certain unalienable Rights, that among these are Life, Liberty, and the pursuit of Happiness. —The Declaration of Independence
How the country's many flaws and evils create jobs
Three malnourished men in paramilitary costumes check the car as it enters the hotel. One security guard has an under-vehicle search mirror that looks more expensive than him. The second man gestures the driver to open the boot.
Opinion | Mutual funds deserve tougher supervision
The capital market regulator has acted with speed to curb malpractices by Indian mutual funds that put retail money at risk. This might lower returns, but safety is paramount
On The Benefits of Being Average
"I want you to remember this face here, okay? This is the guy, behind the guy…behind the guy.
Opinion | All eyes now on finance minister Sitharaman
Over the last fortnight or so, finance minister Nirmala Sitharaman has gone off the public grid as it were. While she has—as insiders reveal—diligently gone about her task of putting together her first Union budget, she has at the same time kept a low public profile.
Check out our Global Macro Dashboard for currency, commodity, bonds and credit charts.
Good luck!