Your world at 9am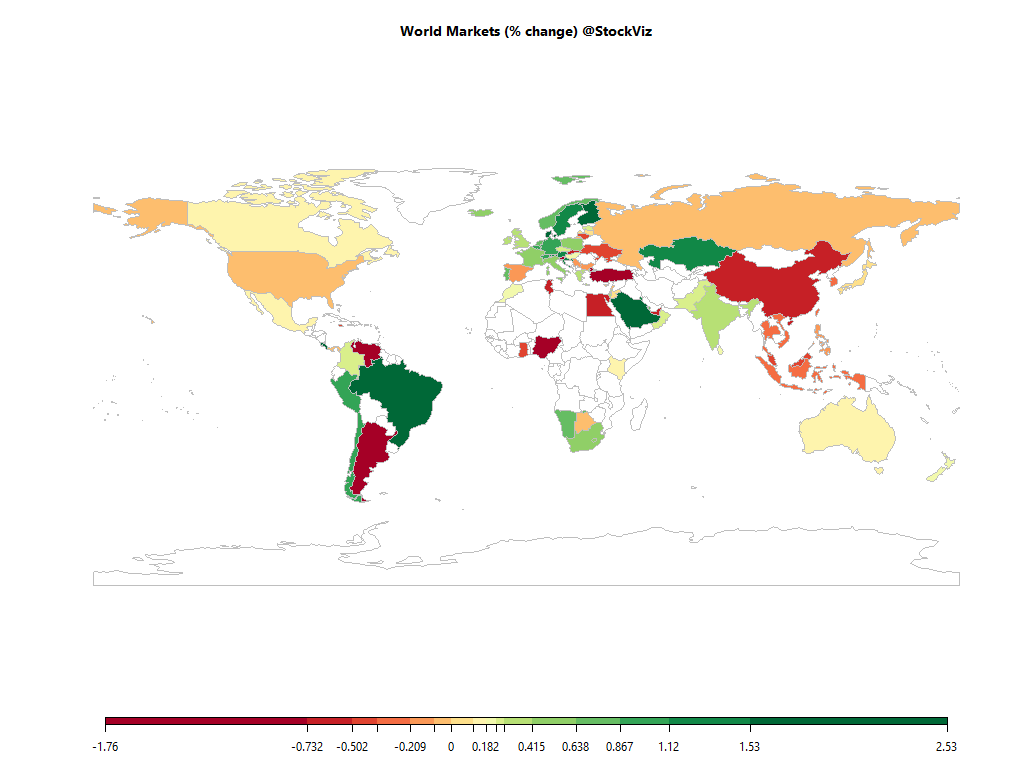 Equities
Commodities
Energy
RBOB Gasoline

-1.23%

WTI Crude Oil

-1.63%

Ethanol

+0.00%

Natural Gas

-0.21%

Brent Crude Oil

-1.48%

Heating Oil

-0.89%
Metals
Platinum

+0.42%

Gold 100oz

+0.27%

Silver 5000oz

+0.00%

Copper

+0.00%

Palladium

+0.32%
Agricultural
Coffee (Robusta)

+0.00%

Cotton

-0.18%

Feeder Cattle

+0.00%

Lumber

+0.00%

Soybeans

-0.15%

Wheat

-0.05%

White Sugar

+0.00%

Cattle

+0.00%

Orange Juice

+0.00%

Cocoa

+0.00%

Coffee (Arabica)

+0.00%

Corn

-0.23%

Lean Hogs

+0.00%

Soybean Meal

-0.45%

Sugar #11

+0.00%
Out of 43 world ETFs listed in NYSE that we track, 40 are trading above their 10-day SMA and 21 are trading above their 50-day SMA.
Must Reads
Dash for growth at company founded by Indian yoga guru leads to stumbles
HARIDWAR, India (Reuters) – Three years ago, Indian yoga guru and entrepreneur Baba Ramdev was riding high. The consumer goods empire he co-founded had tapped into a wave of Hindu nationalism after the election of Prime Minister Narendra Modi.
Being Wrong When You Get It Right
Why Investing Can Be So Difficult It was 20 years ago that Barron's published Amazon.bomb, an article calling into question Amazon's business model during its infancy.  Reading it now seems laughable.
Love Your Job? Someone May be Taking Advantage of You
If someone is passionate about what they do, we see it as more legitimate to exploit them, according to new research from Duke University's Fuqua School of Business.
Govt's 100-day plan aims to re-energize India's power sector
New Delhi: The Union power ministry has proposed a "power sector council" to address issues between the Union and state governments as part of the ministry's 100-day action plan for the second term of the Narendra Modi government.
Interoperability in settlement: Who wins and who loses?
Interoperability in settlement of equity and currency trades is all set to disrupt the current market ecosystem with the brokers having to select any one clearing corporation to settle all their trades, irrespective of the platform where the transaction took place.
Prudent Cold Skew
Disclaimers:This correspondence is being furnished by Verdad Advisers, LP (the "Firm") on a confidential basis and does not constitute an offer, solicitation, or recommendation to sell, or an offer to buy any securities, investment products, or investment advisory services.
Check out our Global Macro Dashboard for currency, commodity, bonds and credit charts.
Good luck!