Your world at 9am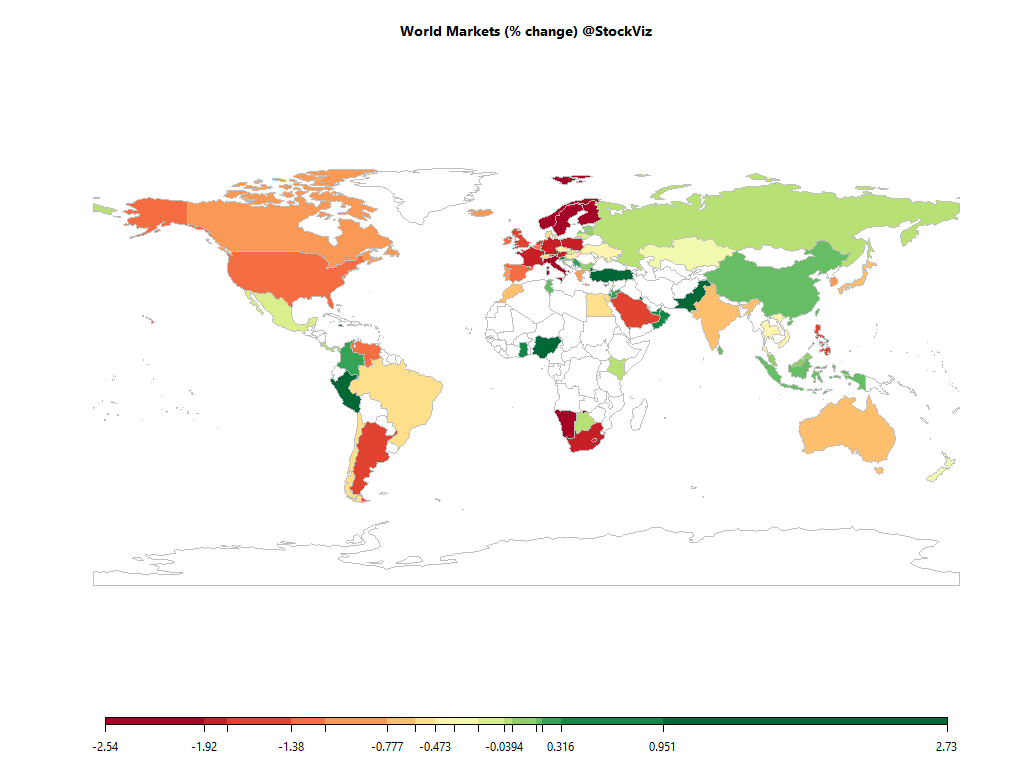 Equities
Commodities
Energy
Brent Crude Oil

+1.15%

Ethanol

+0.00%

Heating Oil

+0.55%

Natural Gas

+0.27%

RBOB Gasoline

+0.57%

WTI Crude Oil

+1.09%
Metals
Copper

+0.45%

Gold 100oz

+0.00%

Palladium

+0.10%

Platinum

+0.28%

Silver 5000oz

-0.19%
Agricultural
Corn

+0.19%

Lean Hogs

+0.00%

Lumber

+0.00%

White Sugar

+0.00%

Cattle

+0.00%

Sugar #11

+0.00%

Wheat

-0.48%

Cocoa

+0.00%

Coffee (Arabica)

+0.00%

Coffee (Robusta)

+0.00%

Cotton

+0.31%

Orange Juice

+0.00%

Feeder Cattle

+0.00%

Soybean Meal

-0.10%

Soybeans

-0.12%
Out of 43 world ETFs listed in NYSE that we track, 20 are trading above their 10-day SMA and 9 are trading above their 50-day SMA.
Must Reads
The lessons of Bahrain, a state that tried to wean itself off oil
THE ORANGE helmets are a burst of colour in the desert, where drab aluminium potlines stretch for almost a mile across the sands. Workers at Alba, Bahrain's aluminium smelter, are finishing a $3bn expansion. A country of just 1.5m people will soon produce 1.
India's stealth privatisation
IN 2007 INDIA combined two troubled state-run champions, Indian Airlines for domestic flights and Air India for international ones, in the hope that consolidation would produce higher profits and happier flyers. Instead, the merger created unhappy unions, shabbier service and mounting losses.
Why Are Other Investors So Biased?
If you ask a fund manager why they believe that their investment philosophy can generate excess returns, they will almost inevitably state that they are seeking to exploit the behavioural biases exhibited by other investors that create pricing inefficiencies.
Opinion | Why 'liberals' fully deserved to lose this battle
So, as sociologist Yogendra Yadav said in an interview to Mint a few days ago, India is "entering a long and dark tunnel" for the next five years. Journalist Kapil Komireddi wrote in The Guardian, Narendra Modi will now take the country into "a dark place".
Check out our Global Macro Dashboard for currency, commodity, bonds and credit charts.
Good luck!