Your world at 9am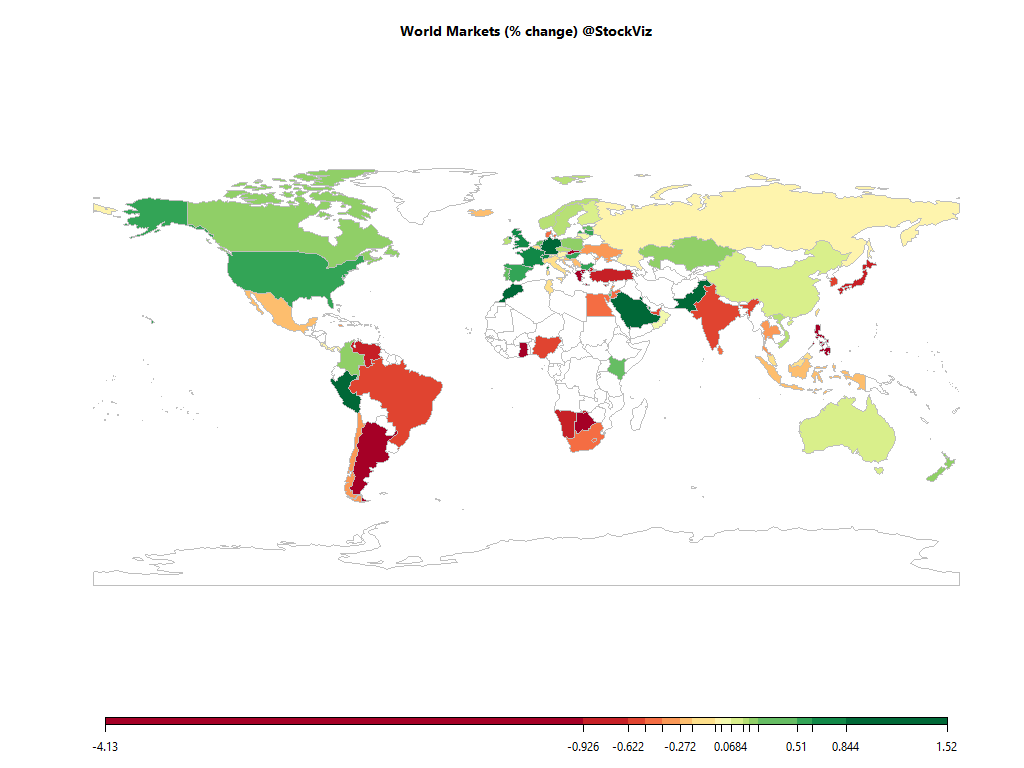 Equities
Commodities
Energy
Heating Oil

+0.36%

RBOB Gasoline

+0.36%

Brent Crude Oil

+0.38%

Ethanol

+0.90%

WTI Crude Oil

+0.50%

Natural Gas

+0.27%
Metals
Platinum

+0.09%

Silver 5000oz

+0.02%

Palladium

-0.42%

Copper

+0.16%

Gold 100oz

+0.00%
Agricultural
Cattle

+0.00%

Coffee (Arabica)

+0.00%

Lean Hogs

+0.00%

White Sugar

+0.00%

Cocoa

+0.00%

Corn

+1.49%

Cotton

+0.69%

Lumber

+0.00%

Orange Juice

+0.00%

Sugar #11

+0.00%

Coffee (Robusta)

+0.00%

Feeder Cattle

+0.00%

Soybean Meal

+0.20%

Soybeans

+0.21%

Wheat

+0.78%
Out of 43 world ETFs listed in NYSE that we track, 2 are trading above their 10-day SMA and 3 are trading above their 50-day SMA.
Must Reads
India will suffer for Modi's failure to tackle corruption
The longer India's election drags on, the more rattled Prime Minister Narendra Modi appears. In a long campaign that moves finally toward its conclusion on May 19, Modi could have laid out a bold economic vision.
130/30 ETF Targets Mispriced Stocks
Today newcomer Acquirers Funds launched its first ETF, which provides access to a 130/30 long/short strategy. The Acquirers Fund (ZIG) takes long positions in undervalued stocks with strong fundamentals, and short positions in overvalued stocks with weak fundamentals.
Leveraged Promoters, Haemorrhaged Stockholders
Thread… Let's say that a highly-profitable, listed business is un-leveraged but its promoters are highly leveraged in their personal balance sheets. Let's also say that loans taken by the promoters are secured by the collateral of the promoters' shares in the listed company.
Kyle Bass's big nickel bet
In 2011, hedge fund manager Kyle Bass reportedly bought $1 million worth of nickels. Why on earth would anyone want to own 20 million nickels? Let's work out the underlying logic of this trade. A nickel weighs five grams, 75% of which is copper and the rest is nickel.
Indian pharma at the crossroads as US cracks the whip
There are very few industries as notorious as Big Pharma. Fewer still have done more to deserve that notoriety.
Tails, You Win
Steamboat Willie put Walt Disney on the map as an animator. Business success was another story. Disney's first studio went bankrupt. Later cartoons were monstrously expensive to produce, and financed at onerous terms.
India's la-la land of low inflation is turning a nightmare for policymakers
MUMBAI: India's economy has had low inflation for months now, and policymakers are feeling rather uncomfortable with this state. Headline retail inflation, adopted by the central bank as its main anchor for policy, has been below the 4% target for nine straight months.
Check out our Global Macro Dashboard for currency, commodity, bonds and credit charts.
Good luck!