Your world at 9am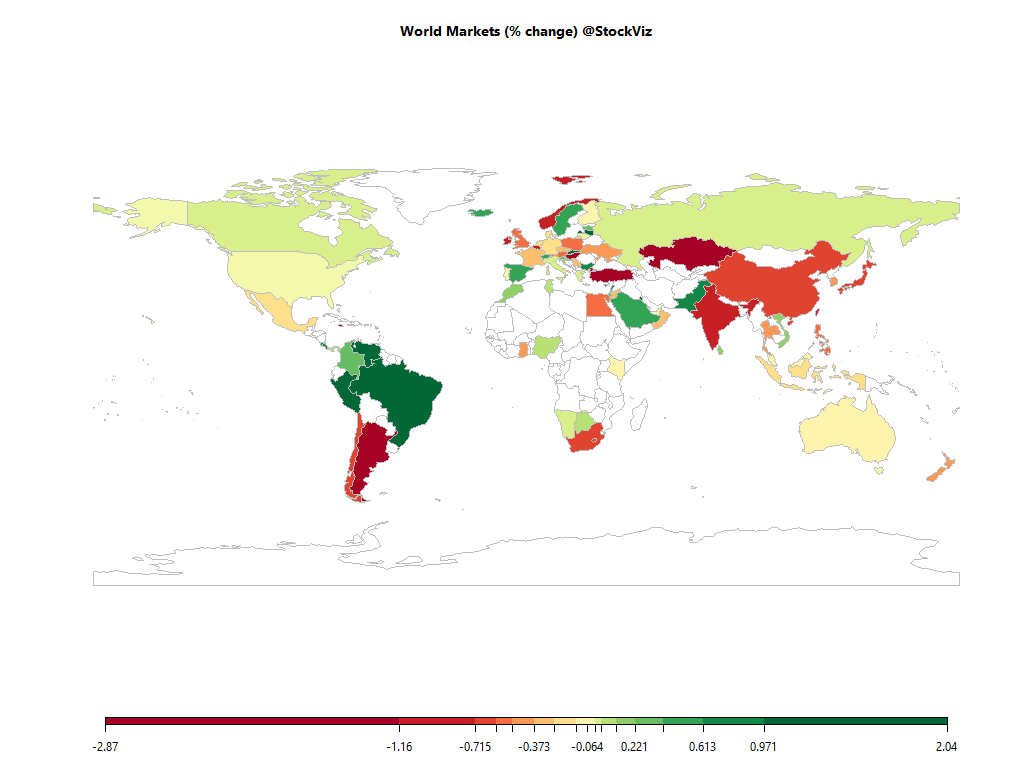 Equities
Commodities
Energy
Ethanol

+0.00%

Natural Gas

-0.16%

Brent Crude Oil

-0.20%

RBOB Gasoline

-0.47%

Heating Oil

-0.24%

WTI Crude Oil

-0.55%
Metals
Gold 100oz

+0.00%

Palladium

-0.15%

Silver 5000oz

+0.00%

Platinum

+0.43%

Copper

+0.00%
Agricultural
Feeder Cattle

+0.00%

Soybean Meal

-0.65%

Soybeans

-0.49%

White Sugar

+0.00%

Cocoa

+0.00%

Coffee (Arabica)

+0.00%

Lumber

+0.00%

Wheat

-0.12%

Coffee (Robusta)

+0.00%

Corn

+0.14%

Cotton

+0.00%

Lean Hogs

+0.00%

Orange Juice

+0.15%

Sugar #11

+0.00%

Cattle

+0.00%
Out of 43 world ETFs listed in NYSE that we track, 13 are trading above their 10-day SMA and 30 are trading above their 50-day SMA.
Must Reads
Are investors chronically pessimistic?
The assumption that investors hold rational expectations of market returns is central to many asset pricing models.
Can Uber ever make money?
LONDON CABBIES enjoy a good moan. But few can match the satirical indignation of a former ferry operator, John Taylor, who used to carry passengers on the Thames.
Why investors are careful buyers but careless sellers
JACK SCHWAGER was once a moderately successful trader who wondered why he was not an immoderately successful trader. Perhaps if he knew the secrets of trading superstars, such as Paul Tudor Jones or Jim Rogers, he might improve. So he asked them for those secrets.
Egypt's economy thrills investors, but locals are struggling
THE INVESTORS gathered at a posh Cairo restaurant were eager to pour money into an economy that, just three years ago, lacked the hard currency to import cooking oil. A revolution in 2011 (and a coup two years later) tipped Egypt into economic crisis. Investors and tourists fled. Growth was anaemic.
Colonialism as mitosis – the rise and fall of empires, rendered as cell division
Visualising empires decline 4 minutes
Indian merchants do not want to go digital
1 min read .
Check out our Global Macro Dashboard for currency, commodity, bonds and credit charts.
Good luck!