Your world at 9am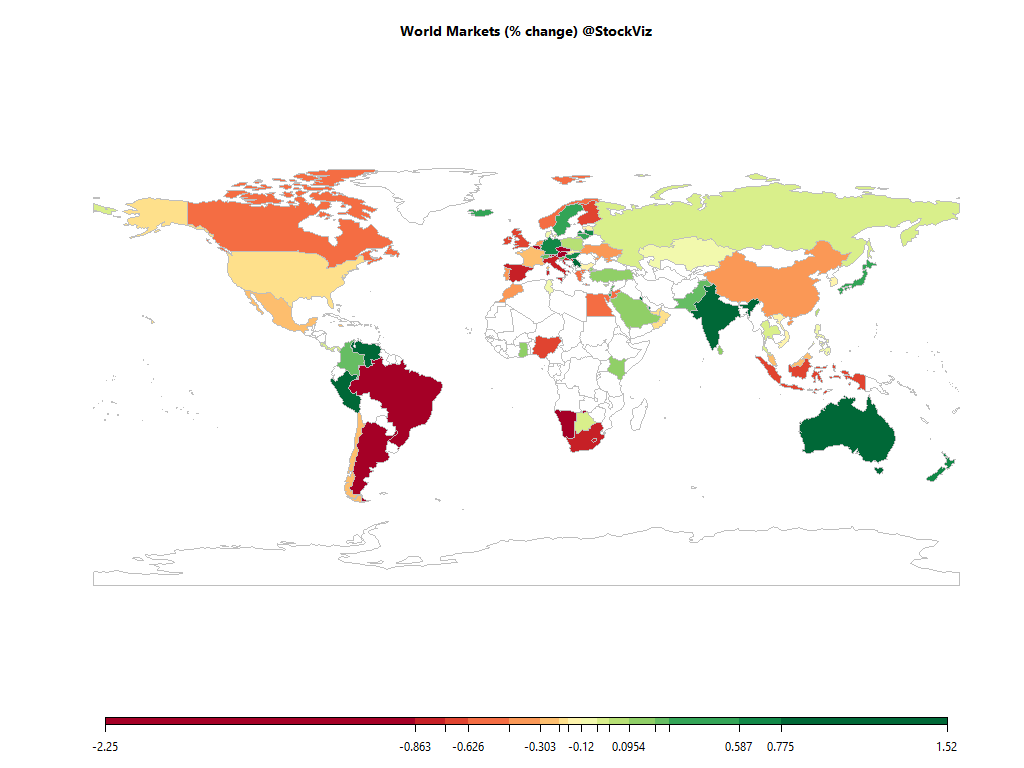 Equities
Commodities
Energy
Brent Crude Oil

+0.08%

Ethanol

+0.00%

WTI Crude Oil

-0.12%

RBOB Gasoline

+0.05%

Heating Oil

-0.13%

Natural Gas

+0.28%
Metals
Gold 100oz

+0.00%

Silver 5000oz

+0.00%

Copper

+0.14%

Palladium

-0.17%

Platinum

-0.27%
Agricultural
Wheat

+0.00%

Coffee (Robusta)

+0.00%

Corn

-0.29%

Cotton

+0.00%

Feeder Cattle

+0.00%

Lumber

+0.00%

Soybeans

+0.15%

White Sugar

+0.00%

Cattle

+0.00%

Coffee (Arabica)

+0.00%

Orange Juice

+0.00%

Cocoa

+0.00%

Lean Hogs

+0.00%

Soybean Meal

+0.07%

Sugar #11

+0.00%
Out of 43 world ETFs listed in NYSE that we track, 27 are trading above their 10-day SMA and 36 are trading above their 50-day SMA.
Must Reads
You Played Yourself
Medicine used to be all about biology. Fifty years ago it began incorporating elements of psychology into the med school curriculum. It was a breakthrough. Diseases are risks. Treatments have risks.
Weak demand, high interest cost dent March auto sales
NEW DELHI: Weak consumer sentiment, along with a rise in borrowing costs and increased fuel prices dented domestic automobile sales last month, a research note said on Wednesday.
What Makes a Great Business
A great business is like a great money manager. They take money in, invest it, and turn it into more money. In the case of a company, it can invest its money into manufacturing plants, marketing, hiring employees, or a variety of other things.
Different Kinds of Stupid
"The older I get the more I realize how many kinds of smart there are. There are a lot of kinds of smart. There are a lot of kinds of stupid, too." You can ace the most prestigious grad school and then spend years in prison for insider trading. It's happened.
James Harden and Alpha
I played high school basketball in Indiana. I won a few honors, but was broadly mediocre, and certainly not NCAA D1 material.
India's population growth slows substantially, may 'no longer be pressing problem'
New Delhi: There's heartening news on an age-old Indian problem. A report released by the United Nations Population Fund earlier this month indicates that India's population growth rate has slowed substantially in the 2010-2019 period.
And again, oil's on the boil…
In what is sarcastically described as White House volatility, the under-supplied global crude oil market has received another shock in the form of US President Trump's decision not to extend the exemption granted to eight countries, including India, to buy oil from Iran.
Check out our Global Macro Dashboard for currency, commodity, bonds and credit charts.
Good luck!