Your world at 9am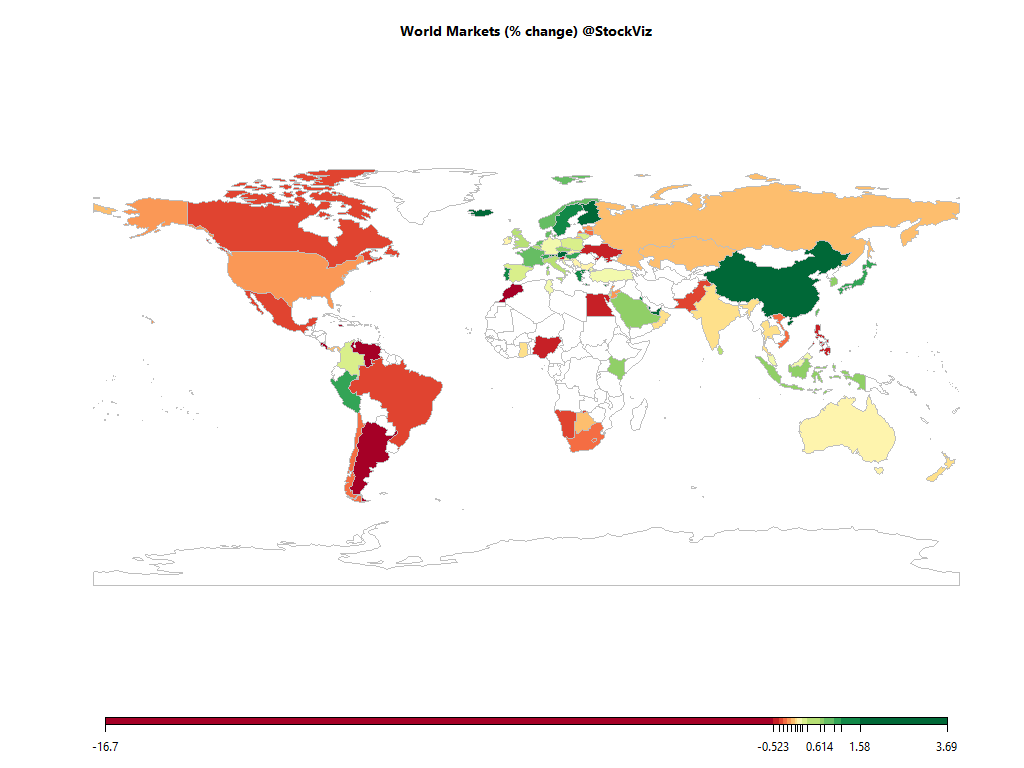 Equities
Commodities
Energy
Ethanol

+0.00%

Brent Crude Oil

+0.01%

WTI Crude Oil

-0.02%

RBOB Gasoline

-0.16%

Heating Oil

-0.08%

Natural Gas

-0.56%
Metals
Copper

+0.90%

Gold 100oz

+0.00%

Platinum

+0.59%

Silver 5000oz

+0.00%

Palladium

+0.19%
Agricultural
Cattle

+0.06%

Coffee (Arabica)

+0.00%

Lean Hogs

-0.11%

Sugar #11

+0.00%

Wheat

+0.00%

Cocoa

+0.00%

Corn

+0.00%

Cotton

+0.43%

Orange Juice

+0.00%

White Sugar

+0.00%

Coffee (Robusta)

+0.00%

Feeder Cattle

-0.07%

Soybeans

+0.00%

Lumber

-0.15%

Soybean Meal

+0.00%
Out of 43 world ETFs listed in NYSE that we track, 15 are trading above their 10-day SMA and 32 are trading above their 50-day SMA.
Must Reads
How to be a rock-star bond investor
ONE NIGHT in 1965, Keith Richards woke up with a riff going around inside his head. He reached for his guitar, played the bare bones of a song into a cassette recorder and promptly fell asleep. Mick Jagger was soon scribbling lyrics by the swimming pool.
China's current-account surplus has vanished
IN A CONTROL room at the headquarters of Ctrip, China's largest online travel agency, dozens of fluorescent lines flash every second across a big digital map of the world. Each line represents an international flight sold on Ctrip's platform.
Indians may be falling out of love with gold
P.N. GADGIL & SONS, a jewellery shop in Thane, a suburb of Mumbai, is gearing up for the wedding season—a busy time for gold sales, even if demand is brisker still during Hindu festivals, when jewellers stay open almost round the clock.
From Hazira to London: Lakshmi Mittal takes the battle to Prashant Ruia
London: "Hide all docs," the email read. In a second message, the employee urged a colleague to conceal a laptop.
5 Things To Know About The $250 Billion Of Tech IPOs Coming To Market
This year is setting up to be a blockbuster for IPOs particularly in the tech space. Over the past several weeks large companies such as Slack and Uber have voiced their intention to IPO. Others are even further along in the process.
Check out our Global Macro Dashboard for currency, commodity, bonds and credit charts.
Good luck!