Your world at 9am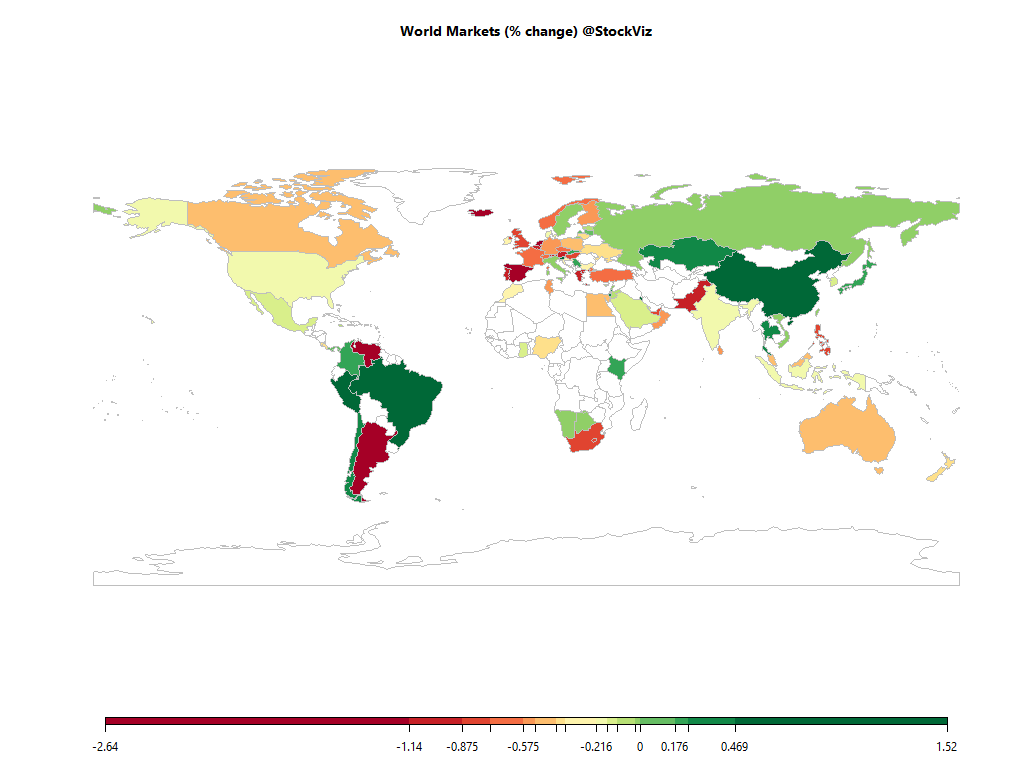 Equities
Commodities
Energy
Ethanol

-1.44%

Heating Oil

+0.21%

WTI Crude Oil

+0.59%

Natural Gas

-1.64%

Brent Crude Oil

+0.50%

RBOB Gasoline

+0.54%
Metals
Gold 100oz

+0.00%

Palladium

+0.99%

Platinum

-0.29%

Copper

+0.19%

Silver 5000oz

+0.00%
Agricultural
Cattle

+0.56%

Soybean Meal

-0.83%

Cocoa

+0.00%

Feeder Cattle

+0.70%

Corn

+0.00%

Lean Hogs

+4.52%

Wheat

+0.00%

Coffee (Arabica)

+1.71%

Coffee (Robusta)

+0.00%

Cotton

-0.56%

Lumber

-0.56%

Orange Juice

-0.58%

Soybeans

+0.00%

Sugar #11

-0.08%

White Sugar

+0.00%
Out of 43 world ETFs listed in NYSE that we track, 3 are trading above their 10-day SMA and 27 are trading above their 50-day SMA.
Must Reads
Hong Kong Edition
US economist Michael Pettis of Peking University says China GDP is overestimated as bad debt is not written down.
The Aldi effect: how one discount supermarket transformed the way Britain shops
When Aldi arrived in Britain, Tesco and Sainsbury's were sure they had nothing to worry about. Three decades later, they know better. By On a Thursday morning in April 1990, in the suburb of Stechford in Birmingham, a strange grocery chain started trading in the UK.
The Monetary Duration Dilemma
I've been careful in my research on money not to call money a "store of value". There's a good reason for this which I will try to explain in this piece. The first two are uncontroversial.
Most Investors Should Be Satisficers not Maximisers
Rational choice theory dictates that our decision making process should involve assessing all available options and then selecting the best possible one, or 'maximising utility'.  This model is an example of a sound concept that fails when it encounters the real world.
A crucial source of funding for Indian founders is drying up
MUMBAI: India's business titans are facing a worrying new development: in recent weeks, shadow lenders have been cutting them off from a key financing channel. Company founders have long fueled dreams to expand their business empires with loans they get by pledging stakes in their firms.
The Investing Meta-Game
This was the water value investors were swimming in, yet we never knew it.
Check out our Global Macro Dashboard for currency, commodity, bonds and credit charts.
Good luck!