Your world at 9am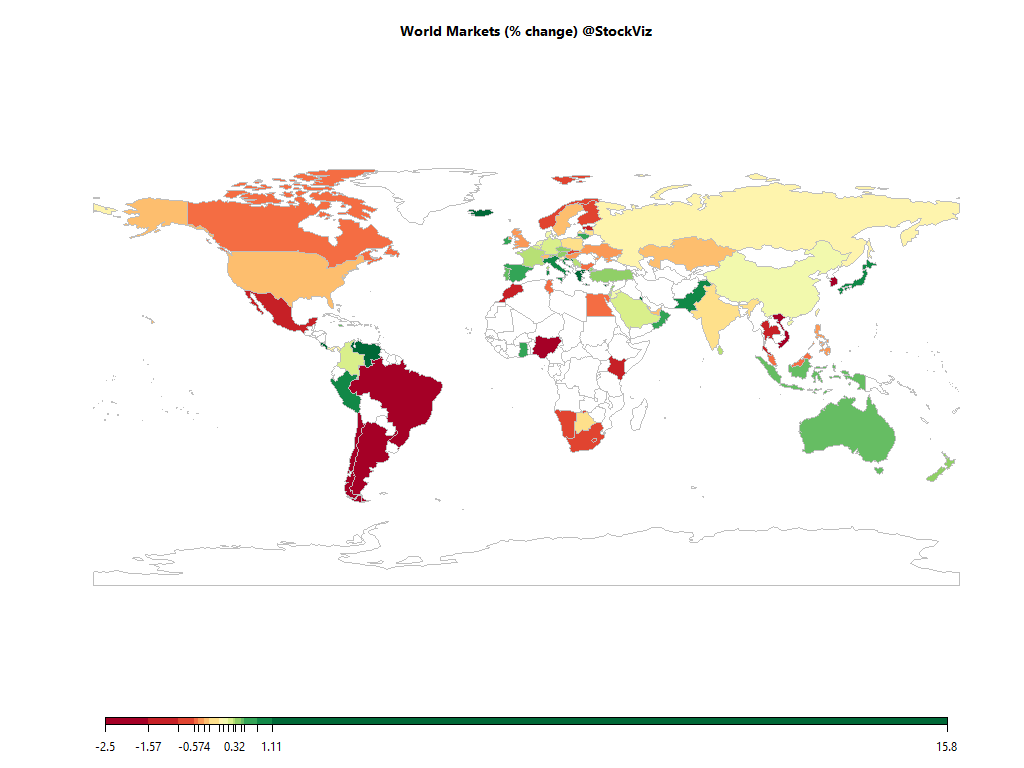 Equities
Commodities
Energy
Heating Oil

+0.40%

WTI Crude Oil

+0.42%

Natural Gas

-0.50%

RBOB Gasoline

+0.51%

Brent Crude Oil

+0.47%

Ethanol

+0.00%
Metals
Gold 100oz

-0.05%

Copper

-0.17%

Palladium

+0.19%

Platinum

+0.03%

Silver 5000oz

+0.11%
Agricultural
Cocoa

+0.00%

Feeder Cattle

+0.00%

Lumber

-0.26%

Orange Juice

+0.00%

Soybean Meal

+0.00%

Corn

+0.00%

Soybeans

+0.14%

Wheat

+0.11%

Coffee (Robusta)

+0.00%

Cotton

+0.00%

Lean Hogs

-0.58%

Sugar #11

+0.00%

Cattle

+0.00%

Coffee (Arabica)

+0.00%

White Sugar

+0.00%
Out of 43 world ETFs listed in NYSE that we track, 29 are trading above their 10-day SMA and 38 are trading above their 50-day SMA.
Must Reads
The Perils of Investing Idol Worship: The Kraft Heinz Lessons!
On February 22, Kraft-Heinz shocked investors with a trifecta of bad news in its earnings report: sub-par operating results, a mention of accounting irregularities and a massive impairment of goodwill, and followed up by cutting dividends per share almost 40%.
A nanoparticle injection is all it takes to let these mice see in infrared
I know it's everyone's dream to see outside the wavelengths allotted to our visual systems. Well, as usual, mice have gotten there first, with the help of some clever scientists.
Governments use receipt lotteries to boost tax compliance
PEOPLE PAY taxes because governments say they must and society says they should. But what if tax compliance became fun? Governments around the world are encouraging consumers to ask for receipts by turning them into lottery tickets. Taiwan was an early experimenter, in 1951.
Opinion | Uri to Pulwama: Modi's strategy to end a terror-talk cycle
The Narendra Modi government had concluded early in its term that the India-Pakistan relationship had fallen into an unthinking cycle of talks, followed by terror, followed by more talks, ad nauseam.
Dollar-rupee trading in London trebles, raising policy concerns
How large is the market for dollar-rupee trading in overseas centres such as Singapore and London? Every three years, the Bank for International Settlements (BIS) releases results of its survey on foreign exchange and derivatives market activity.
Substance
What do you think is the number one thing that needs to change about the financial services industry? Rather than revisit the squabble over fees versus commissions or fiduciary versus suitability, I simply said we need to raise the standards to become a financial advisor.
Decoding the Ordinance on unregulated deposit schemes
The recently-promulgated Banning of Unregulated Deposit Schemes Ordinance 2019 ruffled a few feathers with news reports and legal experts expressing concerns over how the ordinance could hurt individuals who raise quick loans from relatives or friends, and businesses taking loans from unrelated part
Check out our Global Macro Dashboard for currency, commodity, bonds and credit charts.
Good luck!