Your world at 9am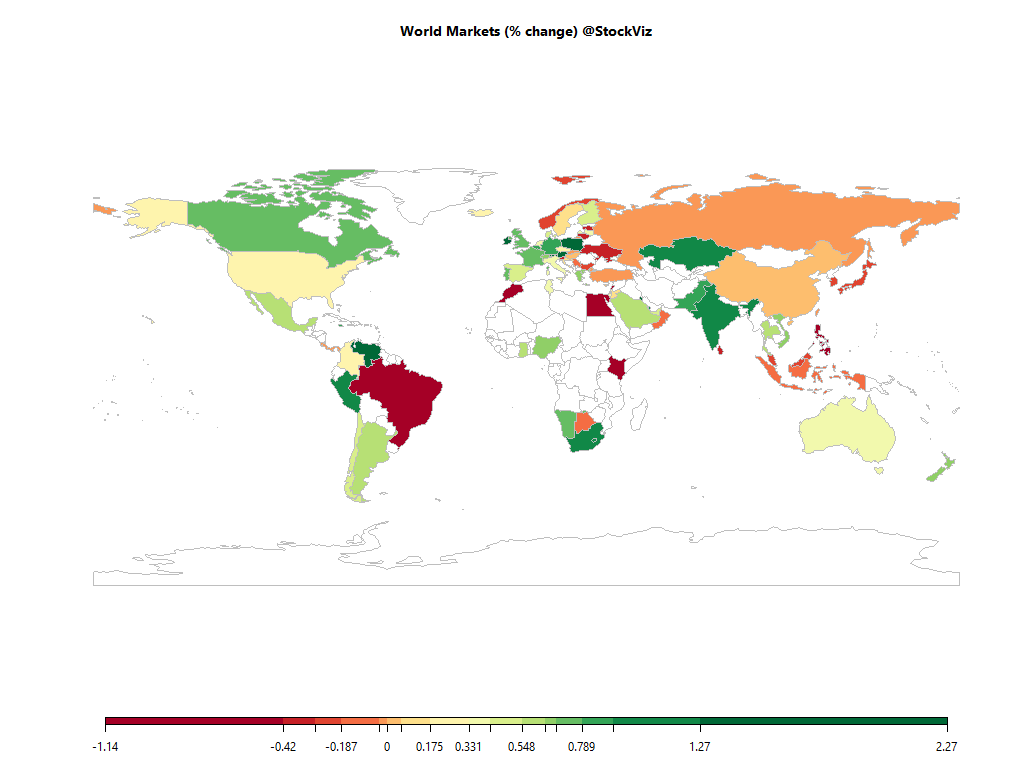 Equities
Commodities
Energy
RBOB Gasoline

-0.20%

Ethanol

-0.68%

Natural Gas

+0.42%

Brent Crude Oil

+0.10%

Heating Oil

+0.05%

WTI Crude Oil

+0.35%
Metals
Gold 100oz

+0.00%

Palladium

-0.16%

Platinum

-0.82%

Silver 5000oz

+0.00%

Copper

+0.00%
Agricultural
Cotton

-0.10%

Wheat

+0.26%

Cocoa

+0.00%

Lumber

+0.00%

Orange Juice

+0.00%

Sugar #11

+0.00%

White Sugar

+0.00%

Cattle

+0.00%

Coffee (Arabica)

+0.00%

Soybean Meal

-0.10%

Coffee (Robusta)

+0.00%

Corn

+0.00%

Feeder Cattle

+0.00%

Lean Hogs

+0.00%

Soybeans

-0.19%
Out of 43 world ETFs listed in NYSE that we track, 34 are trading above their 10-day SMA and 40 are trading above their 50-day SMA.
Must Reads
Opinion | Countries don't win wars, only companies do
In the aftermath of the tragic killing of at least 40 men of the Central Reserve Police Force at Pulwama, there has been a clamour for some form of reprisal against Pakistan, believed to be the perpetrator behind the attack.
Technology giants have no business in banking, says Uday Kotak
MUMBAI: Banker Uday Kotak opined that technology majors like Google and Facebook should not be allowed to become banks as they don't like to be regulated. He said banking is a business with a high degree of leverage involving public trust and continues to be synonymous with safety.
Remember 2008's Wicked Black Swans? This Year, Look Out for Gray Swans
Unlike the stygian waterfowl that surprised us a decade ago, a less-threatening bird may roil the investing pond in 2019.
Is an Obsession with Outcomes the Most Damaging Investor Bias?
An individual decides to drive home after an evening out despite being knowingly over the legal alcohol limit; before completing their journey they are stopped by the police and charged with driving under the influence.
Trend-Following: A Decade of Underperformance
Everyone in finance remembers 2008–the Global Financial Crisis. Yes, I know, the final downward movement in the stock market was in early 2009. However, many remember 2008 as the year of the crisis.
Increase in disputed corporate income tax arrears raises concerns of 'tax terrorism'
There is an oft repeated quote of Benjamin Franklin about death and taxes being inevitable. The quote has also been attributed to Mark Twain at times. The dispute on the origin of the quote aside, in the Indian context, one could add frivolous income tax demands and disputes to that timeless quote.
Check out our Global Macro Dashboard for currency, commodity, bonds and credit charts.
Good luck!