Your world at 9am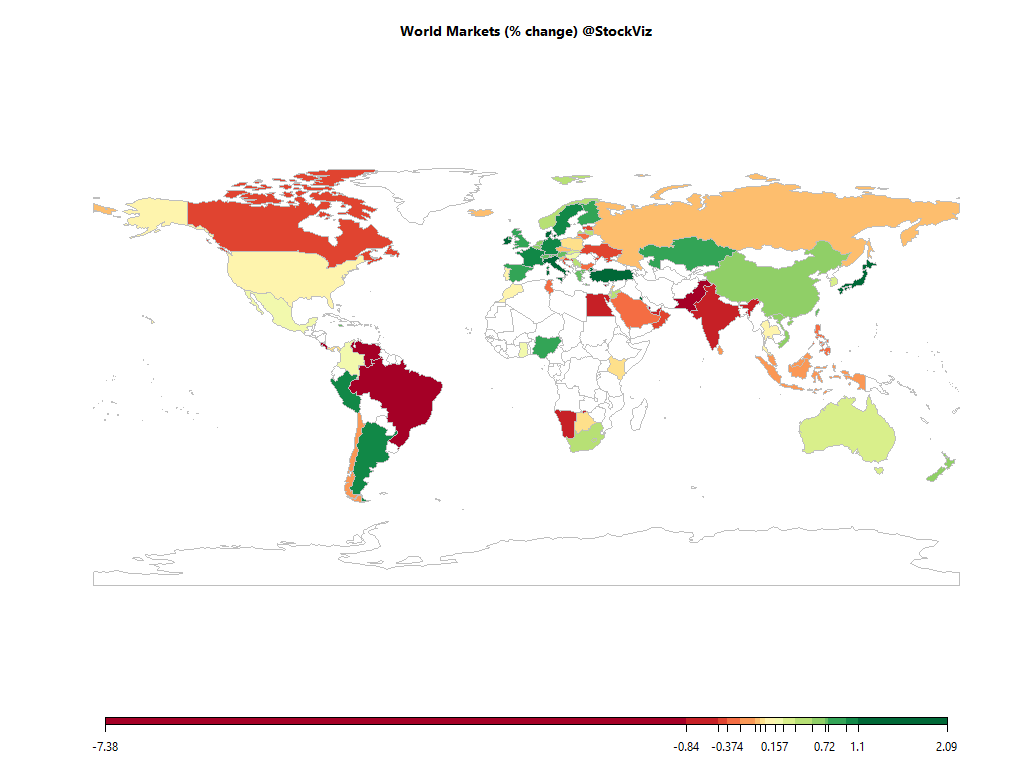 Equities
Commodities
Energy
RBOB Gasoline

+0.87%

Heating Oil

+0.62%

Brent Crude Oil

+0.86%

Natural Gas

+0.61%

WTI Crude Oil

+0.76%

Ethanol

+0.15%
Metals
Platinum

+0.33%

Copper

-0.18%

Silver 5000oz

+0.00%

Gold 100oz

+0.00%

Palladium

+0.30%
Agricultural
Cocoa

+0.00%

Lumber

+0.00%

Cattle

+0.00%

Coffee (Arabica)

+0.00%

Soybean Meal

+0.26%

Soybeans

+0.39%

White Sugar

+0.00%

Lean Hogs

+0.00%

Orange Juice

+0.00%

Sugar #11

+0.00%

Wheat

+0.19%

Coffee (Robusta)

+0.00%

Corn

+0.40%

Cotton

+0.10%

Feeder Cattle

+0.00%
Out of 43 world ETFs listed in NYSE that we track, 19 are trading above their 10-day SMA and 38 are trading above their 50-day SMA.
Must Reads
For investors, most financial television is worthless noise
When people started calling my former employer Sensible Investing TV "the anti-CNBC", we wore it as a badge…
Opinion: India's shadow bank tumult casts a widening gloom
It's time India's policy makers acknowledged the real problem facing the country's shadow banks. What they are experiencing is no longer a vanilla liquidity shortage; the entire industry has crashed against a wall of mistrust.
Why Bangladesh overtook Pakistan
BANGLADESH is not some Scandinavian heaven. It is poor and overpopulated, undereducated and corrupt, frequented by natural catastrophes, experiences occasional terrorism, and the farcical nature of its democracy was exposed in the December 2018 elections.
NSEL scam Take 2
Harshad Mehta, in the early '90s, and Ketan Parekh, at the start of the millennium, became the 'formidable villains' of small investors in India's stock market.
State-run banks spurn risky lending to conserve capital
The Reserve Bank of India (RBI), in its Monetary Policy last week, tweaked norms for risk-weights on bank loans to NBFCs in a bid to free up capital for lending. But many public sector banks (PSBs) may well choose to shore up their capital ratios rather than grow their loan books.
Check out our Global Macro Dashboard for currency, commodity, bonds and credit charts.
Good luck!