Your world at 9am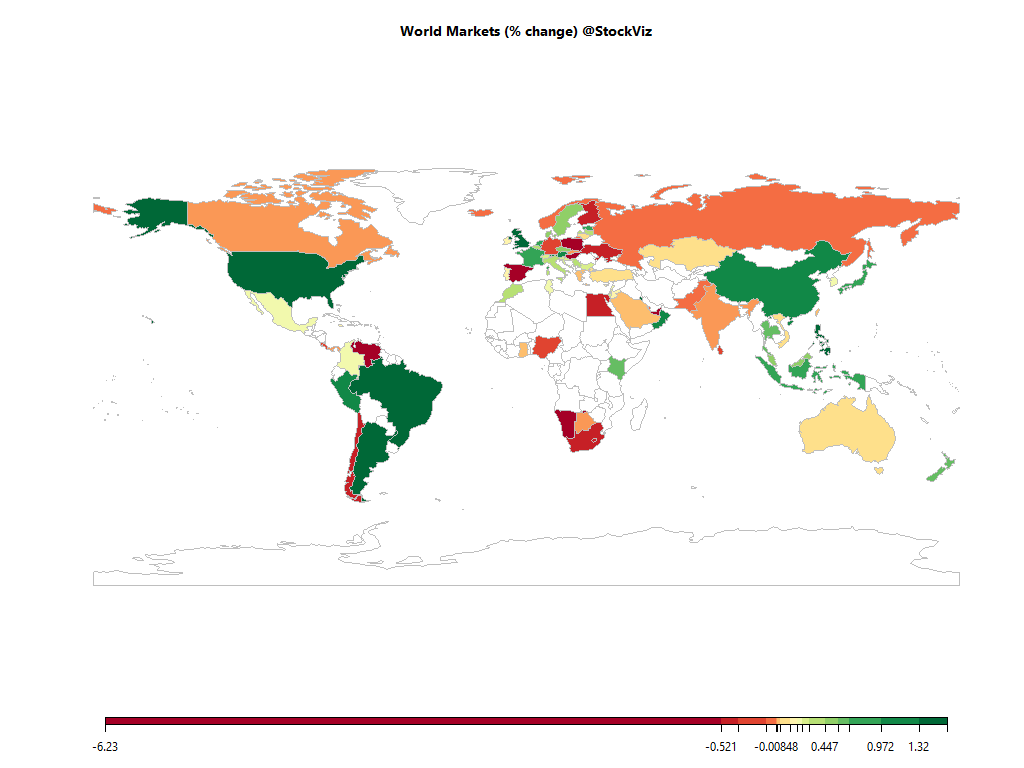 Equities
Commodities
Energy
Ethanol

+0.00%

Heating Oil

+0.00%

Brent Crude Oil

+0.88%

Natural Gas

+0.95%

WTI Crude Oil

+0.66%

RBOB Gasoline

+0.00%
Metals
Gold 100oz

+0.68%

Platinum

+0.39%

Palladium

+0.48%

Silver 5000oz

+0.00%

Copper

+0.23%
Agricultural
Corn

-0.13%

Lean Hogs

+0.00%

Soybeans

+0.05%

Cattle

+0.10%

Coffee (Arabica)

+0.00%

Orange Juice

+0.00%

Sugar #11

+0.00%

Wheat

+0.15%

White Sugar

+0.00%

Cocoa

+0.00%

Coffee (Robusta)

+0.00%

Cotton

+0.19%

Feeder Cattle

+0.05%

Lumber

+0.00%

Soybean Meal

+0.23%
Out of 43 world ETFs listed in NYSE that we track, 37 are trading above their 10-day SMA and 42 are trading above their 50-day SMA.
Must Reads
This is why we suck at this
ONE: The Street does not care about good or bad, it only cares about better or worse than expectations.
Where is the Value?
Investors always want to know what's cheap—cheap relative to the opportunity set and relative to history.
IBC may go the way of Sarfaesi Act if cases are not resolved soon: Seshagiri Rao
MUMBAI: Cases under the Insolvency and Bankruptcy Code (IBC) need to be resolved in a time-bound manner, or it may go the way of the Sarfaesi Act, said Seshagiri Rao M.V.S., joint managing director and group chief financial officer, JSW Steel Ltd.
EBITDA, EBITDA, EBITDA…that's all, folks!
Value investing practitioners and academics have long studied the enterprise multiple effect, including my own business partners, Jack and Wes.
The Case Against Value Stocks – Validea's Guru Investor Blog
Confirmation bias is one of the biggest problems in investing. We all have a set of core beliefs, and we tend to surround ourselves with people who also believe them and focus on information that validates them. For me, one of those things is that value stocks will beat the market over time.
Check out our Global Macro Dashboard for currency, commodity, bonds and credit charts.
Good luck!